Portable Serif Affinity Suite v2.0.4.170 (x64) Multilingual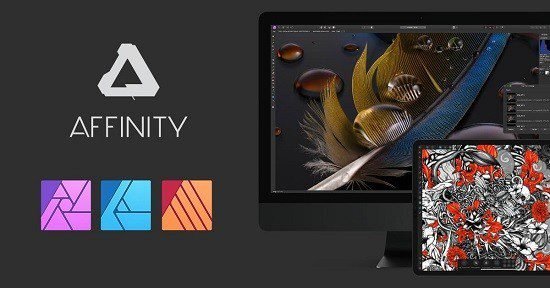 Eight years in the making, Affinity Photo Portable redefines the boundaries for professional photo editing software. With a meticulous focus on workflow it offers sophisticated tools for enhancing, editing and retouching your images in an incredibly intuitive interface, with all the power and performance you need.
Affinity Designer Portable is the fastest, smoothest, most precise vector graphic design software available. Whether you're working on branding, concept art, print projects, icons, UI, UX, or web mock ups, Affinity Designer will revolutionise how you work, on macOS and Windows.
Fluid publishing powerhouse. Bring your vision to life with Affinity Publisher Portable, the next generation of professional publishing software. From magazines, books, brochures, posters, reports and stationery to other creations
Affinity Photo Portable



Engineered for professionals
Built on rock solid foundations with principles of performance, stability and lack of bloat, Affinity Photo is a professional photography tool to the very core.
Comprehensive RAW editing
Develop camera RAW files in a dedicated built-in workspace with all the processing adjustments and corrections you need.
Unsurpassed file compatibility
We've got the best PSD support out there, plus all the standards you'd expect including PNG, JPG, TIFF, EPS, PDF, and SVG.
Work in any color space
RGB, CMYK, LAB, Grayscale. End-to-end CMYK workflow with ICC color management, and 32-bit per channel editing.
Dedicated RAW editing workspace
Compatible with all major camera file formats, the Develop persona offers a dedicated processing workspace offering incredibly accurate editing in an unbounded linear color space.
Complete digital darkroom
Affinity Photo includes all the tools you need from a professional photography application. Every tool has been painstakingly engineered for speed, power and accuracy—and they work in precisely the way you want them to.
Fast, customizable effects
Affinity Photo comes with a huge range of high-end filters including lighting, blurs, distortions, tilt-shift, shadows, glows and many more. Full control is given over every aspect of a filter's properties with incredibly precise controls—all the while seeing a real-time live preview of the result. Best of all, filters can be applied as live layers, enabling you to edit, erase away, or mask effects after they have been applied.
Advanced adjustment layers
Correct and enhance images with Levels, Curves, Black and White, White Balance, HSL, Shadows and Highlights and over a dozen other adjustments that are previewed instantly and can be edited any time. Adjust, readjust, and drag and drop onto any layer, group, mask, or in any place in a stack to control how they're applied.
Live blend modes
Remove trial and error from your workflow—see changes to blend modes live as you edit without having to click apply each time. Affinity Photo's 30 layer blends preview smoothly in real time while you scroll through them.
Sophisticated selection refinement
Accurate selections are critical, whether cutting out objects, creating masks or selectively applying adjustments. Our selection refinement algorithm is one of the most advanced available, making selections—even down to individual strands of hair—easier than ever before.
Precise photo stitching
Affinity Photo's stitching algorithm is one of the most advanced available. On top of accurate automatic alignment and perspective corrections, you get full control over each image and boundary in the composite to fine tune to perfection.
Extensive retouching tools
Whether you want to make quick corrections, or spend an hour on a detailed retouch, Affinity Photo has all the tools you need. That naturally includes dodge, burn, clone, patch, blemish, and red eye tools. But you'll also find an incredibly accurate inpainting brush, frequency separation capability, and a full set of liquify features built-in.
What's NEW:
Non-destructive
RAW DEVELOP
Develop RAW files non-destructively and choose to embed into a document file or link externally.
LIVE MASKS
Build powerful, non-destructive workflows with new live masks which update automatically based on the properties of the underlying image.
Hue Range
Create a mask based on a specific colour and apply adjustments, effects or just paint on the automatically generated mask for your chosen hue.
Band-pass
Band-pass allows the creation of a mask to be focused around edges within an image. This has wide uses for re-touchers who work on different frequency layers, but also enables the creation of artistic effects.
Luminosity
Specify a luminosity range to mask; for example, isolate specific ranges of highlights or shadows (or anything in between) and apply controlled adjustments to those areas.
Compound Masks
Easily combine multiple mask layers together non-destructively using add, intersect, subtract and XOR operations. This means separate masks you've created can be maintained non-destructively while you create new masks based on those component parts.
Live Mesh Warp
Want an image or file to be distorted to match the surface of an underlying template? Now you can apply a non-destructive warp to make that happen, and go back to edit whenever you like.
BRUSH

ENGINE

IMPROVEMENTS

Re-order nozzles by drag/drop. Use any swatch for intensity brushes, including gradient and bitmap fills. Plus: new distance controller, brush tip interpolation and overall improved performance and accuracy.
Affinity Designer Portable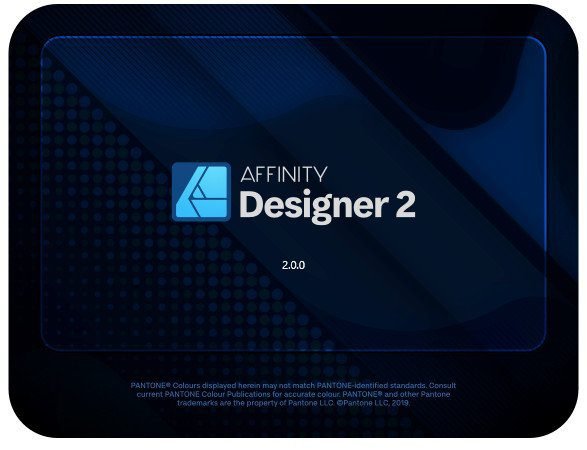 Design tools redefined
All the tools you need in a professional vector design app, from an incredible precise pen tool to a super smooth gradient tool. All carefully considered and meticulously developed, they just work—in precisely the way you want them to.
Built for your workflow
With core principles of performance, stability and lack of bloat, Affinity Designer has been meticulously crafted for a professional workflow.
Cross platform performance
With a professional pedigree forged on Mac, and matched step for step on Windows, common file format delivers stunning results on either platform.
Unsurpassed speed and accuracy
Pan at 60fps and zoom to an eye-popping 10,000,000%, you'll see all adjustments, effects, transformations and brushes in real time.
Work in any color space
RGB, CMYK, LAB, Grayscale. End-to-end CMYK workflow with ICC color management, and 16-bit per channel editing.
Unsurpassed file compatibility
The best PSD import engine available and full support for SVG, EPS, PDF, PDF/X and FH files means injecting Affinity Designer into your workflow is painless.
Pixel perfect control
With real-time pixel preview in standard or retina resolution available with a single click, you can always see what you're going to get. Can't achieve the perfect result purely in vector? Just edit the pixels — Affinity Designer has a full suite of raster tools too.
Non-destructive effects and adjustments
With a huge library of adjustment layers, effects and blend modes—combined with full support for masks and clipping layers—Affinity Designer offers the most advanced layer controls available in any vector based app.
Flexible workspaces… and workflows
With a focused, fully customisable workspace, including docked and floating UI modes, Affinity Designer lets you work how you want. Add regular and custom 2D and isometric grids for flexible layouts, work on multiple designs at once, and use macOS features like Split Screen and Full Screen. Plus, with savable history, unlimited undo and non-destructive filters and adjustments you can always go back and change your mind.
Natural brushwork
Use Force Touch, stylus pressure, tilt and other controls for natural-looking artwork. Edit vector brush strokes as cleanly and easily as regular curves, and add raster brushwork—on its own or with vector art—to add depth and high quality organic textures. Rotate the canvas, blend colors, edit brush parameters, create your own brushes and nozzles, and import .abr brushes for complete control over your work.
Throw some shapes
Affinity Designer delivers a comprehensive set of shape primitives with easy controls for adjusting geometry with corner settings and smart snapping indicators. A full set of Boolean geometry operations, non-destructive compound shapes, and full node editing means you can create beautiful complex geometry in no time.
Just your type
Add artistic text for headlines, text frames of any shape, or text that follows any vector path. Apply sophisticated styling and ligatures, previewing all your available fonts and style sets in on-screen panels. All the controls you need are built in, including leading, kerning, baseline shift, tab stops – and now in version 1.5 you can create text styles across your document.
New professional print controls
Affinity Designer features full professional print output. Pantone® support, end-to-end CMYK and ICC color management are just part of it. You can also open, edit and output PDF/X files, set overprint controls, use spot colors, and add bleed area, trim and crop marks.
Powerful export
In export mode you get a complete workspace dedicated to image export. Select areas, layers or objects to export, controlling each item's output settings independently. For efficient web and UI design, you can automatically create new files whenever your design changes, in whatever resolution, file format and folder structure you wish.
Common Affinity file format
Affinity's shared file format makes mixed discipline design as smooth and simple as it should be. Open any native Affinity file in any Affinity app on any platform and just keep working – with shared history, unlimited undo and seamless switching. And for export, Affinity Designer takes all major file types in its stride.
Incredibly powerful artboards
In Affinity Designer you can create an unlimited number of different design variants, sizes and screens – laying them out in one document to see them all at once. When you come to export you get full control over what artboards to output and with what settings, dramatically simplifying your workflow for responsive and app design.
What's NEW:
Vector Warp
This hugely powerful and highly requested addition allows you to apply a non-destructive warp over any vector artwork or text. Choose between a fully customisable mesh, or use presets including arcs, perspective, fisheye and twists. Editing a warp gives a super-fast live preview, even on complex illustrations, and gives a true vector end result.
Shape Builder Tool
Add and subtract shapes and segments in a much easier, more interactive way. Quickly create complex shapes by simply dragging between segments to combine or holding a modifier to subtract.
Knife Tool
Slice any shape, curve or text into component parts faster than ever. A stabiliser provides even greater precision and scissor functionality allows you to click on any node or segment of a curve and split it.
Measure Tool and Area Tool
Easily measure line lengths, segments, distances and areas of any objects to scale. The Measure Tool allows you to measure the distance between two points/objects, while the Area Tool allows you to determine the area, perimeter and any segment length of a closed shape.
DWG/DXF Import
Import and edit AutoCAD and DXF files quickly and accurately, maintaining the layer structure and scale of the original file.
With functions like Multi Layer Import, Colour Override and Auto-scale, import quality is second to none.
X-Ray View
A new view mode shows the makeup of your work, which is particularly useful for selecting a specific curve or object within a complex artwork.
Affinity Publisher Portable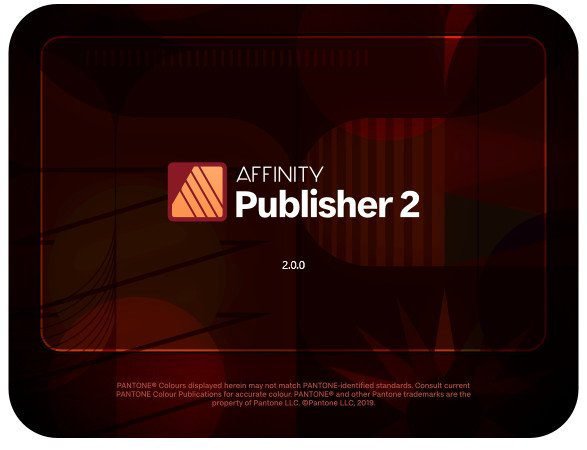 Fluid publishing powerhouse. Bring your vision to life with Affinity Publisher Portable, the next generation of professional publishing software. From magazines, books, brochures, posters, reports and stationery to other creations, this incredibly smooth, intuitive app gives you the power to combine your images, graphics and text to make beautiful layouts ready for publication.
Engineered for advanced technology
Engineered with the same no-compromise vision as our acclaimed photo editing and graphic design apps, thousands of global professionals have contributed to the development of Affinity Publisher Portable  to meet the demands of the 21st century designer.
Pioneering performance
Superpower your layouts with the latest and greatest publishing technology. The refreshing lack of unnecessary or obsolete features in Affinity Publisher means it runs like the sweetest dream, even on the most content-heavy documents.
Spectacular layouts
With essentials like master pages, facing page spreads, grids, tables, advanced typography, text flow, full professional print output and other amazing features, Affinity Publisher has everything you need to create the perfect layout – whatever your project.
Text to match the power of your words
Free yourself from the constraints of tired, traditional text layouts. Let Affinity Publisher Portable  help you visualise your text in creative new ways and flow it seamlessly through your document.
Text styles
Link the style of your text across all pages in your document
OpenType support
Open up all stylistic features of the latest OpenType fonts
Text decorations
Add lines and borders to elements of your typography
Drop caps
Add drop capitals to any paragraph
Text on a path
Draw any curve and type along it
Artistic text
Gain creative control over titling and other stand out text
Flow options
Avoid orphaned or widowed lines, among many other features
Baseline grid
Ensure the baseline of your text is aligned across all columns and spreads
Perfect graphics
Whatever the brief calls for, you can rely on Affinity Publisher to handle all the standard file types you'd expect, leaving you free to create the most ambitious, content-rich combination designs, pulling in raster or vector assets from multiple sources.
Fine tune your images
Ensure your images match the brilliance of your layout. Affinity Publisher comes with a full collection of powerful, non-destructive adjustment layers to make crucial image corrections right there in your document.
Advanced design tools
Create and edit vector graphics in your layout using the powerful pen, node and comprehensive shape tools – all with fine control over gradients and transparency.
Unrivalled compatibility
Import and export to all major raster and vector files, including layered PSD, PDF and EPS formats.
Full colour control
Affinity Publisher can handle RGB, LAB, greyscale and CMYK colour spaces, with advanced control over professional colour requirements for print.
Professional Output
Pantone support, end-to-end CMYK and ICC colour management are just part of it. You can also open, edit and output PDF/X files, set overprint controls and add bleed, trim and crop marks for press-ready output.
And so much more…
Here are just some of the other capabilities built into this incredible app…
Instant undo history
Instantly scrub through hundreds of undo steps with the history slider. Plus, save your history with your document.
Rotate canvas
Rotate your whole document by 90, 180 and 270 degrees.
Smart colour picker
Dedicated colour picker tool to accurately pick a colour, including single point or averaged sampling over an area.
Asset management
Create sets of regularly used assets which can be instantly accessed and dragged onto your project.
Transform panel
Precisely adjust an object's position, size, rotation and shear.
Transparency tool
Drag a transparency gradient over any object, with support for linear, radial, elliptical and conical types.
Glyph browser
Browse the full set of available glyphs for any font.
Stroke panel
Offering full control over dashed line styles, arrowheads and pressure properties.
Customisable keyboard shortcuts
Affinity Publisher comes loaded with default keyboard shortcuts, but you can tailor to your own muscle memory.
Add noise
Apply noise to colour fills for a textured look to your work.
Preview mode
Instantly switch from viewing grids, guides, bleed and margins to a completely clean preview of your document.
Blistering performance
Pan, zoom and scroll through documents at 60fps.
Organisational tools
Organise your documents with the section manager and automatically generate indexes and a table of contents.
What's NEW:
Books
Combine separate Publisher documents as chapters to create one long publication, automatically synching page numbers, table of contents, indexes and styles throughout – an especially useful feature for collaboration, as contributors can work on their own sections individually before bringing it all together. Available in desktop version only.
FOOTNOTES, ENDNOTES AND SIDENOTES
Add academic style notes or references to sections of text.
Place Auto-flow
Create a single layout that automatically repeats across your document until all desired images are accommodated. Plus, with the ability to choose a repeat count for images, you can set up advanced templates so that in the future you can instantly produce multiple variants in only a few clicks.
Linked File Layer Visibility Override
Turn any layers on or off from within placed files, including PSD, PDF, DWG, DXF and other Affinity documents without losing the integrity of the link. Even if the source file is changed, your layer visibility settings will be maintained. Also available in Designer 2 and Photo 2.
STYLE PICKER TOOL
Quickly apply the style of any object or text on your page to another. Also available in Designer 2 and Photo 2 (desktop only).
Performance
We've reengineered how we handle memory for imported PDFs and other large documents, resulting in significant performance improvements.
REFINED & REDESIGNED
The all-new UI doesn't just give a brand-new look to the apps, but also provides many workflow improvements.
New Document now includes a much more accessible list of presets, easier preset management and organisation, the ability to flag presets as favourites as well as a clearer preview and document summary.
Recent documents are now available to view as thumbnail previews or a list. You can also pin your documents for quick access.
The completely revamped Layers Panel has a ton of new functionality, including:
Clearer drop zones for dropping inside, masking and reordering
New parent bar to easily collapse groups and drop layers above or below their current parent
New quick menu (right click on visibility icon) for colour tagging
Option to show/hide other layers
Drag across multiple layers' visibility at once to instantly show/hide those layers
Drag FX icon to copy layer effects to other layers (or drag to trash)
Ability to lock layers without selecting first
New option to show icons denoting layer type (pixel, image, text, curve, etc)
Along with the existing triangle wheel, the optimised Colour Panel has a new box colour wheel, which makes it easier for you to change saturation without changing luminosity and vice versa by moving vertically and horizontally.
See recent raster brushes by layer. Any pixel layers you have painted on now offer a drop-down list of the brushes you have used on that layer, making it much easier to pick up where you left off, even after making heavy edits to your document in between.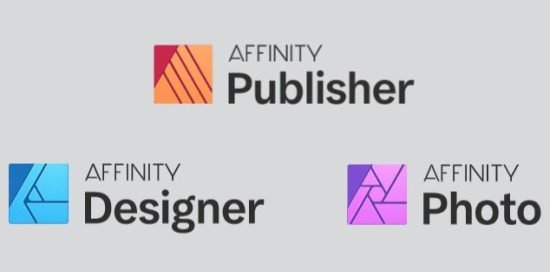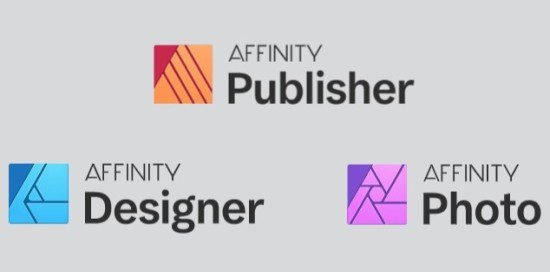 Download Serif Affinity Portable Suite