Portable Google2SRT 0.7.10 Multilingual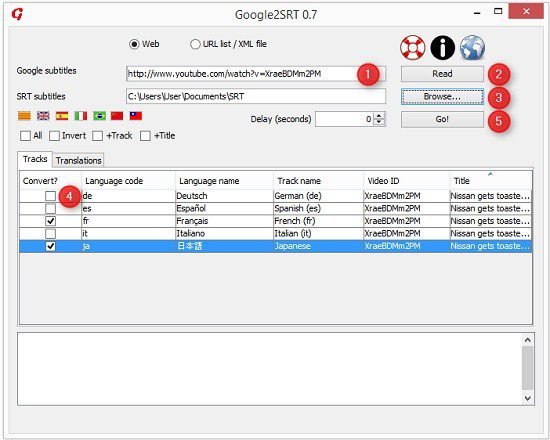 Google2SRT Portable allows you to download, save and convert multiple subtitles and translations from YouTube and Google Video to SubRip (.srt) format, which is recognized by most video players. You can download XML subtitles or simply type video's URL, Google2SRT will do the rest.
Google2SRT is a practical tool for any user who needs to add a subtitle for a video clip downloaded from YouTube. It allows you to capture the video captions in order to convert them to a SRT format.
The subtitle support added to the YouTube videos was one of the important improvement of the video hosting platform. It allows its users to easily follow dialogs even for the movies that use a language they do not understand.
However, this feature is not available for the users who decide to save a certain clip on their hard drive in order to watch it without an Internet connection. Very few applications that can retrieve both the video and the available subtitles.
Ofcourse, you can view the captions and manually copy them from the video's page but it takes a lot of time to edit the text into a format that is readable by media players.
This tool aims to facilitate the process by easily retrieving the subtitle and converting it to a SRT file. It is an effortless task which only requires you to add the clip hyperlink and specify the location of the subtitle.
You have the option to select the subtitle track for the videos that include multiple languages or versions. An useful feature is the ability to improve the synchronization between the video and the subtitle by adjusting the delay.
Moreover, the app can generate files for multiple languages which makes it easier to choose the preferred language later.
If you manage to retrieve the captions as a movie transcript XML file, Google2SRT can also perform the conversion locally. Unfortunately, this method does not allow you to translate the subtitle by using the Translations tab.
In our tests, the subtitles were downloaded, converted and translated almost instantly which makes Google2SRT a reliable tool when you need to grab the captions for a movie.
Features
Download YouTube subtitles – Closed Captions (CC)
Convert YouTube subtitles to SRT (SubRip)
Download YouTube subtitle translations
Download YouTube ASR (Automatic Speech Recognition) subtitles and their translations
Download multiple YouTube subtitles and translations at once
Proxy support
Note: required Java Runtime is embedded in this portable.
Download Google2SRT Portable