Portable Heavypaint v2.6.11 (x64)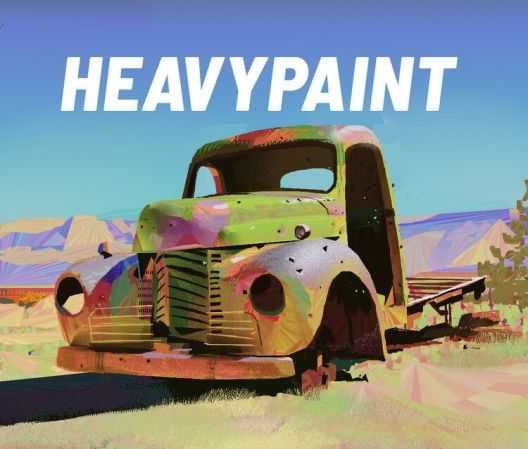 A simple yet secretly powerful painting app! Focus on pure colors and shapes with a streamlined interface. Ideal for plein air painting, color notes, sketches and studies.
Painting takes some doing, and though that saying is mainly predicated upon the artist's creativity and ability to materialize it, you don't exactly want the canvas to be working against you, either. In this case, in an ever-evolving digital world, having a trusty painting app by your side is a great thing for an artist.
Where to go, and where to look, then? If you're still looking, HEAVYPAINT Portable looks to deliver users with a streamlined painting experience, granting them a great deal of freedom when it comes to experimentation: the numerous brushes, all customizable, work to enable such a feat.
Smooth sailing
As Godot-based software has shown us time and again, intuitiveness is the name of the game, and this app is no different. Buttons are all within reach, and users can modify their brushes, colors, and change their properties with a few inputs.
You can go right ahead and start drawing: as stated before, various brushes are available, and each can be customized to a great degree. This is the kind of software where manuals and tutorials aren't exactly needed: most things just come naturally when using the app.
Multiple canvases, and more customizability
Users can work on as many projects as they like. Frankly, working on multiple projects is quite recommended, especially given the freedom you're given to experiment. Simply going to modify a brush reveals that: change its shape, modify its texture, set a jitter value, and so on. The customization is very deep, so users who experiment will be adequately rewarded.
The Tools Inventory menu furthers that by providing additional ways to enrich your art: airbrushes, pencils, watercolor, smudges, and other such elements can be added to your toolbar, so you can easily reach them in times of need.
The interface also allows for some customization: change the UI and canvas colors, modify the border size, choose to hide or reveal certain options, and so on.
In conclusion
There's a lot to HEAVYPAINT, and perhaps the most notable aspect is how it simply leaves you to your own devices, right away. No time is wasted with niceties: you've got lots of tools at your disposal, so make use of them to draw to the best of your ability.
Download HEAVYPAINT Portable