Portable Heredis 2022 v22.0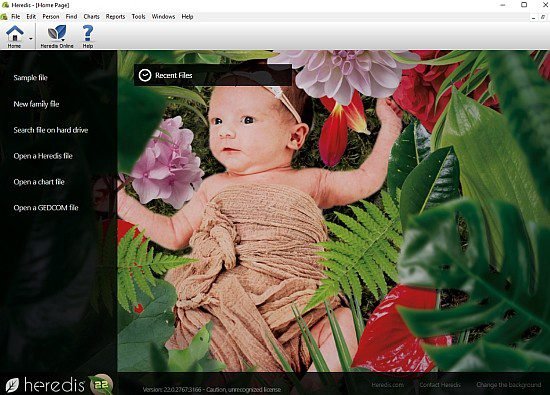 Family tree software for desktop, native Windows. Heredis Portable helps 100,000 genealogy enthusiasts and professionals each day to discover their ancestors and create impressive family trees. From researching documents to analyzing statistics, discover more than 150 features and carry out an incredible investigation to trace back your origins.
Easy to install
Download, install, and start working on your genealogy right away.
Unlimited pedigree charts
Dozens of chart formats, designs, settings and options (ancestors, descendants or hourglass types).
Searching for ancestors
Launch searches from Heredis using some major search engines, or communicating with FamilySearch.
Sharing documents
Print and share your genealogy data: charts, illustrated books, personal website, photo slideshows, etc.
Dashboard
Track and follow the progress of your genealogy while publishing meaningful statistics.
Helpful tools
Capturing acts and records, editing images, indexes, data merging, consistency checking, etc.
GEDCOM compatible
Any file from any other genealogy software or website can be imported into Heredis.
What's NEW:
Merge your duplicate ancestors, with ease and under control!
You have created a person who already existed in your genealogy? You have imported your cousin's genealogical data into yours and now find yourself with a bunch of duplicates?
Heredis 2022 offers a brand-new merge module! It will assist you from A to Z during this usually tricky process thanks to a comparison tree! Review all the information of a person as easily as ABC.
Edit your Descendants Wheel.
Display in just one click a person's descendants thanks to a 360° representation and highlight exciting data: their descendants by Family (spouse), all descendants in the Ahnentafel lineage, descendants whose other parent remains unknown, descendants by branch… As many options as you can think of to highlight key elements in your genealogy!
You'll keep shedding more light on your family history thanks to Heredis 2022!
Gather ALL families from any given village in one genealogy book
Become an expert on a place by editing your own historical reconstructions of villages!
Heredis 2022 allows you to edit a new genealogical book entitled Families from my village. It lists all the families, in alphabetical order, who lived or passed through this place: a person, his/her parents, his/her spouses and children as well as the children's spouses! A trove of information that will undoubtedly help genealogists conducting researches in a specific location!
This is an ideal feature for societies collecting local records and resources in order to carry out family reconstitutions in a given town or village.
Date Calculator
It can calculate a date of birth (if you enter the person's age at a dated event), the date of an event (if you have an event where the age is mentioned) or it can calculate the age at an event.
Download Heredis Portable