Portable Heredis 2024 v24.0
Family tree software for desktop, native Windows. Heredis Portable helps 100,000 genealogy enthusiasts and professionals each day to discover their ancestors and create impressive family trees. From researching documents to analyzing statistics, discover more than 150 features and carry out an incredible investigation to trace back your origins.
Unlimited pedigree charts
Dozens of chart formats, designs, settings and options (ancestors, descendants or hourglass types).
Searching for ancestors
Launch searches from Heredis using some major search engines, or communicating with FamilySearch.
Sharing documents
Print and share your genealogy data: charts, illustrated books, personal website, photo slideshows, etc.
Dashboard
Track and follow the progress of your genealogy while publishing meaningful statistics.
Helpful tools
Capturing acts and records, editing images, indexes, data merging, consistency checking, etc.
GEDCOM compatible
Any file from any other genealogy software or website can be imported into Heredis.
What's NEW:
(Re)Discover your family across time
With the new Family Chronology feature, you can now visualize how your family history unfolded over time and place your ancestors back in the time period and context they lived in.
You can also easily see how long your ancestors lived, and how old they were when their children or grandchildren were born, just to name a few examples.
Compare the lives of several ancestors from your family tree in just one glance, then imagine in what way their lives overlapped.
Mixed Wheel
Combining the best of both views on a single graph: the Ancestors and Descendants wheels reunited!
Added bonus: the primary person is displayed with his/her spouse, or spouses if he/she has had more than one. Thus, you can get a more detailed analysis of their descendants! This new feature is also available in the Descendants Wheel!
Export it as a pdf file to send or print, and gift it as an original present. Display it at genealogy shows to illustrate the life of a famous character!
All the wheels boast new features!
You can now highlight persons without a birthplace. This new feature could prove to be quite useful, revealing any missing information you may have on some persons!
Hide confidential persons: a useful feature when you wish to publish a wheel that may contain sensitive data.
Now you can display locations according to your preferences: City, City with Full Postal Code, City with Short Postal Code, City with County, City with State/Province, City with Country, City with County, State/Province, and Country, Full Place Name, or only Full Postal Code, or Short Postal Code, and so on.
Lastly, when exporting and printing wheels, you can hide the title.
Rename your media!
All too often, we add pictures to our genealogies that bear rather obscure names… Rename a picture easily from your Media Index, but also from the Photo Tool, so you can better organize and clean up your file!
One small step forward, but one GIANT leap for Heredis genealogists.
Keeping your data safe
We're all keen on protecting what we publish from our family trees: whether it's on the Internet or on a sheet of paper intended for the general public, there's private or confidential information in our trees that shouldn't be published.
That's why Heredis has made a few important improvements in this area!
From the Media Index, you can now select several media and make all of them private in just 2 clicks.
To help you avoid blunders, it is now possible to hide confidential persons in graphs: handy when you want to share a wheel containing confidential information.
Compress, transmit, open!
With the "Prepare to transmit" feature, opening your family tree in another Heredis application becomes as easy as 1-2-3! Compress your entire file with all associated media and open it easily in any other Heredis application: Mac to PC, PC to Mac, iOS to PC, Mac to Android… This new Heredis file format makes it easy to share your tree in an unlimited way, since the size can now exceed 2 GB per file.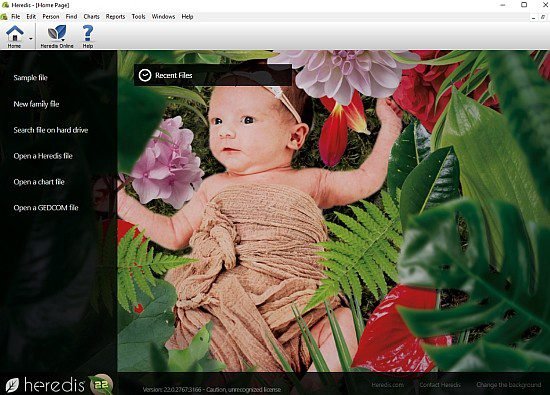 Download Heredis Portable