Portable Heredis 2023 v23.2
Family tree software for desktop, native Windows. Heredis Portable helps 100,000 genealogy enthusiasts and professionals each day to discover their ancestors and create impressive family trees. From researching documents to analyzing statistics, discover more than 150 features and carry out an incredible investigation to trace back your origins.
Unlimited pedigree charts
Dozens of chart formats, designs, settings and options (ancestors, descendants or hourglass types).
Searching for ancestors
Launch searches from Heredis using some major search engines, or communicating with FamilySearch.
Sharing documents
Print and share your genealogy data: charts, illustrated books, personal website, photo slideshows, etc.
Dashboard
Track and follow the progress of your genealogy while publishing meaningful statistics.
Helpful tools
Capturing acts and records, editing images, indexes, data merging, consistency checking, etc.
GEDCOM compatible
Any file from any other genealogy software or website can be imported into Heredis.
What's NEW:
A research journal directly in your software.
Are you the type of person who needs to write down everything on paper? Are you also the type of person who, after writing so much down, ends up losing track of it all? Then the Research Journal is made for you.
After taking a break from your research, it is common to wonder where you left things at. No more wasting a half-hour figuring out what you meant to research next.
Show your geographical origins with the location wheels.
Visualize at a glance the cradle of your genealogy. The wheels highlight your ancestors' and descendants' origins thanks to the coloring by places: city, county, state/province, or even birth country.
To help you discover your origins, this new variant of the Ancestors and Descendants wheels can be quite an eye-opener: you will realize where your original roots are but also what gaps they may have in certain areas!
Perform a major cleanup of duplicate records in your genealogy.
It is absolutely crucial to make sure that your file is accurate and reliable so you can properly manage your genealogy and progress in your searches. The new Find Duplicates tool will help you sort through your duplicate ancestors.
A recurring issue in genealogy is to mistakenly enter a person who has already been entered previously: e.g. two cousins get married and… there you go! It's easy to add the bride as a new person, without realizing she had already been entered as a cousin, and the mistake is made: the same person has been entered twice! Duplicates also occur when importing a file in which some persons already exist in your genealogy.
Thanks to the new Find Duplicates tool – which has been completely redesigned, both in terms of search options and presentation of results – you will be surprised to see how quick and easy it is to process duplicates and thus obtain a clean genealogy file.
Import GEDCOM 7 files
Gone are the days when you had to manually find photos in a GEDCOM file sent by your cousin. Now it's all done automatically! Heredis 2023 now offers the possibility to read files in the GEDCOM 7 format, a new international standard recently launched by FamilySearch.
This format, which allows you to exchange data with genealogists who use a software or website other than Heredis, now makes it possible to import media: images and other types of files such as Word, PDF, etc.
A valuable timesaver so you can be fully dedicated to your genealogical work!
Showcase your findings with the PDF reader
Easily flip through all the pages of your PDF documents with the built-in reader in Heredis.
Improve your PDF reading experience: whether for personal or professional use, PDF files are very useful and convenient and will no longer hold any secrets for you thanks to the reliable and efficient PDF reader!
Your media in HD, anywhere, anytime
Display your images in high definition from anywhere in the software! Your sources, for example, are always readable, everywhere in your Heredis software. Zoom in and out with one click or with the scroll wheel of your mouse!
Your genealogy in pictures with Heredis 2023, this is possible!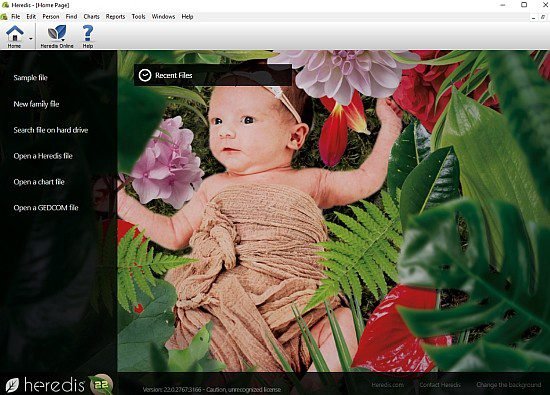 Download Heredis Portable