Portable IcoFX 3.8.0 Business Edition
Icofx Portable is an award winning professional icon and cursor editor for Windows. It is an all-in-one solution for icon creation, extraction and editing. It is designed to work with Windows and Macintosh icons supporting transparency.
IcoFX Portable is a rich-featured software application which enables you to create and design icons, cursors and images. It is primarily developed while keeping the advanced user in mind.
The interface of the program is professional and intuitive. Importing items into the environment can be done by using either the file browser or 'drag and drop' method. IcoFX supports plenty of file types for the input, such as JPG, BMP, ICO, XPM, GIF, EXE and DLL.
Users are supplied with a toolbar when you can work with some standard graphic editing functions, such as rectangular selection, crop, brush, line, text, fill, eraser, blur, brighten, color picker, ruler, zoom and flip.
It is possible to preview the results in a small frame on the upper right part of the screen, along with information on the colors and a histogram. So, you can adjust the colors levels, pick different sizes of brushes and variations of gradients, choose the layers mode (e.g. color dodge, overlay, darken), as well as view a history of the commands.
IcoFX Portable comes with multiple image effects and adjustments which revolve around the colors, emboss, blur, sharpen, glow, drop shadow, hue, saturation, contrast, brightness, transparent color, curves and opacity, just to name a few. Furthermore, you can import and duplicate pictures, set the cursor hotspot and animation frame rate, create a Windows or Macintosh icon from an image, as well as build icons, cursors and images in batch mode.
IcoFX Portable supports keyboard shortcuts and multiple languages for the UI, is very responsive to key strokes and mouse events, and includes user documentation. We have not experienced any problems throughout our evaluation, since IcoFX did not freeze, hang or display error dialogs.
Create icons and cursors
Create icons for Windows and Macintosh. Support for Windows icons with resolution up to 1024×1024 with PNG compression. Convert your Macintosh icons to Windows icons and vice versa. Support for static and animated cursors. Create a favicon for your website or blog.
Import, export and extract
You can easily convert your favorite images into icons or cursors, or icons into images. Supported image formats SVG, BMP, PNG, JPG, JPG2000, TIF and GIF. You can extract icons from other files, including Windows Vista, Windows 7 and Macintosh files.
Advanced editor
Icofx Portable features a full blown image editor with many useful tools. You can use different brush sizes, shapes, hardness, even blending modes when painting. With more than 40 effects at your fingertips, there's virtually no limit to the icons you can create.
Image objects
Using pre-made image object icon creation has never been easier. You can combine the image objects in layer based images using icofx. It allows you to rearrange, blend layers and change their opacity.
Batch process files
You can easily work with multiple files using the batch processing capability of icofx (Business License). Create, convert, extract or export all your icons or cursors with just a few clicks.
Icon libraries
Icofx Portable gives you the possibility to create and edit icon and cursor libraries using the built in resource editor. Using the resource editor you can also change icons inside exe files.
Whats New:
Custom svg based shapes tool
Color swatches and color picker to the color selection dialog
[Fixed] Loading of icons containing grayscale png files
[Fixed] High DPI issues in the message and search bar
[Fixed] Certain jpeg files could not be opened
Enhancements and bugfixes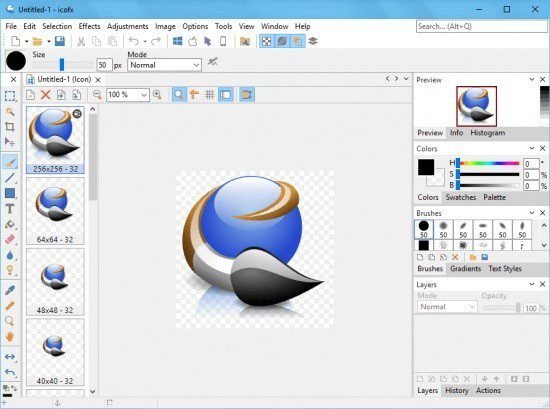 Download IcoFX Portable