Portable InPixio Photo Editor 10.5.7647.30764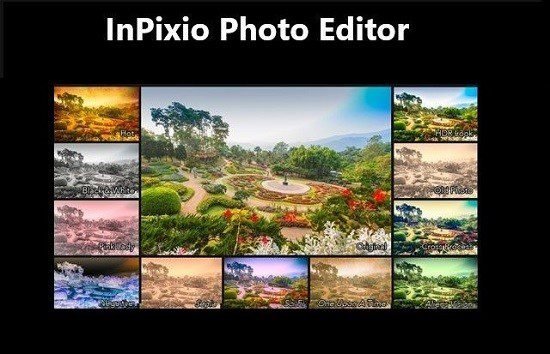 inPixio Photo Editor is a photo software program that is loaded with features and easy to use. It offers you a whole host of editing options such as photo retouching, cropping, adding filters or frames. We have added several photo retouching modules to this new version, such as self-correction in 1 click or the possibility of adding color effects (LUT) will enhance your photos and give them an original and creative look worthy of a professional. After just a few minutes using inPixio Photo Editor, you will be turning out photographs worthy of a pro!
Create beautiful photos – with 1 click!
– Add filters & photo effects: warm, black & white, pink lady, negative, sepia, science fiction, vintage…
– Cut & crop: change the focus and size of your photos without being a pro.
– Edit your photos: change the colour & brightness etc. to get the most out of your favourite shots!
– NEW! Automatic correction in 1 click
– NEW! Addition of LUT styles
– NEW! Find tutorial videos for each module
Viewing your photos
Relax, Photo Editor is really quick to master. You will be able to easily navigate between the various tools. For viewing your photos you can choose a simple view but also:
– A double viewing window (original photo on the left and photo being modified on the right)
– A before-and-after view
– Use the Zoom feature to enhance the view and make your alterations in the closest detail.
– Batch processing – Apply changes to multiple photos at once
– Save your own settings which you can call up again in just one click during future projects
Add filters:
From over 100 filters classified by theme, choose the one which best suits your photo.
Add a frame:
Find the right frame for your photo from over 100 models sorted by type (classic, retro, sport, travel etc.)
Crop your photos:
– Crop your photos manually or choose from the suggested crop formats: 1/1; 16/9; 3/4 etc.
– You can also rotate your images and adjust the angle.
Noise reduction module
Effectively reduces the noise present in your photos taken under restricted light conditions.
Fog correction module
The (atmospheric) fog correction tool makes it possible to limit, or even remove altogether, the dull, gray overlay, and makes it more vibrant.
Selective touch-up module
Graduated filter, radial filter, correction brush.
Sharpness module
Allows greater sharpness to reveal all the details of the images
Film grain module
Adds grain to give the photo an artistic or retro effect.
Creative blur module
A brand new module allowing you to blur all or part of your photo.
Tone curve:
Play with the tone curves to obtain light or dark hues and adjust the RGB (Red, Green, Blue) curves one by one.
Color balance:
Adjust the hue and saturation with amazing precision. You can adjust the shadows, midtones and highlights of your photo on a case-by-case basis.
Add different textures:
– All categorized by theme (Light leak, grain, film, geometric, material etc.).
– It is also possible to adjust their opacity and the intensity of the texture as required.
What's New in Version 10:
NEW! Perspective correction tool
When taking a photo, perspective problems can arise if the camera is not far enough away from the subject. The most obvious case for perspective correction is shooting buildings from the ground. By playing with the perspective, you can easily straighten your subject.
NEW! Histogram in Photo Editor
View the exposure and tones of a photo at a glance with the histogram. By interpreting the curves you will be able to tell if your photo is overexposed or not.
NEW! Backgrounds and cut-out objects
New backgrounds and images added to help you design even more fun and creative pictures.
IMPROVED! Selective retouching module
With selective retouching, you can apply edits exclusively to the desired area of your photo. You can isolate the area you want to retouch by using linear and radial gradients, as well as the correction paintbrush. Then you can adjust brightness, saturation, shadows, contrast etc. for a perfect, targeted edit. In this new version, you can now also adjust hue, temperature, whites, blacks…for even more striking variations.
NEW! Automatic saving of edits
When you close a photo without saving, all of your adjustments are now automatically stored by default, meaning that when you return to your project, you don't have to start over. Your photo will be configured with the most recent edits. Of course, you can also return to your original photo in 1 click.
NEW! RAW Images
You can now open RAW format images in Photo Studio.
NEW! Help Tool
A detailed and regularly updated database is now accessible in 1 click from the interface. This resource anticipates potential user questions and provides complete answers, once again to offer improved assistance.
NEW! Video tutorials available for each Photo Studio module
To help you get the best out of the features of Photo Studio, tutorials have been added to a new section for user support, providing a simpler and more effective way to get started.
Download InPixio Photo Editor Portable