Portable InPixio Photo Focus Pro 4.3.8577.22199 Multilingual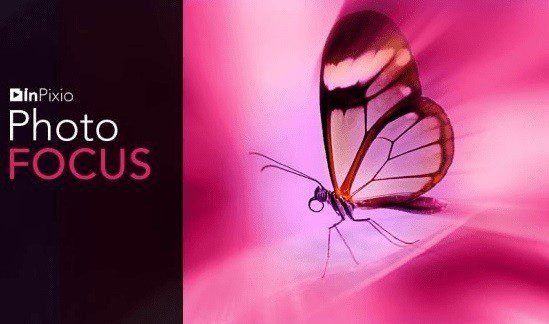 Improve sharpness! Getting sharp photos is not always easy — especially with spontaneous snapshots. InPixio Photo Focus Portable solves this problem in a flash and creates clear, high-resolution images.
InPixio Photo Focus Portable is a powerful software designed to enhance and edit your digital photos with precision and creativity. Whether you are a professional photographer, a hobbyist, or simply someone who loves capturing moments, this software offers a wide range of tools and features to bring out the best in your images. From adding depth of field to sharpening specific areas, InPixio Photo Focus allows you to transform your photos into stunning works of art.
Key Features:
Focus and Blur Effects:
One of the standout features of InPixio Photo Focus is its ability to add depth of field to your photos. With just a few clicks, you can blur the background, creating a professional-looking effect that draws attention to the main subject. Conversely, you can also sharpen specific areas of your image, ensuring that every detail stands out. These focus and blur effects can dramatically enhance the overall composition and make your photos more visually appealing.
Tilt-Shift and Miniature Effects:
InPixio Photo Focus goes beyond basic focus and blur effects by offering tilt-shift and miniature effects. These effects simulate the look of a shallow depth of field, making your photos appear as if they were taken with a tilt-shift lens. You can adjust the angle, position, and intensity of the effect, giving you full control over the final result. Whether you want to transform a panoramic landscape into a miniature scene or add a touch of creativity to your portraits, these effects provide endless possibilities.
Creative Filters and Presets:
To further enhance your photos, InPixio Photo Focus offers a wide range of creative filters and presets. From classic black and white conversions to vintage film effects, you can instantly transform the mood and atmosphere of your images. These filters and presets save you time and effort, allowing you to experiment with different styles and looks with just a single click. Additionally, you can customize and fine-tune these effects to match your specific preferences, ensuring that your photos reflect your unique vision.
Batch Processing:
InPixio Photo Focus understands that time is valuable, especially when dealing with large sets of photos. With its batch processing feature, you can apply the same edits and enhancements to multiple images simultaneously. This feature is particularly useful for photographers who need to edit and optimize a series of photos from a single event or project. By automating repetitive tasks, you can save time and maintain consistency across your photo collection.
User-Friendly Interface:
InPixio Photo Focus boasts a user-friendly interface that makes it accessible to users of all skill levels. The software provides a clean and intuitive workspace, with tools and features logically organized for easy navigation. Whether you are a beginner or an experienced photo editor, you will find the learning curve to be minimal. In addition, the software provides helpful tooltips and tutorials to assist you in mastering its various functions and capabilities.
InPixio Photo Focus Portable is a versatile software that empowers photographers and enthusiasts to take their photos to the next level. With its focus and blur effects, tilt-shift and miniature capabilities, creative filters, batch processing, and user-friendly interface, this software offers a comprehensive set of tools for enhancing and editing your digital images. Whether you want to add depth and sharpness to specific areas or unleash your creativity with artistic effects, InPixio Photo Focus enables you to transform your photos into captivating works of art.
Improve the sharpness of your photos
– Improve the sharpness of your photos
– Simple 1-click sharpening tool
– Reinforce & accentuate the focus
– Includes Tilt-Shift & Artistic Blur effects that bring the subject of the photo to life!
ONLY IN THE PRO VERSION:
– Create professional looking photos with oval frames (vignetting)
– Add customised artistic blur to achieve the perfect finish
– Save personal presets that can be used in a single click for future projects
Improve sharpness
Getting sharp photos is not always easy — especially with spontaneous snapshots. InPixio Photo Focus solves this problem in a flash and creates clear, high-resolution images.
Increase focus
You can add sharpness, soft focus and blurred areas to your images. This helps you to further accentuate the difference between the background and the sharp centre of the image.
Refocus
Not all images are always correctly centred. Redefine the centre of your images and focus the attention towards the centre of the image.
Impressive effects with tilt-shift and soft focus functions
Add horizontal soft focus (tilt-shift) to your images. This creates fantastic miniature effects that allow the focal object of your image to look like miniature!
Create structure and details
Emphasise the finest details in your images. Manage contrast and clarity — for impressive and detailed photos!
Resharpening
You can get so much more from all your photos! Even the sharpest photos can be resharpened — for perfect prints or an extremely sharp impression!
Simple
During the development stage of InPixio Photo Focus, particular attention was given to making sure the software is easy to use. The programme is intuitive and helps you through with the various 1-Click Assistants. If you need help when using the software, there are tool tips offering brief explanations next to each function.
Only in the Professional Version:
MORE! Creative Blur
Add a selected blurred area to your image through iris blurring (only available with PRO version). In photography, this effect is achieved through maximum fade-in.
MORE! Add Presets
Store your personal optimisation settings (presets) Create and save your own presets with 1 click for future use.
MORE! Vignetting module
Add oval picture frame to your photos to (vignetting) Create atmospheric shots from your photos with an oval picture frame in black or white. You can select the transparency of the frame to suit your taste and choose sharp or blurred transitions.
What's New in Version 4:
NEW! Advanced cropping module with rotation and horizon correction
Crop your photos manually or choose from the suggested crop formats: 1/1; 16/9; 3/4 etc. You can also rotate your images and adjust the angle.
NEW! Tone Curves Module
Play with the tone curves to obtain light or dark hues and adjust the RGB (Red, Green, Blue) curves one by one.
IMPROVED! interface and workspace
The new version has an attractive, ultra-modern user interface designed for even easier use.
NEW! Find tutorial videos for each Photo Focus module
To get the most out of Photo Focus features, mini videos have been added to each of the software program's modules in the form of tooltips, making it easier and more effective to use.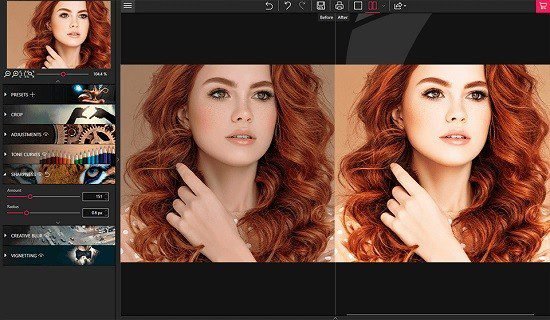 Download InPixio Photo Focus Portable