Portable InPixio Photo Studio Ultimate 11.0.7753.22643 (x64) + Resource Pack
Photo Studio Portable describes exactly what our software is today: a fully-fledged editing program that lets you create your pictures in your way. We're really excited about this new identity and hope you like the new name as much as we do. And rest-assured, the name might be changing but all the things our users love about Photo Clip are here to stay: Photo Studio 10 will still be a user-friendly photo editing software, full of fun content to help you create the perfect photos and photo montages. Read on to find out more about all the new features and improvements in Photo Studio 10.
Photo Studio Portable delivers professional photo editing & photo organizing features, spectacular special effects and professional-quality photo projects – all together in one powerful editing suite. Photo Studio 10 Ultimate makes it easier than ever to unlock the power of your digital camera.
Crop, straighten and fix color, brightness and redeye imperfections in one click. This is photo editing software made easy! Smooth skin, remove dark circles, brighten teeth & more. Enhance, restore and repair old pictures. Plus many, many more features.
Perfect for:
– Professional photo editing
– Removing unwanted objects & backgrounds
– Enhancing & restoring old pictures
– Repairing photos
– Retouching photos, removing red-eye and blemishes
– Rotating, cropping or resizing images
– Creating unique photo cards & personalised gifts
– Printing photos
– Sharing photos on popular social media/photo sharing websites
– Perfect for photography enthusiasts and beginners alike
inPixio® One-Click Image Correction
Amazing pictures in just one click – using 100% automatic smart technology! Improve the quality and the colors of your pictures in less than 1 second thanks to our fully automatic process. You no longer have to be a Photoshop expert to create perfect photos!
Remove unwanted objects like magic!
Completely remove unwanted objects from your picture. Signs, wires, people, or any image that distracts you from what you are trying to capture.
Cut-out in a few clicks!
Cut out any detail, person, object or landscape element from your photos. Select the shape of the object thanks to the cursor. The Photo Studio algorithm runs automatically! This also works as an easy but accurate background eraser.
Create impressive photomontages!
With Photo Studio you can add photo cutouts to other images to create photomontages or collages. The edge smoothing allows you to intelligently smooth contours for a softer transition between the subject and the background, for even more successful integration into your photomontage.
Filters, textures and frames
Transform your photos with filters and textures. Photo Studio offers over 100 presets, from retro to cinematic, to give your image an instant new look. All you need to do is choose the best ones for your picture. You can also fine-tune your effects and create your own filter presets. Once you've perfected you photo, you can add a finishing touch with a frame. Choose from a variety of styles and customize your frame to fit your photo.
Focus on small objects
Create perfect close-up shots by zooming in and focusing on specific details in your photos, without blurriness or pixilation. Photo Maximizer does all the work for you with an ultra-powerful zoom function that can magnify images by up to 1000%. With 7 zoom presets available, it is fast and simple to make your pictures perfect.
Enlarge images & maintain clarity
Usually when you enlarge an image, you get pixilation and deterioration of color and brightness. Photo Maximizer maintains image quality without undesirable noise so you can say goodbye to pixelated, grainy and blurred photos. With inPixio Photo Maximizer you can enlarge entire images taken with any device while maintaining clarity and sharpness. Print your enlarged images as posters, photos for framing, t-shirts, postcards and more.
Reduce noise and fix grainy photos
Photo noise is an annoying side effect of shooting in low light conditions and can make your photos look grainy or fuzzy. Photo Maximizer makes it easy to deal with this problem and rescue your grainy photos. Simple to use, the Noise Reduction tool lets you precisely adjust the level of noise in your photos, reducing the grainy appearance and bringing clarity back to your evening/ night-time shots.
Edit Colors
Adjust settings including temperature, exposure, brightness, contrast, and saturation to further enhance your photos. You can also play with the tone curves to obtain light or dark hues and adjust the RGB (Red, Green, Blue) curves one by one.
Batch Processing
Define your zoom settings and Photo Maximizer will batch process up to 1000 images simultaneously!
Enhance image sharpness
Blurred photos cannot always be avoided — especially with spontaneous snapshots. Photo Focus solves this problem in a flash and creates clear, high-resolution images. Sharpen your photos with just one click or use the built-in presets. You can also resharpen your photos to give them a more professional look.
Creative blurring for great results!
Use the Creative Blur tool to add selected iris blurring to your photos. You can use creative blur in combination with adjustments to brightness and contrast to give your photos an artistic effect and draw attention to a particular area of your image.
Tilt-Shift and Soft Focus
Add horizontal soft focus (tilt-shift) to your images. This creates fantastic miniature effects that allow the focal object of your image to look like a miniature!
Refocus
Not all photos are always correctly centered. Improve the overall focus of your images or refocus photos for great results.
Presets for Custom Effects
Make amazing modifications to photos using the blurring, sharpening or image color adjustments. Once done, save that combination as a custom preset. Photo Focus also has its very own built-in presets for highly popular photo effects.
What's New in InPixio Photo Studio Portable:
As with every new release, we have updated Photo Studio Portable to provide even more editing possibilities. This time, we have also put a big focus on improving performance and usability so that you can edit better and faster than ever. Here is a selection of the top new features to look forward to in Photo Studio Portable.
Perspective tool
The perspective tool is a smart new feature that is useful for correcting photos of buildings and architecture.
You have probably had that experience where you want to photograph a beautiful building but you can't get far enough way to get it in shot, so instead you have to shoot "upwards" or from an angle. This leads to something called perspective distortion in your image, where the lines of your building don't appear straight. For example, if you photograph a tall building, such as a cathedral, from below, the result may look tilted as if the structure is leaning away from you.
The Perspective tool helps you to remove this distortion and correct any tilted or skewed appearance in your photos. If this sounds complicated, don't worry: the tool is very easy to use with three automatic settings, for horizontal, vertical and full correction. After the auto correct has done its work, you can use simple sliders to make the final adjustments yourself. Finally, if you want to have full control over the process there is also a manual mode where you can apply guides to your photo to make a precise correction. In short, you can say goodbye to (unwanted) slanting in your architecture photos, thanks to this new tool.
inPixio Photo Transfer
To coincide with the launch of Photo Studio, we are releasing a complimentary new app that you can download from the App Store or Google Play. With the inPixio Photo Transfer app, you can copy photos easily from your smartphone to your PC or Mac using Wi-Fi.
The app was designed as a helpful tool to facilitate photo editing with PC and Mac-based inPixio software. With a few clicks and a Wi-Fi connection, you can transfer your entire photo library to your laptop and download images ready for editing in Photo Studio. There is no need for a cable, cloud service, or software and your photos remain safe with no external storage. The app is also a useful way to back up your photos to your computer and save space on your cell phone.
EXIF data and Histogram
EXIF metadata is a set of information attached to a photo and stored automatically in your camera or smartphone. This can include date, location and more. When you upload a photo to Photo Studio, you can now view and edit all of this information. For example, you can add tags and ratings or even copyright information to a photo. This is useful for organizing your photos to help you quickly find what you're looking for. It's also especially useful if you upload your photos to online platforms such as Flickr.
Another new source of information in Photo Studio Portable is the Histogram. This measures exposure levels in your photo so you can get a better idea of the light and dark areas in an image. Referring to the histogram when editing exposure settings can help you to get the right level of brightness in your image.
New Local Adjustments
The selective retouching tab allows you to adjust specific sections of your photo with gradients or the paintbrush.
In Photo Studio Portable, we have added new sliders to the selective retouching tab, meaning that you can now make even more edits to your photos. The new local adjustments are hue, whites, blacks, dehaze, sharpness and noise reduction.
RAW Images
Photo Studio Portable now supports RAW format images. Raw images are not pre-processed and compressed like standard image formats such as JPEG, meaning they take up a lot of disk space. Because raw images are heavy and because the format varies between camera manufacturers, it is often difficult to open them in software programs. However, thanks to improvements made by inPixio developers, now you can open and edit all you raw images in Photo Studio.
Interactive Film Strip
We mentioned usability improvements, and this is one of the big ones. The filmstrip is the panel at the bottom of the Photo Studio interface that displays all the images in a selected file. In Version 10, it is now fully interactive. This means that in Photo Editor you can filter images easily by date taken, camera, file type and a range of other criteria. You can also apply edits directly from the filmstrip. For example, you can autocorrect an image with a simple right-click without opening it in the workspace. You can also delete edits in the same way.
Video Tutorials
Even with the easiest software, you may need a little extra help from time to time. Our video tutorials are designed to guide you through some of the main tools and the main uses of Photo Studio Portable , so that you can get to know the program more quickly and get the best possible results. Photo Studio 10 comes with a new section for Video Tutorials: simply click on the link to access the playlist of tutorials. A database of support resources is also available from the Assistance section of the menu.
New Content
Our users requested it and we are more than happy to oblige! In Photo Studio Portable, you will find a selection of new backgrounds and other visual content in both the Photo Cutter and Photo Editor modules. Try personalizing the new stickers by editing colors and more. And of course, don't forget to try out the new backgrounds in your photomontages. We particularly love the new Hollywood background and cannot wait to see what our users do with this!
What's Included:
– InPixio Backgrounds Resource Pack
– InPixio Extended Resource Pack
– InPixio Frames Resource Pack
– InPixio Photo Montages Resource Pack
– InPixio Presets Resource Pack
– InPixio Remove Background Resource Pack
– InPixio Remove Sky Resource Pack
– InPixio Skies Resource Pack
– InPixio Textures Resource Pack
– InPixio 7000 Professional LUTs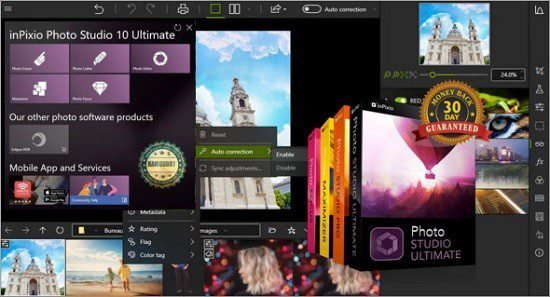 Download InPixio Photo Studio Ultimate Portable