Portable JPEGmini Pro 3.3.0.0 (x64)
JPEGmini Portable is a powerful yet simple tool, trusted by tens of thousands of photographers worldwide who have JPEGmini fully integrated into their workflow. It reduces your image file size by up to 80% without compromising on quality.
Maximum Quality, Minimum File Size
Using patented image optimization technology, JPEGmini Pro reduces the file size of your photos significantly (up to 80%), while preserving their full resolution and quality.
Enhanced Performance
JPEGmini Pro utilizes all the CPU cores in your computer simultaneously, crunching your photos at amazingly high speeds, minimizing your work time. We've also added support for photos up to 50 Megapixels, covering all your photography needs including the highest resolution cameras, panorama shots and collages.
Fits In Your Workflow
JPEGmini Pro includes a plug-in for Adobe Lightroom so you won't have to change the way you work. Now, when you export your photos directly from Lightroom, they will be automatically optimized by JPEGmini to the lowest file size possible without ever sacrificing quality.
Features
Supports photos in any resolution up to 50 Megapixels
Adobe® Lightroom Plugin
Utilizes all the CPU cores simultaneously
Drag photos, folders or complete hard drives onto the app to optimize them
Stunning animation shows photo previews during processing
Savings counter shows amount of hard drive space saved
Share your savings on Facebook and Twitter
Supports Retina display
What are the differences between JPEGmini Pro and the regular JPEGmini app?
There are four main differences between JPEGmini Pro and the regular JPEGmini app:
JPEGmini Pro supports photos with a resolution of up to 50 Megapixels, while the regular JPEGmini app supports photos with a resolution of up to 28 Megapixels
JPEGmini Pro utilizes all your CPU cores simultaneously for up to 8x faster processing
JPEGmini Pro includes an Adobe Lightroom plug-in which integrates into your photo processing workflow
What's NEW:
JPEGmini Portable is finally out with our 3rd new upgrade. After research and listening to feedback from users, the JPEGmini team worked hard to enhance features for a better experience. Everyone at JPEGmini is excited to share our new update with our creators.
Brand New Design
You heard right, the can icon is out of commission. JPEGmini designers have a fresh new icon that matches our minimalistic style. The JPEGmini team focused on updating our brand image to match our current customer culture and language.
Resizing Presets
We have reworked our batch resize mechanism: You can now save your own presets!
We added a new resizing option (max dimensions) and are now including built-in presets for Facebook and Instagram that can update dynamically for changes in the platform. As we mentioned before, there are now animations that illustrate the various resizing methods to make it simple to adapt to.
HEIC to JPEGmini Support
Back in 2017, Apple enabled HEIC support on iPhones. The JPEGmini team decided to launch heictojpg.com, a free website that enables free online HEIC to JPEG (JPEGmini optimized) conversion.
The tool was used by millions worldwide and led us to develop a more optimized desktop version and include it inside JPEGmini Pro 3. HEIC was introduced primarily as a way to save space over standard JPEG files. We're proud to say that on average, conversions from HEIC to JPEGmini produce files that are 10%-15% smaller than the original HEIC files.
The output JPEG files contain all metadata, similar to the HEIC files, and are perceptually identical – same as the JPEG optimizations we provide.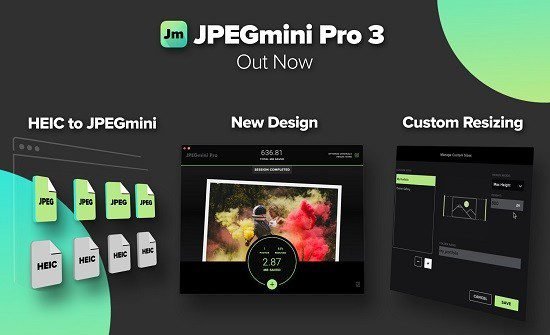 Download JPEGmini Portable