Portable Kernel Photo Repair 20.9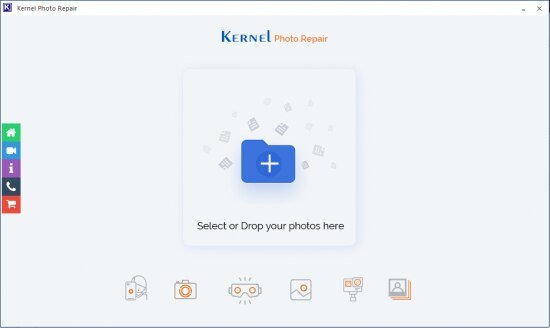 Kernel Photo Repair Portable is an advanced software tool designed to repair and restore digital images that have been damaged or corrupted due to various reasons. Whether it's a scratched or partially overwritten image, JPEG compression artifacts, or any other kind of damage, Kernel Photo Repair Portable can help you recover your precious memories quickly and easily.
One of the most outstanding features of Kernel Photo Repair Portable is its intuitive user interface, which makes it easy for anyone, regardless of their technical skills, to use. The software provides a step-by-step wizard that guides users through the entire recovery process, ensuring that even those who are not familiar with photo repair tools can fix their damaged files.
The software supports a wide range of image formats, including JPEG, JPG, BMP, GIF, PNG, TIFF, and more, making it a versatile solution for digital photographers and graphic designers alike. Additionally, Kernel Photo Repair uses advanced algorithms and artificial intelligence technology to analyze the structure of the damaged file and reconstruct missing data, resulting in high-quality output that closely resembles the original image.
Another key feature of Kernel Photo Repair is its ability to repair multiple images at once, saving time and effort for users with large collections of damaged photos. The software also allows users to preview repaired images before saving, enabling them to compare the results with the original and make adjustments if necessary.
Kernel Photo Repair also includes a range of customization options, allowing users to fine-tune the recovery process according to their specific needs. For instance, users can adjust the brightness, contrast, and color saturation of the repaired image, as well as crop, rotate, and resize it as needed.
Moreover, Kernel Photo Repair comes equipped with advanced tools for repairing severely damaged files. These tools include the option to manually remove scratches and dust from the image, adjust the image exposure, and repair broken pixels, among others.
In addition to its powerful repair capabilities, Kernel Photo Repair also prioritizes data security and privacy. The software comes with robust encryption features that protect user data and ensure the confidentiality of repaired images. Users can rest assured that their personal information and photos are secure while using Kernel Photo Repair.
Overall, Kernel Photo Repair Portable is an indispensable tool for anyone who wants to restore damaged or corrupted digital images quickly and easily. With its intuitive interface, advanced algorithms, and customization options, the software provides users with a powerful yet accessible solution to recover their precious memories. Whether you're a professional photographer or an amateur enthusiast, Kernel Photo Repair can help you fix your damaged photos and preserve your memories for years to come.
Features of Kernel Photo Repair Portable
Repairs all Image File Formats
This advanced software can repair all the image file formats without any hassle and restrictions. It supports images taken from all devices.
Repair common image formats like PNG, JPG, GIF, JPEG, BMP, TIFF, GIFF, PCX, MPG, MPEG
Repair advanced image file formats from technical equipment
Mend images created from any media device – mobiles, laptops, cameras, etc.
Supports repair of all Windows image formats in the market
Fixes Any Level of Corruption in Images
The software can repair all kinds of image files, whether, broken, corrupted, or inaccessible. It supports all corrupted files with no restrictions on size or level of corruption.
Repair damaged and broken image files
Fix any sort of error in broken image files
Repair high-resolution image files easily
Repair advanced image file formats too
Friendly Graphical User Interface
The whole repair process gets completed in a few steps with full accuracy with the Kernel Photo Repair tool. The user-friendly interface is an additional benefit of this tool.
An Interactive interface and descriptive screens
Simple process to save the time and effort of users
The best tool for novice users without technical expertise
Easy, sequential repair with clear indicative steps
Offers Wide Compatibility
The advanced Photo Repair tool is compatible with all Windows Operating System versions.
Supports latest Windows versions including Windows 10/8.1/8
Compatible with older Windows OS like Windows 7/XP/2000
Supports 90 series Windows OS like Windows 98/NT/95
Multiple Photo Repair at One Time
The tool saves its user's time and efforts by allowing multiple image files' repair at a single attempt. It also integrates related features for quick addition of multiple files and hence the speedy repair.
Browse and add as many corrupted files for repair as required
Just select & drag multiple image files and drop them for quick addition
Different file formats are supported for one-go repair
Separate folder for each repaired image file
Assures Integrity and Quality
The Images after the repair process are found in its original structure and properties. There is no compromise in the quality or structure of the files.
No change in image size or format during the repair
Unhampered files structure during and after repair
Retains original quality and image resolution
Retains the original print quality of repaired image files
Customized Saving Facility
The efficient solution before performing the repair asks the user to provide the saving path for the files being repaired. With simple browse action, the saving of files can be customized.
Add any desired location to save repaired files
No restriction on system drive locations
Can create a new folder with a name for saving
Repairs Corrupt Video Files
With this Kernel Photo Repair tool, you can also repair corrupt Video files and save it to the desired location on the system drive. (Feature available in Corporate & Technician licenses only.)
Repairs all kinds of corrupted, damaged or inaccessible video files
Adds multiple video files at a time and performs the repair
Allows users to decide the destination location for repaired files
Maintains original structure and properties of repaired files
Download Kernel Photo Repair Portable