Portable LANState Pro 9.82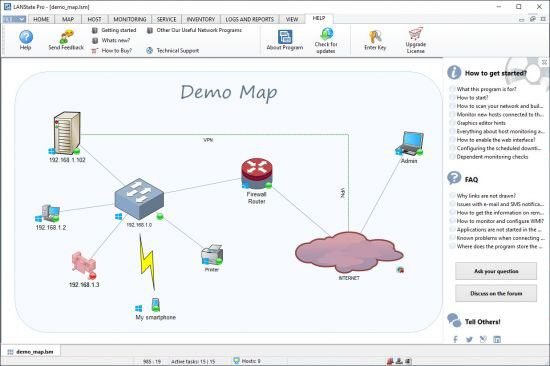 All network administrators like to be informed at all times about the status of the devices they are in charge with, so rather than walking to each of them to check them up, they can rely on a dedicated software solution that can centralize all the information. Such an application is 10-Strike LANState Portable.
Network mapping is a useful way for assessing the connectivity and its corresponding characteristics, which pertain to Local Area Networks, as it will allow users to benefit from an overview of the available devices and their connectivity. Offering both network scanning and device monitoring, 10-Strike LANState Pro will allow users to get a better overview of their network, as well as perform dedicated monitoring of its devices, and yield a graphical representation.
Tab-structured layout, which offers quick access and facilitates easy handling
The application offers users a clean interface, whose layout is populated with loads of features that address network mapping, but, more importantly, is the way that these features are provided.
To that end, users will find them all neatly packed into a tab array, which sits right at the top of the app, providing an instant overview of all the main categories of tools. We believe that this offers a very easy and quick selection process when wanting to perform a task and being unsure as to what tool could best fit the job.
Preview your network's structure, through the resulting graphics, and assess parameters such as response time
A wide range of tools is presented on offer, ranging from the basic, actual network mapping through a graphical representation of the available devices and their connectivity, right to more detailed tasks, such as pings and response times.
The amount of work that the app can offer for those who seek to learn more about their LANs is impressive, and we believe that it provides ample room for customization and further configuration, if required.
Competent LAN mapping utility that also provides device monitoring, all in a single, centralized platform
When wanting to discover more aspects about your Local Area Network and its connected devices, 10-Strike LANState Pro can offer a very insightful view of such aspects, enabling users to learn and discover what they need to, concerning network connectivity.
Considering that efficiently using this utility means scanning the network according to the settings specified by users, they need to have some previous knowledge of networking otherwise they might not get access to all the devices they were looking for.
10-Strike LANState comes with a sample file that can help users get accustomed to the ways used by the app for mapping devices and they can also get an idea regarding the correct method of mapping them.
When they want to create a new map from scratch, users can either import individual hosts or they can scan an IP range and import all the detected devices, be they workstations, printers, routers, servers, laptops, firewalls, switches, access points and so on. Once mapped, users can easily check their status by regularly pinging them.
If the generated map does not come with a correct layout (depending on their existing network settings), users can manually add lines and areas, so as to organize their devices more efficiently.
In addition, users can also explore a wide range of information about the monitored device – for example, in the case of workstations, the application can display the IP address, the DNS name and MAC address, the running OS, current date and time, as well as uptime or even Ethernet card vendor.
Admins can also perform other tasks on the mapped devices, including sending them messages, running traceroute or name lookup, remotely shutting them down or creating detailed reports that can be analyzed at a later time.
What's NEW:
Added the Wi-Fi signal strength monitoring check. With its help, you can monitor Wi-Fi routers and access points.
Added the POST request authorization type to the Web/HTTP(S) check.
Added the redirect support in the web page content check.
Added a setting for what to show in the host tooltip. You can turn off the display of comments or check messages.
Added text splitting into parts with "|" at the L-lines. Thus, you can label the ends (nodes) of the lines with different text.
Added a check for the text string existence on a web page page during a test run (using the "Test" button).
Added ability to select encoding for messages sent to Syslog.
Fixed a bug that sometimes occurred when saving a map file.
Download LANState Portable