MediCat VHD 21.06 (Windows 11 Dev Build 21996.1)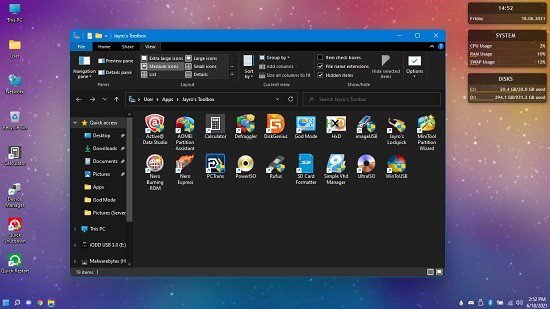 This is a bootable Windows 11 Pro (Windows 11 Dev Build 21996.1) VHD (virtual harddisk) computer repair toolkit. A USB Bootable Windows 11 Virtual Harddisk for PC Repair
Included applications (Jayro's toolbox):
7-Zip,
Active@ Data Studio,
AoMei Partition Assistant,
Defraggler,
DiskGenius,
Ease Todo PCTrans,
HxD Hex Editor,
imageUSB,
Jayro's Lockpick,
MiniTool Partition Wizard,
Nero Burning ROM,
Nero Express,
Notepad++,
PowerISO,
Rufus,
SD Card Formatter,
UltraISO,
VhdManager,
VLC medis player,
WinToUSB.
What's NEW
Added:
+ Discord
+ All Visual C++ Redistributables (2005 – 2019)
+ Dot Net Framework v6.0.0 Preview 5
+ VLC Player x64 v3.0.14
+ 7-Zip x64 v21.02 aplha
+ Notepad++ v8.1
+ Google Chrome v91.0.4472.114 (Official x64) with uBlock Origin (ad blocker) installed.
+ "Take Ownership" context menu registry entry.
+ "Small Taskbar Icons" registry hack, since the taskbar for Windows 11 lacks the traditional "Use small taskber icons" in the settings.
Removed:
– Telemetry as much as possible, everything tweaked for performance and privacy to the best of my ability.
– Bloatware stripped out using NTLite. Leftover apps uninstalled manually after installation.
– Hibernation disabled.
– Pagefile disabled.
– System Restore disabled, but still functional if you want it back on again.
Updated Apps and Changes:
~ Jayro's Lockpick (updated by @AAA3A)
~ Jayro's Toolbox is now a shortcut box in the Start Menu. Click it to open it and show the tool icons.
~ Due to changes in Windows 11, I'm unable to make a God Mode shortcut on the Desktop. I had to seek out a new option, so God Mode is now pinned to the Start Menu. Open it, and it will list everything God Mode has to offer as shortcuts.
~ The only drivers added were installed silently by Windows after installation. These are AMD chipset and APU drivers, and possibly others.
Fixed:
* TPM 2.0 patched and working.
* Windows Update and the Microsoft Store are now working in this build.
* Removed bandwidth limitations.
* Further improvements to overall system stability and other minor adjustments have been made to enhance the user experience.
Note 1: First thing to do is disable any "real-time scanning" in your antivirus software temporarily, including Windows Defender. Otherwise you will have applications get deleted from your USB stick during creation, and things won't work properly.
Note 2: Instructions for making the USB stick are included in the download (folder: "_ReadMe, HowTo").
Supports Legacy BIOS (CSM) and UEFI.
Made by Jayro Jones.

Download Medicat VHD