Portable News Ticker 1.2.0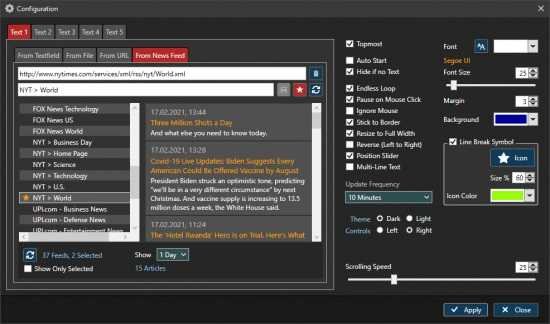 News Ticker Portable can display a smoothly scrolling text in a resizable window stripe / ribbon, in full screen width or smaller. The ribbon can "stick" to the bottom or top of your screen (multiple screens are supported) or used in free floating mode.
News Ticker features the latest programming techniques for smooth text scrolling (hardware accelaration of the graphics). Use it to be kept up to date with the latest news (a large, editable ist of RSS/Atom news feeds is included) or for presentation purposes, during video cast / TV sessions or for advertising of any kind.
Option "Hide if no Text" enables the use as an alarm / notification tool for companies, so all computers with the program installed can receive messages from a central file, located on a server drive or on the internet. When a text is pulled "From File" or "From URL", the program window will be hidden if no file is found or the file is empty and shows up again, if a valid file was found. The update frequency for the file polling can be set as low as 1 minute (for files on the internet, otherwise the change is reflected immediately). You can open several instances of the program and show more than one scrolling text on the screen at the same time that way, with different settings (but only the settings of the last closed program instance will be saved).
Features
Resizable ribbon for horizontally scolling text
Scrolling speed is adjustable in a wide range
5 slots for text of unlimited length, coming from
…text field
…text file
…URL / web address (TXT or HTML file)
…news feeds
Adjustable scrolling speed (use the slider in the settings dialog)
Scrub function – scroll back and forth within your text with a slider, using a slider in the controls window
Selectable background color, text color and text font
Transparent or semi-transparent background is possible, so the text can be shown over a background image
Scroll right-to-left or left-to-right (reverse direction mode)
Optional "Pause on mouse click": click the window to stop/restart the scrolling
Endless Mode / Single pass through
For external files on a local or network drive, any text changes in the file will update the scrolling text immediately
In URL / news feed mode select the update frequency from 1 minute to 12 hours
Stick to border / resize to full screen width function (when near top/bottom screen border, the window resizes to full width)
Optional multi-line mode (if not too many line breaks, otherwise it ill be cut – not available in news feed mode)
Selectable line break symbol (adjustable icon, color and size for the separation of lines or news articles)
Article preview for news feeds: on mouse-hover over a feed title, a preview window shows the article headlines and a button for going to the news article on the web (left or right aligned)
Download News Ticker Portable