Portable ORPALIS PaperScan Professional Edition 4.0.9 Multilingual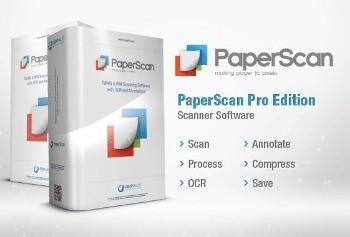 PaperScan Portable Scanner Software is a powerful TWAIN & WIA scanning application centered on one idea: making document acquisition an unparalleled easy task for anyone. PaperScan Professional Edition is a powerful and comprehensive tool to manage the documents of your business or organization: scan, process, perform OCR, annotate, compress and save your images and PDFs in various formats.
Orpalis PaperScan Portable is a powerful scanning software that allows users to scan, process, and save documents quickly and easily. This software is ideal for individuals and businesses that need to digitize and store large volumes of documents. Orpalis PaperScan Portable offers a range of features that make it a versatile and efficient tool for document management.
One of the key features of Orpalis PaperScan is its ability to handle a wide range of document types. The software can scan documents of various sizes, from small receipts to large format drawings. It can also handle different types of documents, including invoices, contracts, and legal documents. This versatility makes Orpalis PaperScan an excellent choice for businesses that deal with a variety of document types.
Another important feature of Orpalis PaperScan is its image processing capabilities. The software can automatically adjust brightness, contrast, and color levels to ensure that scanned documents are clear and easy to read. It can also remove background noise and correct distortions, such as those caused by page curvature or skew. These features ensure that scanned documents are of the highest quality, which is essential for accurate document management.
Orpalis PaperScan also offers a range of tools for document organization and management. The software can automatically detect and separate individual pages within a document, making it easy to manage multi-page documents. It can also create searchable PDF files, which allow users to quickly find specific information within a document. Additionally, Orpalis PaperScan can save documents to a variety of file formats, including PDF, TIFF, and JPEG, making it easy to share and store documents in the format that works best for each user.
One of the standout features of Orpalis PaperScan is its user interface. The software is designed to be intuitive and easy to use, even for users with little or no experience with scanning software. The interface is clean and uncluttered, with clearly labeled buttons and menus that make it easy to access the software's features. Additionally, Orpalis PaperScan offers a range of customization options, allowing users to adjust the interface to their preferences.
Orpalis PaperScan also offers a range of advanced features for more experienced users. The software includes support for batch scanning, which allows users to scan multiple documents at once. It also offers OCR (optical character recognition) capabilities, which allow users to convert scanned documents into editable text. And for users who need to scan documents on a regular basis, Orpalis PaperScan offers support for TWAIN and WIA scanners, making it easy to integrate the software with existing scanning equipment.
Overall, Orpalis PaperScan Portable is an excellent choice for individuals and businesses that need a powerful and versatile scanning software. Its ability to handle a wide range of document types, combined with its image processing capabilities and document management tools, make it an ideal solution for document digitization and management. And with its intuitive user interface and advanced features, Orpalis PaperScan is a great choice for users of all experience levels.
You prefer to use your scanner's software for document acquisition?
Use PaperScan Portable to import any image/PDF files, arrange them in any imaginable single-page/multi-page configuration, perform a wide range of image adjustments/enhancements, annotate them with sticky notes, rubber stamps, highlighter or arrows and save your work in various file formats including JPEG, TIFF, PDF and JBIG2. PaperScan is simply universal while most of the scanning applications are dedicated to one scanner or one protocol.
Professional Edition Features
– Unlimited batch TWAIN & WIA scanning / import
– Save as single page PDF/A, TIFF, JPEG, JPEG 2000, PNG, JBIG2, WEBP
– Save as multipage TIFF JBIG2 and PDF/A
– Send as email
– Save as PDF-OCR
– Digital signature
– Image processing during batch acquisition: auto-deskew, angle rotation, borders removal, punch holes removal, negative
– Automatic blank page removal
– Support for scanning with separator sheets
– Post Image Processing: color adjustment, color space conversion, effects, filters, crop and more…
– Automatic color detection
– PDF Encryption support (read & write)
– Flatbed and document feeder support
– Duplex scanning support
– Support PDF/A conformance levels and versions, as output format
– Mixed Raster Content
– Save to SharePoint on-premises
New Features in version 4
– Support for 64-bit drivers.
– Autosave of images between sessions.
– Enhanced user profiles.
– Additional output formats including PDF 2.0,PDF/A-4.
– Save output to SharePoint Online and On-Premise.
– Dramatically improved OCR accuracy and speed
– Additional OCR output formats, including Word and Text.
– OCRing of multiple languages in a single document.
– Split and rename by barcode.
PaperScan Portable Release Note:
– Improved OCR engine accuracy.
– Improved PDF/A conversion engine.
– Improved MRC engine accuracy.
– Improved 1D barcode reading accuracy.
– Battery of minor bug fixes.
Download Orpalis PaperScan Portable