Portable AMS Passport Photo Maker 9.35 Multilingual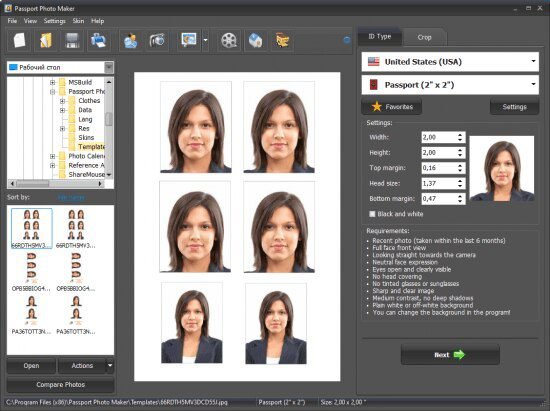 Passport Photo Maker Portable is the professionals' choice when it comes to making ID photos that correspond to the latest requirements. The integrated database of ID types that comes with the software stores the settings for different types of documents common in the USA, UK, Canada, Australia, France, Germany, Spain, Italy, and other countries, as well as a large database of different visa photo types. The built-in database is regularly updated with new passport photo templates, which saves both home users and professional photographers a lot of money and effort.
The interface is quite neatly organized, seeing that you can make use of a folder structure, a preview panel and an editing window. In addition to that, any type of person can work with it, regardless of his or her previous experience with computers.
This tool incorporates a large number of ID types (from driving licenses to Visas and passports) from a lot of countries, such USA, Canada, United Kingdom, France, Brazil and Czech Republic. All of these contain measurements such as width and height of the picture, type of background and photo corners, which can also be customized.
This software app integrates automatic face detection, a feature which proves to be useful, as it helps you crop the picture faster and better. It is also possible to rotate the image, tweak the brightness and lighting, replace clothes, change the background, as well as remove red eyes and use sharpen, contrast, blur, burn and dodge tools.
After all the changes have been applied, you can save the photograph to the hard drive, as a BMP, TIF or JPG, print and burn it to a CD or DVD.
You might also want to know that it is possible to cut, copy and paste elements, undo or redo actions, generate statistics, view activity log and take pictures with your web camera.
To sum up, Passport Photo Maker is a useful piece of software which does not use many computer resources, has a good response time and a feature-rich environment.
See what you can do with Passport Photo Maker Portable
Prepare ID photos for any document type.
Use the up-to-date database to prepare photos for US passport, Schengen visa, driver's license, baby passport, etc. Just add your photo and the app will apply the right settings and dimensions automatically.
Change background & clothes on your photos.
Replace unsuitable clothes right in the software using an integrated collection of clothing items. You can also change the background color with one mouse click or use color brushes if manual adjustment is required.
Enhance photos and retouch imperfections.
This passport photo creator comes with a complete set of photo editing tools to fix brightness, contrast, color balance, correct shadows, as well as rotate and straighten headshots with precision.
Print ID photos in professional quality.
Print any number of passport size photos on different paper sizes. It's also possible to create a custom layout and save it as a template for later printing. Crop marks will help accurately trim the photo once it's printed.
Download Passport Photo Maker Portable