Portable Asmwsoft PC Optimizer 2021 v12.0.3094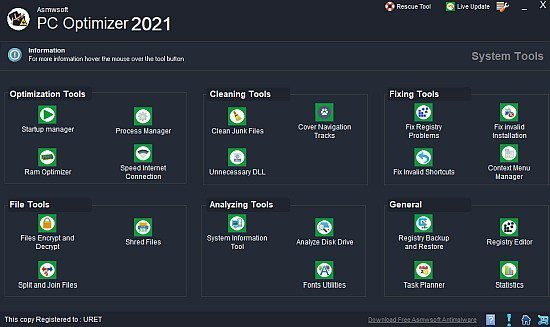 Asmwsoft PC Optimizer Portable is a collection of over 20 system-maintenance and optimization utility to tune up windows performance.The user interface of the program consists of a simple window in which you can access tools for optimization, cleaning, repairs, protection, disks, and others.
Thus, you can boost your Internet speed connection, configure programs which automatically run at system startup, tweak Windows, remove unnecessary DLLs, delete fonts, optimize RAM, view system information and use a process manager.
You can also clean junk files, delete navigation tracks, eliminate web popups and use a maintenance wizard tool, as well as fix registry problems, invalid install information and invalid shortcuts.
Furthermore, you can encrypt and decrypt files, lock EXEs, use a file shredder and a "MenuGuard" tool, backup and restore the registry, as well as restrict programs.
Moreover, you can create new catalogs for drives, split and join files, get driver statistics, open Registry Editor, check for empty folders, analyze log files, block IP spam messages, organize contact addresses information, check for updates, view general statistics, schedule an event, and more.
The application uses a low amount of system resources, includes a well-written help file and didn't pop up any errors during our tests.
Optimization Tools:
– Internet Connection booster Tool
– unnecessary Dll
– Startup Manager
– Process Manager
– Ram Optimizer
Fixing Tools:
– Fix Registry Problems
– Fix invalid Installation Information
– Fix Invalid Shortcuts
Analyzing Tools:
– System Information Tool
– Fonts Utilities
– Analyze Disk Drive
Cleaning Tools:
– Clean Junk Files
– Internet Tracks Eraser
– Asmwsoft OneClick Optimizer
File Tools:
– Files Encrypt and Decrypt tool
– Files Shredder tool
– Large Files Splitter tool
General Tools:
– Registry Backup and Restore Tool
– Registry Editor Tool
– Task Planner
– Plug-ins Maker Tool
Download Asmwsoft PC Optimizer Portable