Portable ORPALIS PDF Reducer Pro 4.0.7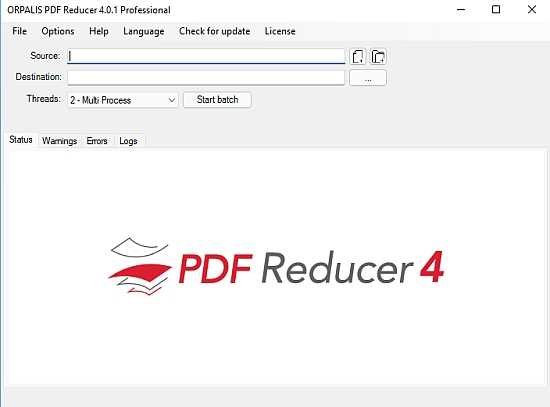 The Professional Edition of ORPALIS PDF Reducer allows users to benefit from all the advantages of innovative and highly sophisticated size-reducing tool for PDF files without any restriction. Besides the graphical user interface, you can call every functionnality of PDF Reducer from CLI (Command Line Interface) to take advantage of these features inside your batch scripts or even integrate it in your own applications.
Need smaller PDFs for file storage, file sharing or fast web view purposes?
Use ORPALIS PDF Reducer to select either individual files or entire folders to minimize the size of your PDFs and images. Make web publishing of PDFs a snap allowing fast web view or just save time when sending them via internet. And get everything done really fast!
A powerful PDF solution for your team.
– Managing documents is time consuming and is one of the biggest productivity killers in the workplace.
– Don't waste valuable time converting files, PDF Reducer Pro compresses and saves as PDF all your images too.
The best software for everyday document management tasks.
– Powerful. Easy to use.
– Reduce the size of those heavy PDF files, then store or send them easily.
Unrivaled lossless data re-compression
– Innovative and highly sophisticated techniques which restructure existing content and apply the most effective compression scheme based on data type. – Documents are printable and zoomable without loss of quality.
– PDF Reducer is able to serialize several compression algorithms on images in order to (surpass) the limitations of some compression schemes.
Remove unwanted or unused objects
You might have received PDFs containing additional, unwanted objects: let PDF Reducer remove them for you.
Automatic color detection and layout analysis
Usually, scanning batches of papers under scanner's color-mode implies mixing together colored and B&W documents. PDF Reducer automatically identifies the B&W ones and encodes them as plain B&W thus dramatically reducing the file size.
Raster images re-sampling and re-composing
Decrease un-necessary high resolution to dramatically reduce the file size whitout affecting the viewing experience.
Content segmentation and optimal compression
Segments embedded images, separates text, finds similar bitmap sections and makes optimized recompression.
Fast web view support (linearization)
Add to your large PDFs the ability of being viewable for web-users even before the PDF file download is complete.
Input file formats
With PDF Reducer version 3 you can downsize a large variety of images and documents. Nearly 100 input files formats are now available besides PDF, including raster images formats such as TIFF, JPEG, PNG, JPEG 2000 and RAW camera formats.
Multi-threading support – Pro Edition
Executes PDF processing via multiple, simultaneous and concurrent threads, decreasing processing time by using CPU resources most efficiently.
Command line interface support – Pro Edition
Automate PDF processing with commands without needing repetitive actions control via the GUI (graphic user interface).
Unlimited batch processing fully available in Pro Edition
Executes PDF processing via multiple, simultaneous and concurrent threads, decreasing processing time by using CPU resources most efficiently.
Language & Interface
Default user interface language in ORPALIS PDF Reducer is English. Based on your Windows language settings, ORPALIS PDF Reducer automatically displays the localised version of the interface, if it exists among ORPALIS PDF Reducer translated interface versions. Currently, available languages for ORPALIS PDF Reducer interface are: English, French and Romanian.
What's NEW:
– Improved PDF/A converter engine performance.
– Improved PDF optimization speed.
– Improved MRC engine.
– Battery of minor bug fixes.
Download PDF Reducer Portable