Portable NCH PhotoPad Professional 11.00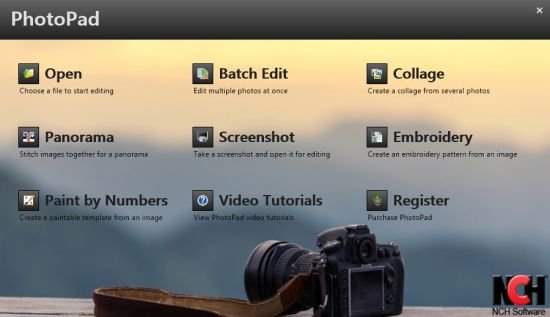 Whether you're a professional photographer or just want to edit your personal photos, PhotoPad Portable offers the powerful tools and features you need to improve your digital images.
When you want to edit your photos, the software provided for such a task is plentiful. There are certainly a lot of options to choose from, and some are more advanced than others. Using the more specialized apps for when you simply want to do a quick edit can be a bit awkward, what with the amount of depth to their features.
That is not to say that software catered to a more general audience lacks complexity. Something like PhotoPad, for instance, is a long-running program precisely because of how accessible yet feature-rich it is: all is within arm's reach here, and you get to alter your images in various ways, be it through color and filter adjustments, or retouching and adding effects.
Simple to use, but efficient
This program's interface can best be summarized as functional, accessible design. The tab layout ensures that you know the location of each of the options available to you, and the editing workflow itself is very smooth.
Booting up the app will prompt you to add one or more images. Inserting all pictures from a file is also possible. Afterwards, you can freely use the capabilities of the app to the best of your ability.
Tabs such as Color, Filters, Effects contain elements to help you handily edit the cosmetics of your photo, whilst the ones like Edit, Select, and Retouch serve to enhance that.
More tools
There's also the Tools tab, which is meant to offer some additional functionality. It houses the Card Generator and Passport Photo features, as well as a Batch Editing option that can apply various effects and changes to multiple pictures, at once.
Working with PhotoPad is a pleasant experience: the workflow is very well-thought-out thanks to the intuitively designed interface, and the amount of features it offers makes it a worthy candidate for your consideration.
Features
Crop, rotate, resize and flip pictures
Touch up photos to remove red-eye and blemishes
Apply photo effects, including oil paint, cartoon, vignette, sepia and many more
Improve photo quality and focus with blur, sharpening and noise reduction tools
Adjust image color/hue, saturation, brightness and contrast
Create collages and photo mosaics with your photographs
Photo stitching to make your own panorama images
Load jpg, gif, png and other popular image formats
Add text and captions to photos
Insert clipart from the included clipart library
Add frames and borders around your photographs
Change the aspect ratio of an image without distorting key features using the liquid resize effect
Non-destructive editing allows easy modifications of individual photo effects on the layers list
Upload edited pictures directly to Facebook or Flickr
Download PhotoPad Portable