Portable NCH PhotoPad Professional 11.76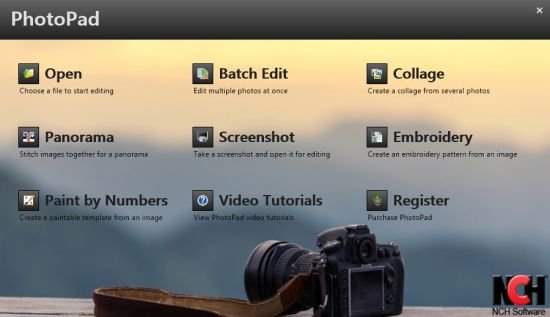 In the realm of digital imagery, the quest for the perfect image editing software is one that is essential to the needs and aspirations of both professional photographers and casual users alike. NCH PhotoPad Portable, a versatile and user-friendly image editor, emerges as a powerful contender in this domain. This all-encompassing tool caters to a wide array of requirements, ranging from basic image manipulation tasks to more advanced editing techniques. In this exposition, we shall embark on an in-depth exploration of the numerous features and functionalities offered by NCH PhotoPad Portable, simultaneously delving into its compatibility, efficiency, and potential drawbacks.
At its core, NCH PhotoPad Portable offers a comprehensive suite of features designed to facilitate the seamless modification and enhancement of images. The software's interface is intuitively structured, ensuring effortless navigation even for those with limited technical expertise. This accessibility is further bolstered by a series of tutorials and tooltips, which provide valuable guidance to users as they acquaint themselves with the program's intricate capabilities.
One of the most noteworthy aspects of NCH PhotoPad lies in its extensive repertoire of editing tools. Basic functionalities, such as cropping, resizing, and rotating images, can be executed with precision and ease. Moreover, users can adjust various parameters, including brightness, contrast, saturation, and color balance, thereby optimizing the overall aesthetic appeal of their images. Additionally, NCH PhotoPad incorporates a myriad of filters and effects, enabling users to apply artistic and stylistic flourishes to their creations.
The software's prowess extends beyond mere visual enhancements, as it also encompasses advanced editing techniques. For instance, the retouching tools provided by NCH PhotoPad facilitate the removal of blemishes and imperfections in photographs, leading to more polished and refined results. Furthermore, the program supports layer editing, a feature that allows users to manipulate distinct elements of an image independently, granting them the flexibility to experiment with diverse compositions and effects.
Another commendable aspect of NCH PhotoPad is its compatibility with a broad array of file formats. This versatility ensures that users can effortlessly import and export images in formats such as JPEG, PNG, GIF, BMP, TIFF, and even RAW files from various digital cameras. Moreover, the software is equipped with batch processing capabilities, enabling users to apply edits to multiple images concurrently, thereby reducing the time and effort required for large-scale projects.
In terms of potential drawbacks, it is imperative to acknowledge that NCH PhotoPad may not serve as an ideal solution for all users. For instance, professional photographers or designers might find the software lacking in certain advanced features offered by other high-end editing applications. Moreover, the program's performance could be hindered on devices with limited system resources, potentially leading to sluggishness and reduced efficiency.
Nonetheless, NCH PhotoPad boasts a myriad of redeeming qualities that render it an invaluable tool in the arsenal of image editing enthusiasts. Its user-friendly interface, comprehensive array of features, and broad compatibility make it an attractive option for individuals seeking an accessible and versatile image editor.
In conclusion, NCH PhotoPad represents a remarkable synthesis of functionality, convenience, and adaptability. While it may not cater to the stringent requirements of professionals in the field of photography or design, it undoubtedly serves as an indispensable resource for casual users and hobbyists who seek to enhance their images and unleash their creative potential. By providing a plethora of editing tools and tutorials, NCH PhotoPad facilitates the growth and development of aspiring artists, empowering them to refine their skills and produce visually stunning masterpieces.
Whether you're a professional photographer or just want to edit your personal photos, PhotoPad Portable offers the powerful tools and features you need to improve your digital images.
When you want to edit your photos, the software provided for such a task is plentiful. There are certainly a lot of options to choose from, and some are more advanced than others. Using the more specialized apps for when you simply want to do a quick edit can be a bit awkward, what with the amount of depth to their features.
That is not to say that software catered to a more general audience lacks complexity. Something like PhotoPad, for instance, is a long-running program precisely because of how accessible yet feature-rich it is: all is within arm's reach here, and you get to alter your images in various ways, be it through color and filter adjustments, or retouching and adding effects.
Simple to use, but efficient
This program's interface can best be summarized as functional, accessible design. The tab layout ensures that you know the location of each of the options available to you, and the editing workflow itself is very smooth.
Booting up the app will prompt you to add one or more images. Inserting all pictures from a file is also possible. Afterwards, you can freely use the capabilities of the app to the best of your ability.
Tabs such as Color, Filters, Effects contain elements to help you handily edit the cosmetics of your photo, whilst the ones like Edit, Select, and Retouch serve to enhance that.
More tools
There's also the Tools tab, which is meant to offer some additional functionality. It houses the Card Generator and Passport Photo features, as well as a Batch Editing option that can apply various effects and changes to multiple pictures, at once.
Working with PhotoPad is a pleasant experience: the workflow is very well-thought-out thanks to the intuitively designed interface, and the amount of features it offers makes it a worthy candidate for your consideration.
Features
Crop, rotate, resize and flip pictures
Touch up photos to remove red-eye and blemishes
Apply photo effects, including oil paint, cartoon, vignette, sepia and many more
Improve photo quality and focus with blur, sharpening and noise reduction tools
Adjust image color/hue, saturation, brightness and contrast
Create collages and photo mosaics with your photographs
Photo stitching to make your own panorama images
Load jpg, gif, png and other popular image formats
Add text and captions to photos
Insert clipart from the included clipart library
Add frames and borders around your photographs
Change the aspect ratio of an image without distorting key features using the liquid resize effect
Non-destructive editing allows easy modifications of individual photo effects on the layers list
Upload edited pictures directly to Facebook or Flickr
Download PhotoPad Portable