Portable ToolRocket PDF Converter 8.6.9.0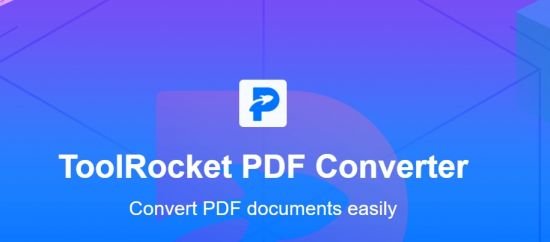 ToolRocket PDF Converter Portable provides a straightforward yet powerful PDF File converter that includes many conversion options. ToolRocket PDF Converter allows you to convert PDF documents to images in JPG or PNG, editable Word, Excel, PowerPoint, text in TXT, and HTML (Hypertext). It also allows you to convert various documents into PDF format. Not only that, but it can also help with combining, compressing PDF files and text recognition with advanced OCR technology making it a well-rounded utility. One thing we noticed during testing, there is one option in Chinese with no way to switch to English (or any other languages for that matter),but it appears to have something to do with multimedia files.
ToolRocket PDF Converter Conversion Options:
PDF to Word
PDF to images
PDF to Excel
PDF to PowerPoint
PDF to TXT
PDF to HTML
Word to PDF
Images to PDF
Excel to PDF
PowerPoint to PDF
Merge PDF
Split PDF
Extract from PDF
Compress PDF
Extract picture
Encrypt PDF
Unsecure PDF
Delete PDF pages
Once you have loaded your target PDF, you can proceed with a single-click to convert PDF, Word, Excel, PowerPoint, Text, and dozens of formats mutually. What's more exciting is that this free PDF Converter provides you with text processing and recognition, speech recognition, image conversion, etc.
ToolRocket PDF Converter Features:
Text to speech
With just one tap, the text will turn into speech. Almost real person sound enables you a comfortable listening experience
CAD conversion
Convert CAD of all versions to PDF, images, DWF, and so on. One-click conversion makes your work easy and efficient
OCR text recognition
Handwritten text, paper documents, scanned PDF, and other files can be recognized to text quickly and accurately
Image conversion
Image formats such as JPG/JPEG, PNG, BMP can be mutually converted in high resolution. You can check your pictures on various devices in one click.
Download ToolRocket PDF Converter Portable