Portable PT Portrait Studio 5.2 (x64)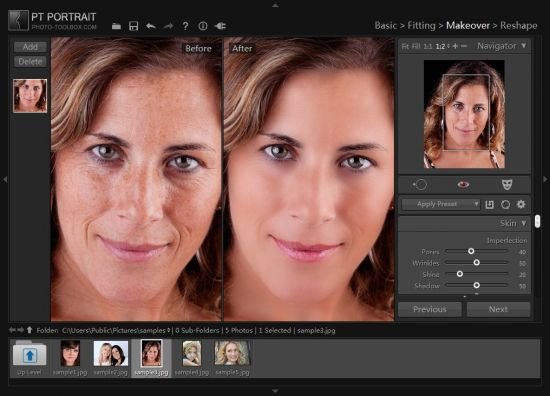 PT Portrait Portable – Easy portrait retouching software. PT Portrait is an easy to use and time-saving photo editor that lets you retouch portraits to make them perfect, removing imperfections and making improvements to rival the quality of professional photographers.
One-Click Color Correction
With just a click, White Balance tool can help you remove color casts, restore a real photographic scene
Solve Exposure Problem
Several brightness adjustment tools that allow you to cope with common photo exposure problems easily.
• Dehaze
Quickly remove haze, dramatically improve an image with one slider.
• Levels
Help you easily identify overexposed or underexposed areas in your photos and make appropriate tonal range corrections.
• Curves
Improve color tones in a photo by adjusting highlights, midtones, and shadows in each color channel.
Pro-Quality Color Enhancement
Bring out the colors in your shots with flexible color adjustment tools. Improve sky, flower and even skin tone with just one click, making them look their best.
Efficient Photo Editing Tools
Easy to use editing tools help you crop and straighten pictures quickly, remove blemishes, correct red eyes, and erase unwanted objects, get rid of the nasty imperfections.
• Crop
Use cropping to improve a photo's composition.
• Straighten
Correct skewed perspective in any crooked photo.
• Remove Blemish
Use Blemish Removal Tool to quickly fix point-like stains, blemishes and acnes.
• Correct Red Eyes
Remove red eye effect from image without ruining eye detail.
• Clone Tool
Easy and flexible image fixing tool, help you remove skin imperfections and other unwanted distractions in an image.
• Liquify Tools
Twist, bulge, squeeze, or add artistic details with the new Forward Warp, Push Left, Bloat, Pucker, Twirl Liquify tools.
• Lens Correction
Quickly fix common lens flaws such as barrel and pincushion distortion, vignetting. You can also use the tool to rotate an image or fix image perspective caused by vertical or horizontal camera tilt.
Detail Improvement
Use Sharpening and Noise Reduction Tools to make sure your photo is perfect in every detail.
• Sharpen
Deliver crisp, sharp images with detail sharpening adjustments.
• Noise Reduction
Remove artifacts from shots taken at high ISO or in low light conditions.
• Creative regional editing
Creative regional editing functions bring you more flexible and convenient operation experience, inspire your creativity, create extraordinary images.
• Lasso
Make precise selections by drawing a selection border.
• Quick Selection
Automatically make a selection when you click or draw a line in the area you want to select.
• Effect Brush
Let you selectively apply adjustments to photos, such as soften skin, whiten teeth by "painting".
• Gradient Tool
Help you create a gradient region in the photo, where you can apply effects gradually across the region.
Inspiring Effect Presets
PT Photo Editor comes loaded with dozens of amazing effect presets to play with. Try unique, near-effortless artistic creations, and see the stunning results in real time.
Watermark and Frame
Watermark module helps you add text & image watermarks and frames to your pictures in a simple and efficient way. Flexible editing options let you create a variety of watermark and frame styles easily. With the unlimited customizable one-click templates and batch mode, you can process hundreds of pictures at once.
Quick Batch Processing
Easy to use batch processing function allows you to convert, rename, resize and edit hundreds of images in one go, helping you create a more efficient workflow. Just enjoy a perfect experience of photo editing and get away from those tedious and time-consuming repetitive work.
Preserve Details & Colors
Full-time 16 Bit Processing: Full-time 16-bit per channel processing architecture allows you make advanced color adjustments to an image while keeping its color rich and vibrant.
Color Management: PT Photo Editor is fully color managed. So the colors in your image will be displayed correctly no matter what color space you're using in your workflow. And you can convert your edited result to any specified color profile.
What's NEW:
Uses hardware(GPU) acceleration for UI rendering if possible.
Supports RAW formats from newer camera models.
Minor improvements and bug fixings.
Download PT Portrait Studio Portable