QILING Disk Master Technician 6.5 WinPE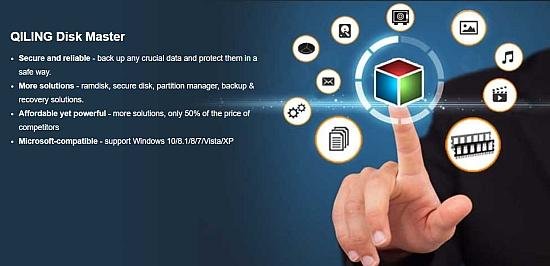 The biggest nightmare for a computer user is data loss and system crash, once happened, reliable and up-to-date backups are extremely necessary and important. QILING Disk Master covers all the needs to recover your lost data and restore crashed systems in minutes. It's advanced and reliable data backup & system disaster recovery software for home office and business desktops and laptops. It enables users to perform self-service backup operation with comprehensive full/differential/incremental backup.
The utility comes with a straightforward and well-organized user interface that guides you to all the program's main features.
The interface is split into four main self-explanatory categories, namely 'Virtual disk', 'Backup and Recovery', 'Disk management' and 'Tools and utilities'. Right off the bat, it needs to be stated that there are not a lot of things QILING Disk Master Professional cannot do.
Impressive amount of disk management features
With its plethora of advanced tools, this app can help you move, resize, create, format, delete and recover partitions, migrate your content from an SSD to a HDD and vice-versa. Also, you can backup your images, music, emails, apps, videos, keep them protected using passwords and even schedule daily, weekly and monthly backups.
Moreover, the utility makes it possible for you to create RAM and virtual disks and even emergency disks, check your hard-disk's health, perform surface tests, restore your computer to an earlier state, clone your current system and run it from other locations, as well as permanently delete files.
Manages to be powerful, efficient and user-friendly, all at the same time
Taking all things into consideration, QILING Disk Master Professional is an effective system management utility that makes it possible for you to get a firm handle on your computer's disk management situation.
By far the best thing about this application is the fact that it provides you with a large collection of features, all while feeling intuitive and totally usable, which is not something very common in the sometimes tangled world of software.
Virtual disk and backup software and checking hard disk's health software. With it, you can do:
– The virtual disk utility simulates a real HDD in order to avoid data loss and to facilitate a more comfortable software testing environment.
– The ramdisk feature allows users to enhance the speed of the PC.
– Full system protection allows you to easily back up and recover your entire operating system when disaster happens.
– Fast, easily and safely migrate system to an SSD or a bigger HDD for disk replacement or upgrade.
Key Features:
– System backup and protection (imaging)
– File backup and recovery
– File zip
– File sync (Server supported)
– Full, incremental, and differential backup
– AES 256 bit encryption, compression, and password
– One-click system backup
– Daily, weekly or monthly backup scheduler
– Perfect Defrag
– Bare-metal system restore
– Backup Strategy(Quota management)
– Supports all sizes hard disks and SSDs (80GB to 4TB)
– Compression
– Deduplication
– Email notification
– Hot Clone
– Larger than 512-byte sector
– GPT & UEFI Boot Supported
– Disk/partition management
– Migrate OS to SSD/HD
– Wipe data
– File shredder
QILING Disk Master Technician is complete toolkit to simplify partition manager and migrate OS and backup & recovery software for IT administrator, technicians and consultants. With simple and easy-to-use interface, anyone, even non-technical users, can protect all of critical business data in minutes to ensure business continuity without having to need an expert. In addition, It also supports checking hard disk's health, fix boot question, permanently erase sensitive data and so on.
System backup – Easy system drive backup of all contents, including Windows operating system and system settings without interrupting your work.
Disk/partition backup – Block-level disk imaging quickly and efficiently backs up the entire disk or volumes.
File backup – File-level backup allows you to selectively back up specific files, folders or file types, including network shared files.
File zip – compress selectively files, folders or file types, including network shared files to a zip file.
Unattended backup – Runs as a Windows service – ideal for unattended Servers. Backs up even when system logged out, slept or hibernated.
Incremental & Differential
Based on a full backup, the software enables only backup changed or new data in order to save time and disk space for you.
Hot backup – Back up specific files and volumes without interrupting any current operations, especially for open files backup.
Schedule backup – Flexible backup scheduler allows backups to run based on daily, weekly, monthly or event.
Backup management – Easily manage backup job and automatically delete the out-of-date backup images, saving storage space.
What's NEW: 
Update user interaction Interface.
Support PIN password for Windows 10 or Windows 11.
Support HD display in WinPE.
Support new hardware.
Download QILING Disk Master Technician WinPE