Radiant Photo 1.1.0.245 (x64) Multilingual
Your photos deserve to be radiant. Get superior quality finished photos with perfect color rendition, delivered to you in record time. Your photos — simply RADIANT. The way they are meant to be.
Radiant Photo Portable is photo editing software for Mac and Windows and a native plug-in for Adobe Photoshop, Lightroom Classic, and Corel PaintShop Pro.
Edit RAW or JPEG images almost instantly using artificial intelligence to analyze each pixel in your photo individually.
AI recognizes objects in photos, preserves 3D depth, balances exposure, adjusts white and black points, adds diffusion, removes color casts, and performs a myriad of other micro-processing. increase.
The sum of all these is an edited photo that most photographers describe as "well balanced". Some consider it a complete edit.
Radiant Photo Portable was developed in collaboration with talented professional photographers who combined their expertise to create a unique photo editor that appeals to a wide range of photographers.
After making initial (or final) edits with AI, there are a variety of deeper editing tools you can use to fine-tune your images.
There are also presets and the ability to edit multiple photos at once.
Adding photos to Radiant is as easy as dragging and dropping. No need to create complicated catalogs here. Add a photo and you're almost done. You'll see a spinning wheel indicating the import, and a small icon to indicate that the AI ​​Wizard is reviewing and applying your changes.
In a fraction of a second, you get what Radiant considers a "balanced" picture. All complex photo editing is done and you can continue editing or leave the photo as is.
Amazing images. No sweat.
Getting great results with Radiant Photo couldn't be easier!
The Radiant Photo image pipeline – Enhancement Tools
Graduated Filter
A linear or a radial gradient can apply adjustments to only part of your image.
Portrait Tools
Enhance the beauty of your subject with natural edits that enhance eyes, skin, and much more.
Color Grading
LOOKs offer intelligent style recipes for your photos. Quickly editable for a personal style.
Finishing Tools
Fine-tuning adjustments that can be applied last in the image pipeline.
The Radiant Photo image pipeline – Quick Edit
Scene Detection
AI recognizes the content of the photo, as well as analyzes each pixel and chooses the ideal starting point.
Smart Presets
A starting edit is applied to the photo from our collection, or use your own AI presets. Smart tools automatically adapt to every photo.
Quick Edit Controls
Refine the edit quickly with seven essential controls – for most, the image is ready to print or share.
The Radiant Photo image pipeline – Detailed Edit
Radiant Tone
Enhance the dynamic range of the scene without clipping. Get perfect exposure every time.
Radiant Color
Photo color correction that matches how the human eye sees color — true to life.
Radiant Details
Enhance sharpness, reveal lost details, and eliminate noise with smart tools. The Radiant Photo image pipeline — Enhancement Tools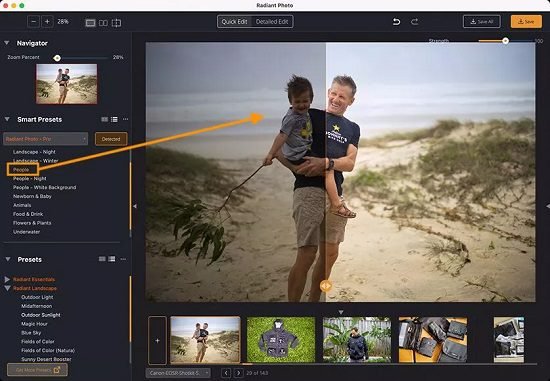 Download Radiant Photo Portable