Portable Rapid SEO Tool 2.12.0.23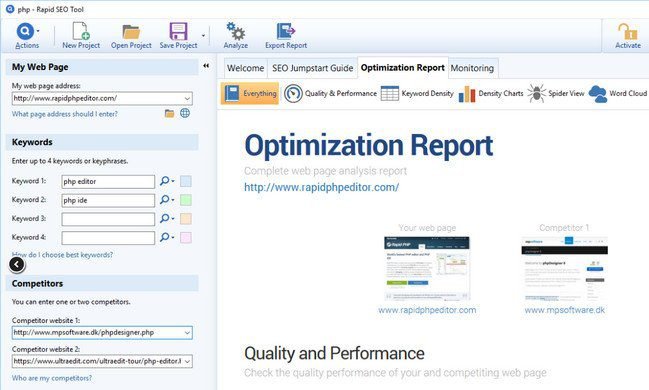 Rapid SEO Tool Portable – simple SEO software. Improve your position on search engines. Rapid SEO Tool is unique search engine optimization and search engine position monitoring software designed to ease the task of improving web page position on search results. It will literally look at your web page code and suggest what can be improved to get better results. You don't even have to be an SEO professional.
Compare sites against competitors
The application has been designed to provide developers with better insight into how their websites perform when compared to direct competitors and performs side-by-side web page analysis for that.
With the help of this tool, admins and developers can learn more about what optimizations can be made to their code to push their web pages higher in search results.
Generate comprehensive reports
The program can generate a variety of reports on the analyzed code, providing developers with info on quality and performance, keyword density, keyword use, and on the manner in which search engines view the web page.
Developers can view info on their website's ranking, as well as on the inbound and outbound link counts. Moreover, the utility includes word count, meta description, page load time, and W3C validation results in the generated report.
For each of the provided keywords, the tool generates a report on its presence on the web page, weight, and prominence. Analysis results are grouped in categories such as Title, Meta description, H1, H2-H6, Body top and Body, and Bold &Strong.
Monitor a website's position in search engines
In addition to analyzing a web page's code and to generating reports on its performance, the software can be used to monitor the position of a web page in search engines. Thus, developers can receive real-time updates on any changes that might appear.
All in all, Rapid SEO Tool is an easy-to-use, powerful web page analysis tool, providing developers with a better understanding of the optimizations that their websites need. It can help admins improve the rating or their websites by analyzing a page's code and by generating detailed reports it.
Side-by-side comparison
Rapid SEO Tool Portable is the first full-scale side-by-side SEO software that will compare your SEO efforts against your competitors and suggest how to overtake them.
Unlike other search engine optimization tools and keyword density analyzers, Rapid SEO Tool is not about keyword stuffing, but rather about comparison.
New to SEO?
Get started within minutes
Rapid SEO Tool will get you started really quickly and easily.
Get more visitors with easy SEO
Easily fix your web page and check how it climbs up the search results.
Become an SEO expert quickly
Rapid SEO Tool does not hide secrets, it teaches you how to do SEO.
Experts welcome
Unique side-by-side SEO comparer
Compare your website against competition and generate side-by-side reports.
Work faster
Perform detailed quality check and keyword analysis with a single click.
Extend your existing toolset
Keep your old SEO software, add Rapid SEO Tool for that extra benefit.
Key Features
Automatic suggestions
Generate clear instructions on improving your search engine positions
Side-by-side comparison
Compare against competitors and see why they might get better results
Content check
See what is wrong with your web page content and learn how to fix it
Position monitoring
Easily monitor your search engine positions
Performance check
Easily run a number of performance and quality checks
Search spider view
See how search engines see your website
Free SEO book / guide
Learn SEO basics by example within 5 minutes
Keyword density analysis
Retrieve in-depth keyword density analysis
Reporting
Easily generate and save in-depth SEO reports
Download Rapid SEO Tool Portable