Portable Remote Desktop Manager Enterprise 2022.3.24 (x64) Multilingual
Remote Desktop Manager Portable is a small apgfplication used to manage all your remote connections and virtual machines. Add, edit, delete, shared, organize and find your remote connection quickly. Compatible with Microsoft Remote Desktop, Termfinal Services, VNC, LogMeIn, Team Viewer, Ftp, SSH, Telnet, Dameware, X Window, VMware, Virtual PC, PC Anywhere, Hyper-V, Citrix, Radmin, Microsoft Remote Assistance, Sun Virtual Box and more.
Remote Desktop Manager (RDM) centralizes all remote connections on a single platform that is securely shared between users and across the entire team. With support for hundreds of integrated technologies — including multiple protocols and VPNs — along with built-in enterprise-grade password management tools, global and granular-level access controls, and robust mobile apps to complement desktop clients for Windows and Mac, RDM is a Swiss Army knife for remote access. RDM empowers IT departments to drive security, speed and productivity throughout the organization, while reducing inefficiency, cost and risk.
Remote Desktop Manager Enterprise Edition is designed to help you manage all your remote connections and virtual machines conveniently, from a single place. The application is a useful tool for system administrators that need to provide constant support to their customers and manage multiple network devices.
Comprehensive tool that can be used by all categories of users
Its main advantage is that is supports a wide variety of connections rather than just Remote Desktop Protocol (RDP) ones. The program can practically store connections to everything you need, ranging from RDP or other types of remote connections (TeamViewer, LogMeIn, Putty (Telnet, SSH, etc), pcAnywhere, VNC connections, Radmin or Citrix), virtual environments (Windows Virtual PC, Vmware, Azure etc.) to cloud storage applications, FTP servers and websites.
Even more tools and protocols can be added as add-ons. The program is not designed for beginner users, but if you take the time to learn how things work, managing all your connections becomes daily routine.
Packs various powerful tools for managing your remote connections
Each session has to be configured by the user, starting with the name, group, credentials and ending with more advanced settings, such as choosing alternate hosts, VPN preferences and sub-connections. You can change multiple settings simultaneously across multiple sessions using the batch edit feature. All your sessions can be organized in different groups or folders and filtered to easily find the connection you are looking for. Moreover, you have easy access to opened sessions via the system tray icon. Detailed information regarding the current session is displayed at-a-glance in the 'Dashboard' section.
The application comes with additional tools, such as the built-in password manager, the password analyzer or the SSH key generator. Also, it allows you to store and organize confidential data, including credentials, bank information or any other confidential documents. Session templates, session sharing between multiple users, the integrated data report viewer and the online session backup service are other advantages that this application brings you.
User-friendly tool specialized signed for network administrators
Providing a single interface for managing multiple connection types, Remote Desktop Manager Enterprise Edition is a must-have tool for any network administrator who needs easy and fast access to different platforms and protocols.
Enterprise Edition
Share your remote connection settings inside a company database.
Save your credentials and passwords in a database.
Monitor user activities with the database logs.
Faster and more secure solution.
Available in single license, multiple licenses pack, global license or site license.
FEATURES
Microsoft Remote Desktop (RDP)
Microsoft Remote Assistance
VNC (UltraVNC, TightVNC, RealVNC and embedded)
LogMeIn
FTP (Explorer, Filezilla and WinSCP)
X Window
Putty (SSH, Telnet, RAW and rLogin)
Dameware Mini Remote Control
Radmin Viewer
Citrix XenApp (ICA)
Symantec PC Anywhere
Microsoft Hyper-V
Microsoft Virtual PC
Microsoft Virtual Server
Microsoft Windows Virtual PC
VMware Player, VMware Workstation, VMware ESXi and VMware vSphere
Cisco VPN client
SonicWall Global VPN client
What's new in Remote Desktop Manager Portable
Fixed local privilege escalation via MSI Repair mode
Added Add/Edit/Delete actions in sub-entry dashboard
Added connection name and folder name in entry logs for Hub Business
Added Open as SFTP/SCP in parameters
Added option to close dialog box when download completes
Changed Inventory Management as an Advanced View in properties
Improved continuous pings (max 2000 lines)
Fixed possible crashes in terminal with certain characters
Fixed synchronizer issue when used with a template containing sub-entrie
Fixed typing macro issues in web browsers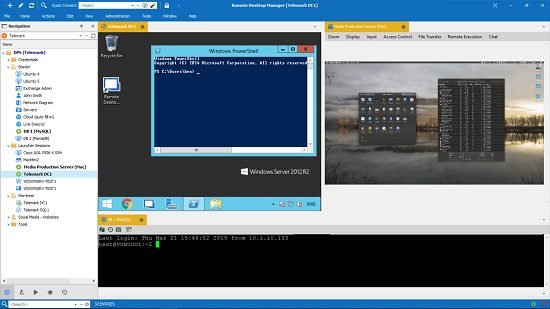 Download Remote Desktop Manager Portable