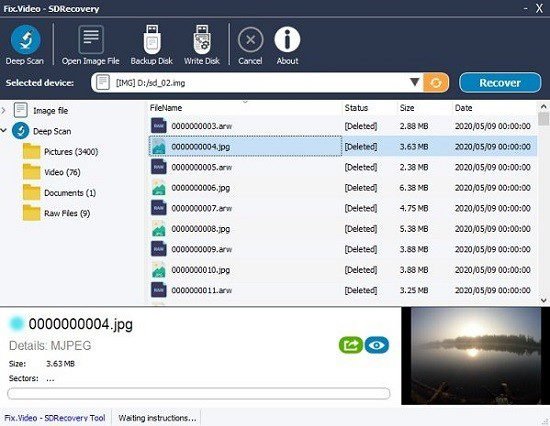 SDRecovery Portable is a tool designed to help you restore data from a broken or erased SD card. Once you find out the data is gone, the best approach would be to stop using the card and use the tool to try to recover it.
Perform a Deep Scan to find files that are not visible
The program comes with an intuitive interface that is unlikely to give you any trouble. On launch, the app scans your system to discover the SD cards, so if it does not detect it automatically, access the Selected device area and choose the right one.
Functionality-wise, the tool is as easy to use as it looks, meaning that you should be able to view the content of the SD card. However, in case this does not happen, you need to perform a Deep Scan, as this helps identify hidden and otherwise invisible files.
The program also enables you to create a backup of the card, which you can access via the Open Image File. On a side note, the backups are created as IMG and this is the only type of files the app can open.
Only works with FAT and ExFAT file system
It is important to note that the application is not designed to work with NTFS, so if you need to recover something from a hard drive or SSD, then you should consider using other third-party tools. The app works with only three types of file system, namely FAT16, FAT32 and EXFAT.
In the unfortunate event your data has been erased or the SD card is malfunctioning, then you can consider using SDRecovery in an attempt to recover media, documents and other important files.
Download SDRecovery Portable