Portable SHARPEN #5 professional 5.41.03926 (x64)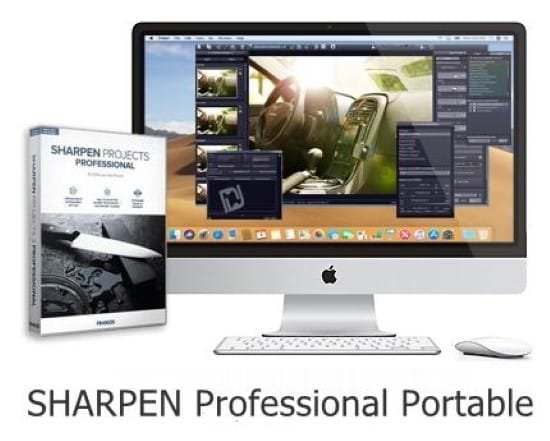 SHARPEN #5 Portable is an image editing program specifically designed to sharpen photos with exceptional precision. It revolutionizes the way you sharpen images by combining unique multi-directional sharpening with state-of-the-art super-sampling technology.
Load your image, choose a preset, then let SHARPEN #5 Portable do the work for you. You can either sit back and use the fully automatic editing or adjust the sharpness of your image yourself. The program ensures that each image is checked for its specific features in order to achieve the best possible result.
You also have the option of post-processing your image with numerous innovative functions such as selective drawing and thus getting the best out of your photos.
SHARPEN #5 Portable is equipped with an intuitive interface that is easy to master for both beginners and professional photographers.
Additionally, SHARPEN #5 Portable offers support for a variety of RAW and standard file formats, making the program an essential tool in any professional image editing toolbox.
New Features
• NEW: Super sampling 2x / 3x / 4x for optimal edge smoothing
• NEW: Multidirectional sharpness with new mode: Artificial Intelligence
• NEW: An additional quality level in multi-directional sharpness
• NEW: Category bar for individual configuration of the editing areas
• Sharpness quality modes: Balanced, Pro, Pro+, Pro Infinity
• Adobe® Photoshop®/Lightroom Classic® plugins
• Extensive RAW development module with 15 new filters and a new artificial intelligence category
• Selective editing module
— NEW: 3D lighting module with up to 10 light sources
— NEW: 'Coloring' module with up to 8 levels
— NEW: Automatic masking of the sky and depth maps in landscape images
— NEW: 2 Smart Ambient Light modes
— NEW: Expansion of composing levels from 8 to 12
• Extensive RAW development module with 15 new filters and a new "Artificial Intelligence" category
• LUT photo styles support
• NEW: AI filter database for using your own AI filters that were created with the new program 'AI Filter #1'
• Sharpness Presets: 45 options
• Support for 1,296 camera RAW formats
Only in the professional version:
– PRO: uncertainty function PSF including comparison display
– PRO: Collection of 33 presets
– PRO: RAW development module
– PRO: 45 sharpness presets
SHARPEN Portable professional shows what is technically possible. Ideal for professionals and ambitious amateur photographers! With the automatic sharpening function and the 45 diverse presets, you will get an almost perfect result in no time at all. A suitable automatic setting is offered for every situation and every motif. However, there are also a number of manual editing options. In addition to the 4 sharpness quality modes, you can set the correction intensity and the degree of noise reduction as you wish and also adjust the grain size individually. For the best result with the best conditions.
Optimal user interface
With thoroughly accelerated and optimized functions and an interface tailored to user-friendliness, image editing is fun. Get the most out of your pictures. In addition, the optimization of your recordings with the included and, in the new version, extended presets is child's play and lightning-fast and therefore ideally suited for those in a hurry or beginners.
Intelligent protection of picture elements
The software now offers 46 different and intelligent masking functions to protect image elements that should not be sharpened (or sharpened to a lesser extent). You can protect very precise sky or skin tones as well as smooth areas or the center of the image without pixel-perfect work. These are the best conditions for sharp and natural photos that add the finishing touches to your most beautiful memories.
Flexible blur modes
Choose exactly the right degree of sharpness for your image from 4 different blur reduction modes – from "Balanced" and "Pro" to "Pro +" and "Pro Infinity". In order to support them even more, it is now possible for the first time with the new multi-directional sharpness technology to reduce blurring in different directions within an image, as is often the case with branches moving in the wind, for example.
TOP feature
With the new focus peaking display, you can display the currently focused areas highlighted in blue and thus see exactly which area still needs sharpness.
Small things, big impact
With the new version, there are also minor innovations that make working more intuitive and efficient, in order to get the best out of your work. For example, the speed of the calculation processes and corrections has been significantly accelerated and you can now also set the brush size using shortcuts.
Download Franzis SHARPEN projects