Portable Silhouette Studio Business 4.5.152 (x64)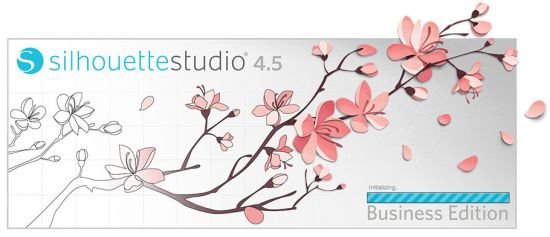 Silhouette Studio Portable allows you to access or create designs and send them to a Silhouette cutting machine. Silhouette Studio is an efficient and easy to use application that allows you to quickly create professional designs for your business cards.
Modern interface
The layout of the program specializes in allowing you to easily access a multitude of menus and options for drawing and designing, but at the same time, keeping your workspace clean and visible.
Although the main window of the application can be resized to the preferred width and height, the inside panels cannot, but you can hide them in order to get a better overview of your project.
Another convenience of Silhouette Studio is that its interface is tabbed, allowing you to easily toggle between multiple projects.
Advanced editing options
A multitude of graphic editing options are available, like modifying images, adding colors and patterns or editing text in many creative ways.
You can add a vast array of shapes, dotted lines, gradients or custom patterns, which you can later edit in numerous ways by precisely selecting and processing each element.
Silhouette Studio is an advanced drawing editor that allows you to quickly edit or create from scratch advanced and elaborate patterns, which can be used to be printed as business cards.
The application is best used paired with an electronic cutting machine, in order to create business cards.
Customize your library
Once you have designed a professional pattern, you can save it in the local library, so you can quickly use it the next time you need it.
You can save your own customized fonts as well, which you can also load from the library directly into your on-going project.
Easy to use graphic editor
The modern and natural-looking interface, the intuitive layout of the program, along with the multitude of features and editing functions, make Silhouette Studio and easy to operate application for designing business cards even for inexperienced users.
Silhouette Studio is a robust, free design software that gives makers the freedom to imagine, design, and create unique craft projects. With dozens of design tools and easy integration with Silhouette cutting machines, Silhouette Studio® is the ultimate tool for crafters who want to make their own unique, personalized projects.
Full Creative Control
Customize designs, create projects that meet your needs, and use the perfect cut settings for complete control over your crafts.
60+ Design Tools
Premium design features like tracing, warping, welding, and more give you the power to design anything you can imagine. Access even more tools by upgrading to a paid edition of the software.
Perfect for New Crafters and Experienced Designers
Silhouette Studio® gives beginners a smooth introduction to designing and offers all of the tools seasoned designers are familiar with. Easy navigation and quick integration with your Silhouette cutting machine makes the design process a breeze.
What's NEW:
Highlighted Changes:
New Hardware Support for the Auto Sheet Feeder
New Introductory Slideshow
General Changes:
Fixed an issue where ARM and Intel Macs could not see scanners
Note: If your scanner uses a 3rd Party app to connect to the mac eg.: HP Smart / EPSON Scan, and cannot be seen by the macOS scanner app, it still may not appear in Silhouette Studio
Fixed a crash that would occur when scrolling in panels
Fixed a crash that could occur when applying line patterns
Fixed a crash that could occur when using 'Subtract All' in the modify panel
Fixed a crash that could occur when starting an Emboss project in the New Project Wizard
Fixed a crash that would occur if the user clicked Cancel when asked for their Administrator password on first-time launch
Added a node counter in the Point Editing Panel
Added an "Unhide all dialogs" button in preferences that will bring back any dialog marked as "Do not show again"
Replaced the dynamic panel feature in favor of a "Specialty Tools" panel with all tools available even when a Curio is not plugged in
Re-ordered machine dropdown list to prioritize modern machines
Fixed an issue where Stipple was the only action available for Cardstock, Thin.
Fixed an issue where the Font Installer box showed "Could not write to font directory" in some circumstances
Fixed an issue that would cause the Cutting Mat dropdown in Page Setup to not close when opening the Machine Dropdown
Stopped the Media dropdown from switching back to predefined media sizes if the Custom dimensions matched
Offset now defaults to make 0pt lines. This can be changed to inherit the properties of the topmost shape in Preferences > Tools
When using Object on Path, Start Angle and Increment Angle now snap to increments of 5
Stipple size is now capped at 24pt
Greyed out the options "Align Center-Middle" and "Center to Page" when no objects are selected or drawn
Cutter Introduction links have been added to the "USB Connection Detected" window
The Confirm and Send window will no longer say "You are sending a job with the None and Portrait 3" in some circumstances
Fixed an issue where some fonts on Mac would not appear in Silhouette Studio
Fonts are now installed to the correct location on Windows
Fonts imported from Silhouette Studio versions 4.4.552 and lower now keep their properties
In Send, in the "Cut By" sections, the Right Click > On / Off option now works for individual items
In Send, clicking outside the open Action dropdown no longer automatically chooses the first action in the list
Fixed an issue where a user could set a custom media size larger than the Cameo 4 Plus supports
Barcode:
Fixed a crash that occurred when trying to print a file with Barcode enabled
Fixed an issue where Send didn't open when clicking Send in the print barcode dialog
Fixed an issue where you were unable to print files when Barcode was enabled
Scan Barcode button now appears when ASF is connected
UI Improvements:
Fixed a black line that appeared in the About Silhouette Studio window
Fixed an issue where long device names would cover the status and Firmware version in the Device List
There is a new Online Tutorial button in the Help menu that directs you to Silhouette101.com
Fixed an issue where the input boxes were missing on the tiling tab
Updated the user interface for activating a license key
Fixed an issue where the square eraser could appear as the circular eraser
Updated icons in the new Specialty Tools panel
Fixed text input boxes for the Advanced Sketch tab
Fixed user flow issues in the new Page Setup guide
Fixed alignment issue for "Roll Feeder Recommended" dialog
Removed the downward-facing arrow on the bottom of the Cameo 4 Plus cutting mat, for clarity
Made it clearer that the Angle option in Advanced Rhinestones is a dropdown menu
Fixed the truncation of the Cancel button in the PixScan panel
The preferences panel tooltip no longer displays as 'Preferences Pane'
Grammar in the Maintain Grain tooltip has been corrected
Images in the Quick Access Toolbar slide no longer drop down the slide when the descriptions appear
Library:
Fixed User and Password input boxes when importing a Library
Stopped Silhouette Studio from asking for your password when you try to save a design to the Library when you're already signed in
Fixed a bug that prevented users from dragging multiple files in the Library
Fixed an issue where some Library folders were greyed out after saving a design to the Library
Keyboard shortcuts used in the Library no longer effect or modify the user's design in Design
Fixed an issue where the Preview window for Silhouette Design Store designs was showing the .studio3 file and not the Silhouette Design Store thumbnail
Prevented a crash from occurring if the user cancels entering their Administrator password when trying to use "Set Library Permissions" in preferences
The Sign In Later button that appears the first time the user opens the Library will now take users back to the Design window
Double-clicking to favorite a Library file now favorites it instead of merging it into the current design
Designs are not selected when right-clicking a design in the Library
Trace:
Low Pass filter has been added back into the Trace panel
Improved overall performance of the Trace Feature
The Trace background is now darker when in Outline mode
Fixed an issue where setting Despeckle to 100% would cause the result to disappear
Prevented a line from being generated in the top left corner when applying a Trace
Resolved a crash that would occur if a user tried to resize a trace area while "Trace by Color" was active
File Support:
Import options for PDF now appear when dragging and dropping .pdf files into Silhouette Studio
0.1pt lines in imported .ai files are now converted to 0pt lines to prevent them from appearing in prints
Enabling 'Print Lines of Selected Shapes' in the Line Style panel converts 0.0pt cut lines to 0.1pt cut lines when printing files and exporting as PDF and SVG files
Fixed a crash that would occur when opening, merging or importing PNGs with a transparent background
Download Silhouette Studio Portable