Portable SketchUp Pro 2020 v20.2.172 (x64)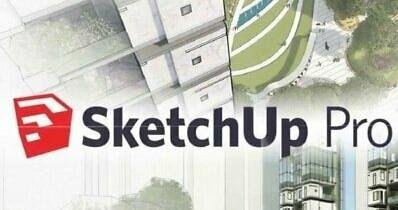 SketchUp Pro Portable is useful from the earliest stages of design to the end of construction. Programming, diagramming, design development, detailing, documentation, RFIs—wherever you need drawings, you need SketchUp Pro.
SketchUp Pro
The SketchUp you know and love… and so much more.
3D modeling for professionals? We've got you.
A great mix of our classic desktop software, our shiny new SketchUp for Web modeler, and all sorts of things you've been asking for over the years — including the ability to publish, share, and store projects in the cloud with Trimble Connect.
Tools for your 3D modeling toolbox:
SketchUp Pro for Desktop
Fast, easy 3D modeling for anything you can imagine.
SketchUp for Web
Our powerful web modeler, with all the features you need to turn your designs into real things.
Unlimited cloud storage
Share, collaborate, and store your projects in the cloud. Gain flexibility and peace of mind.
2D design documentation
Create scaled drawing sets in 2D with LayOut.
VR model viewing
Wow your clients with a walkthrough of their project on Microsoft HoloLens, HTC Vive, or Oculus, on your phone or tablet.
Features that make your projects yours
Make your project look like only you can with custom Styles, Materials, and Outliner. And, make that work smooth and easy with Dynamic Components.
What's New in SketchUp 2020?
We've spent a lot of time in 2019 learning more about what you, the user, wish SketchUp did better. We've been eyeing your comments on the forum and discussing ideas during our training events to see what trips up your workflow. So, thanks for speaking up! You helped us discover how you're using SketchUp and how we can improve your design process, resulting in workflow improvements galore! They're so good you'd think we'd been sneaking into design firms or something
SketchUp Desktop 2020: your [3D] creative space
This year, we focused on data structures and modeling behaviors. We want to make sure we continue to be the more intuitive, easier to use software that boosts your ability to crank out those stunning design projects.
Outliner
This leads us to our BIG model organization change. In an effort to increase model performance, you no longer have to create Layers upon Layers. You can do your main model organization straight within Outliner. We recommend using this (and our friendly eyeball icon) to toggle between the major chunks of your model.
Grips on bounding boxes and automatic transparency
Grab that sofa and put it in the corner! Just try it out, we need not explain more.
Hidden objects
Announcing a big change to hiding objects in your models! You'll notice in your drop-down menu that we decoupled hiding objects from hiding geometry. How will this change your workflow? Well, this will give you the ability to better manage hidden geometry and hidden objects for an even easier modeling experience. For example, let's say you want to edit hidden edges in a landscape or smoothed surface, but you still want to be able to hide objects that are nearby (like trees, bushes, or a building)… yes you can do that in SketchUp! Landscape architects, rejoice!
The SketchUp Universe: Nomenclatures
After many conversations, we decided to update some of our naming conventions. This won't change your workflow, but we want you to know that it's not just you — we are talking about a few things differently now. We think they make logic a little more prevalent.
What's New in SketchUp 2020.2?
In SketchUp Pro 2020.2, we are introducing some improvements based on longstanding user feedback. Some changes are straightforward enough—Weld!—while others are new concepts to explore in SketchUp and LayOut.
Weld Edges
In 2020.1, we introduced API functionality to weld edges in SketchUp. If you aren't aware, extension developers previously had to do some wacky stuff to perform a weld operation. Looking forward, we hope to see this improve the performance for individual extensions. In 2020.2, Weld Edges is a native capability for SketchUp users as well. The new command is contextual to a selection of edges, available in the right-click context menu, from within the Edit menu, and available as a shortcut as well.
Linear inference toggle for the Line Tool
You can now turn off linear inferencing while using the Line tool. To give it a go: activate the Line tool, start drawing a line, and hit the Alt (Windows) / Command (Mac) modifier key to toggle off directional inferencing. SketchUp will now ignore all linear—red, blue, green, magenta—inferences. Hit the toggle again and the only inference you'll snap to is Parallel/Perpendicular (magenta). One more tap, and you are back to standard inferencing. Without changing toggles, arrow key inference locks are still available, so you can jump from no inferences to a specific one pretty quickly.
Line style 'overrides' for Tags in LayOut
You can now control the edge width, scale, color, and stipple pattern for SketchUp tags in LayOut. This means that by applying tags in SketchUp, you can control the style of your linework in LayOut… without stacking multiple viewports. To get going: select a viewport in LayOut, open the SketchUp Model inspector dialog, and expand the Tags panel. Now, click on the line style of a tag to pull up styling options. For tags without a line style applied, click 'Default' to pull up the styling options.
We call these changes to the styling of tags 'overrides' because they persist across model reference updates. Once you set line styles for various tags in a model viewport, you shouldn't have to repeat the exercise. Click 'Reset' to return to the viewport to its default styling.
LayOut selection and transformation improvements
Good LayOut documents are an arrangement of viewports, images, vector graphics, labels… everything just so. As pages get more complex and documents get longer, operating on selections gets slower. In 2020.2, we are introducing some slight but significant modifications to LayOut's selection and transformation behavior that should improve the experience of moving, copying, and scaling selections in larger projects. The key difference is that LayOut now previews your transformation, instead of drawing it in real-time as you are manipulating a selection.
Download SketchUp Portable