Portable Exif Pilot 6.4 (x64)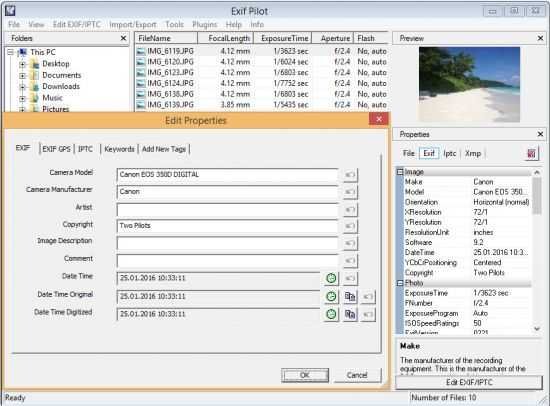 Exif Pilot Portable is a software application designed to help you view the EXIF and IPTC information of image files. It is simple to work with.Exif Pilot allows you to view, create, and edit the EXIF, EXIF GPS, IPTC, and XMP data. You can import/export EXIF and IPTC data from/to XML format as well. Exif Pilot supports exporting EXIF and IPTC data to MS Excel or CSV format and importing EXIF and IPTC from MS Excel or CSV format.
With Exif Pilot, you can find the optimal parameters for taking pictures, for example, the relationship between the depth of field and the aperture of a particular lens.
The program is wrapped in a plan and intuitive interface. Thanks to the Explorer-based layout, you may seamlessly locate and access image files. Exif Pilot supports plenty of file types, including JPG, BMP, GIF and TIF.
In the file list you can check out the name, focal length, exposure time, aperture and flash for each item. In the right pane you may also preview the thumbnail of a picture, along with its file properties (e.g. extension, size, date of creation and last access) and EXIF data.
Several picture properties may be edited in regard to the EXIF, EXIF GPS and IPTC details – the camera mode, artist, copyright, original and digitized date and time, altitude, timestamp, object name, credit, caption, special instructions, and so on. It is possible to reset all these values to default.
In addition, you can copy or clear the EXIF, IPTC and XMP, import EXIF or IPTC from XML, an Excel sheet or CSV file, create a template for exporting, and add plugins. But you may also customize the columns, exporting details or 36mm equivalent, as well as make Exif Pilot move the original images to the Recycle Bin, create an EXIF thumbnail if it doesn't exist, resize the thumbnail to fit the window, and to show system and unknown tags, among others.
The tool runs on a low amount of CPU and system memory, has a good response time and includes user documentation. We have not come across any issues during our tests; Exif Pilot did not freeze, crash or display errors. To conclude, Exif Pilot brings some powerful features for professionals who want to edit EXIF/IPTC information.
Exif Pilot supports the following formats:
JPEG images read and write.
TIFF images read and write.
PNG images read and write.
DNG images read and write.
NEF images read and write.
PEF images read and write.
CRW images read and write.
JP2 images read and write.
PSD images read and write.
ORF images read and write.
SRW images read and write.
EXV images read and write.
CR2 images read only.
MRW images read only.
ARW images read only.
RAF images read only.
RW2 images read only.
PGF images read only.
What's NEW:
+ Exporting Xmp tags to XML and XLS format has been added.
* Editing of Gps/VersionID, Altitude, Latitude, Longitude tags has been improved.
+ The [Enter] key has been added to open the property editing dialog box.
+ The ability to use the decimal separator format from the system settings has been added.
+ The ability to make format settings for GPS coordinate output has been added.
* The number of digits of GPS coordinates has been increased.
+ In the x64 version, import from xls files was added.
* The data import bug has been fixed.
+ A button to show the GPS coordinates of a photo on the map has been added.
Download Exif Pilot Portable