Portable SpyBot Search and Destroy + Antivirus Technician Edition 2.6.46 Multilingual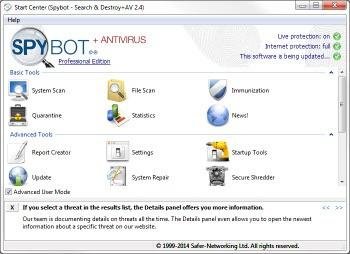 Spybot 2 Technician Edition portable has been designed for single support case handling. It combines all our tools including anti virus protection into one package for the technician user. With our Technician Edition you can be proactive by scheduling immunization of your system or run an automated scan for malware and rootkits. Updates can also be automated so they are no longer a cause for concern.
With our 'Startup Tools' you can check various 'autostart' locations for entries that might impact on speed or security. Spybot 2 comes with its own whitelist which helps to identify if files are legitimate or not. This useful addition helps to speed up the scan. The supported 'command line parameters' will help you to tailor the level of automation you require. Users of the Technician Edition also get high priority email support.
Finally Spybot 2 Technician Edition comes with additional more powerful tools. The Protected Repair Environment© allows you to to scan and fix machines already infected with very aggressive malware that might stop security software from working.
If all access to an infected machine has been lost, due to a malware infection, the Spybot Boot CD Creator will guide you through creating a Spybot 2 liveCD on a another PC. This powerful tool allows you to do a 'clean boot' of your system and then scan in 'offline' mode.
In response to the latest techniques used by malware developers we have added new enhanced detection methods. This means better protection against the new wave of spyware, rootkits  and viruses.
Scanning and cleaning is now much faster. We have 'tweaked' our scanning engine so it now scans faster and some cleaning tasks are now fully automated.
We have also made certain features of Spybot easier to access from the user interface at the request of our customers, many of whom gave us very useful feedback. There have also been many other functional improvements and enhancements.
Improved Startup Tools. These powerful tools now work with even the latest Windows Operating Systems.
SDScan now runs automatically with escalated privileges. This means no more annoying restarts and no need to run SDCleaner.
Furthermore we have added an exciting new 'Notifications' feature:
Spybot can now be configured to send the results of scans on your PC to your mobile device, server, chat or website. You no longer have to wait around while Spybot is doing a scan. As soon as your scan finishes a message will be sent to your chosen recipient and you will be informed of possible threats. This means you can react and make decisions on what action to take much faster.
https://uploadrar.com/7gz79xsfft7o/X-2646SBSDATE.rar