Portable StatPlus Pro 7.6.5.0 Multilingual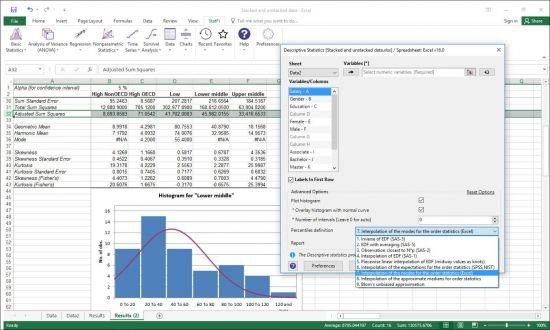 StatPlus Portable provides a comprehensive set of statistical tools and graphical analysis methods that are conveniently accessible via a user-friendly interface. StatPlus can be utilized in nearly any sector, including sociology, financial analysis, biostatistics, economics, the insurance industry, healthcare, and clinical research, to mention a few.
While StatPlus Portable is a professional statistical analysis program, the interface is so user-friendly that even those with no prior knowledge of statistics may analyze data if they know how to use a computer and are given clear instructions. Instead of fretting over who and how the data was processed, and if any errors were committed in the process, this frees up intellectual resources for assessing the outcomes.
Powerful Spreadsheet
Standalone version reads numerous text formats, Microsoft* Excel* 97-2003 (XLS) and 2007-2019 (XLSX) workbooks, SPSS* Documents (up to v22) and supports almost all Excel built-in worksheet functions (math, statistical, financial). StatPlus comes with Excel add-in (StatFi) that transforms Excel into a statistical software package. Version 5 includes own chart engine (histograms, bars, areas, point-graphs, pies, statistical charts, control charts) and reads StatSoft* Statistica* documents.
Statistics A-Z
StatPlus allows to perform various forms of analysis – from data transformation and sampling to complex analysis, including as non-parametric and regression analysis, survival analysis, and a wide variety of other methods
Affordable
You will benefit from the reduced learning curve and attractive pricing while enjoying the benefits of precise routines and calculations. Mac/PC license is permanent, there is no renewal charges.
Download StatPlus Portable