Portable Text-R Professional v2.001 Multilingual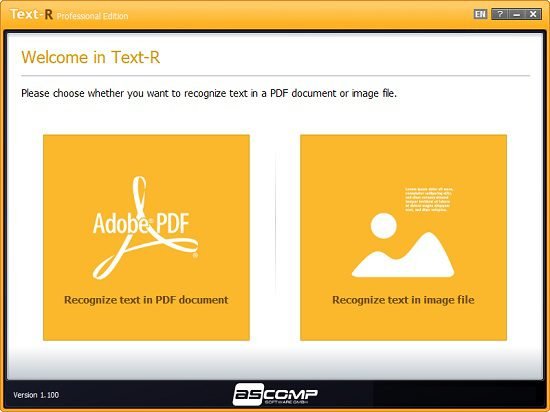 Optical character recognition or OCR software has become an invaluable tool for many fields ranging from data entry to accounting and human resources. Not only do they significantly reduce the time spent on manual entries, but they also minimize critical errors and improve fraud detection efforts.
Text-R Portable is a program designed to recognize text in PDF files and images that can be used immediately. The extracted text can be saved in Word or RTF format, but also in PDF format that can be edited without changing the format too much.
Supports detection of mixed characters and skewed images
Upon launch, you will be greeted by a splash screen where you have two options, to specify whether you are extracting text from a PDF file or an image. As for compatible image formats, you can find the most commonly used formats, including but not limited to PNG, TIFF, JPG, JPEG and BMP.
Before you can extract the text, the application prompts you to select your preferences. Therefore, depending on the nature of the document you are working with, you can ask the tool to detect skewed images, rotate 90, 180, and 270 degrees, mixed characters, detect and remove errors. stream or you can apply noise filters. Based on the options section, this tool can also be used to scan barcodes.
A handy tool to extract text from PDF documents
It is worth mentioning that the tool includes several built-in dictionaries that provide additional filtering of the text you extract. The program can therefore be useful for companies that work with international partners and have the ability to receive invoices or other important documents in other languages.
Overall, Text-R is a fast and reliable optical text recognition utility that allows you to extract text content from PDF documents and images.
Problem:
PDFs and images in scanned paper documents contain text that cannot be copied or edited. However, manual entry is not possible due to the size of the document and the time required.
Solution:
Text-R! The software also recognizes text in PDF files and images, instantly converting it into editable documents for all levels of users. Text can be saved in a new editable PDF or RTF (Word) document. The format remains close to the original, so in most cases no post-processing is required. The built-in dictionary and professional OCR filter ensure high accuracy in text recognition. This way, skewed text and rotated documents can also be detected.
What's new in Text-R Portable
Improved text recognition (OCR)
Program interface optimized
Save text languages
Update wizard fixed
Windows 11 compatibility
Download Text-R Portable