Portable NextUp TextAloud 4.0.69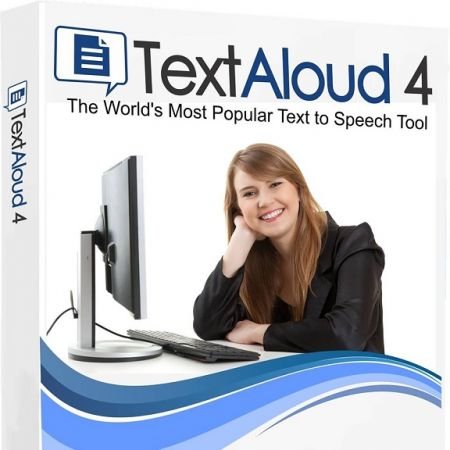 Convert any text into voice and MP3 for PC or download to MP3 player. TextAloud Portable is the leading text to speech program, available with exciting premium voices (including several languages) from ATT, Cepstral and NeoSpeech for the best in computer speech for your PC. TextAloud uses voice synthesis to convert text into spoken audio. TextAloud Portable reads text from email, web pages, reports and more, aloud on your PC. TextAloud can also save your daily reading to MP3 or Windows Media files ready for playback on your iPod, PocketPC, or even on your TV with Tivo's Home Media Option.
NextUp TextAloud Portable is a powerful and versatile text-to-speech software that allows users to convert written text into natural-sounding speech. This innovative software offers a range of features and customization options that make it an ideal tool for anyone looking to improve their productivity or accessibility.
One of the standout features of NextUp TextAloud Portable is its ability to convert written text into multiple formats, including MP3, WMA, WAV, and even Apple's M4A format. This means that users can listen to their converted text on a wide variety of devices, from smartphones and tablets to desktop computers and laptops.
In addition to its versatility, NextUp TextAloud also offers a high degree of customization. Users can choose from over 30 voices in multiple languages, each with its own unique characteristics and accents. They can adjust the speed and volume of the speech, as well as the pronunciation of individual words or phrases. This level of customization allows users to tailor the software to their specific needs and preferences, making it an invaluable tool for individuals with visual impairments or learning disabilities.
Another impressive feature of NextUp TextAloud is its ability to read text from virtually any source. Users can copy and paste text from documents, web pages, emails, and more, or they can import entire files in formats such as PDF, DOC, RTF, and HTML. This makes it easy to use the software for a wide range of applications, from reading textbooks and research papers to catching up on the latest news articles or emails.
Despite its many features, NextUp TextAloud is incredibly easy to use. The intuitive interface allows users to quickly and easily navigate through the software and access all of its features. The software also comes with a comprehensive set of help files and tutorials, making it easy for new users to get up and running in no time.
For those who need to use text-to-speech software on a regular basis, NextUp TextAloud offers a number of advanced features that can help improve productivity and streamline workflow. For example, users can create playlists of multiple files, allowing them to listen to entire books or long documents without interruption. They can also set up hotkeys for commonly used functions, such as pausing and resuming playback or adjusting the volume.
In addition to its many features, NextUp TextAloud is also an affordable solution for anyone in need of high-quality text-to-speech software. The software is available for purchase online, and users can choose from a range of pricing options depending on their needs and budget.
Overall, NextUp TextAloud Portable is a versatile and powerful tool that offers a wide range of features and customization options for anyone looking to convert written text into natural-sounding speech. Whether you're a student looking to improve your reading comprehension, a professional in need of accessibility tools, or just someone who wants to catch up on their reading while on-the-go, NextUp TextAloud is an excellent choice. With its intuitive interface, comprehensive features, and affordable pricing, it's no wonder why this software has become one of the most popular text-to-speech solutions on the market today.
Text to Speech
Text to Speech software for the Windows PC that converts your text from documents, email and webpages into natural-sounding speech. Optional premium voices offer an incredible variety of languages and accents.
Dyslexics, Struggling Readers
Struggling readers find listening to their reading can improve comprehension. Word highlighting in TextAloud helps strengthen recognition when you follow along. Helps those dealing with Dyslexia, ADD, and also low vision.
Integration
TextAloud has built in extensions for the Chrome web browser and Microsoft Word. A floating toolbar lets TextAloud speak selected text from any window. Users of online save-for-later services Pocket and Instapaper can import bookmarked articles into TextAloud.
Audio Files
TextAloud can save your daily reading to audio files for listening anywhere. A built-in file splitter utility as well as a batch file converter assist in converting your reading chapter by chapter to audio files. Also iTunes users can sync with TextAloud.
Proofreading
Clear and accurate communications are a must in today's world. TextAloud is a great tool to proofread your documents, reports, and email messages before they go out. Hearing your own words read back to you is a powerful way to catch errors the eyes often miss when typing.
Ease of Use
The interface is understandable for new users while also streamlined for higher volume work. Features and controls are optimized through years of feedback from a strong base of TextAloud users. Our friendly and helpful support team is always ready if you have questions!
What you can do with TextAloud:
• Sit back and relax while your PC reads to you
• Save text to MP3 for portable audio players
• Proofread your own writing
• Listen to that report while you're on the treadmill
• Find help for someone with a reading disability
• Create messages for your answering machine
• Reduce eye strain from too much reading
• Listen to information while you work on something else
• Take some reading along for your daily walk or run
• Turn your iPod into a tax write-off
• Listen to an eBook during your commute
• Study English as a Second Language
• Help a senior citizen or someone with low vision
• Add some spice to your PowerPoint presentations
• Find a great new tool to study for exams
• Listen to text read in other languages
• Amuse your kids by letting your PC read stories to them
• Create audio files for computer games
• Prepare for a big speech by hearing your words read aloud
Features at a glance:
• Single-Article and Multi-Article Mode for listening to articles one at a time, or building a playlist to listen to later.
• Load articles using the Clipboard, Document Import, Hot Keys and Drag and Drop.
• Support for Word, PDF and HTML documents.
• Support for multiple Text-To-Speech engines, including international voices.
• Support for WAV, MP3 and WMA audio files.
• Proofread tool for listening to documents as you proofread.
Download TextAloud Portable