Portable Laughingbird Software The Graphics Creator 8 v1.4.0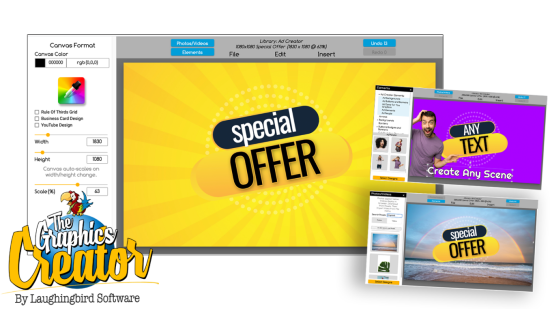 The Graphics Creator Portable is a powerful software that allows users to easily create stunning graphics for their business or personal projects. With its user-friendly interface and extensive library of templates, images, and design elements, this software is an excellent tool for anyone looking to improve their graphic design skills.
One of the standout features of The Graphics Creator Portable is its vast selection of pre-designed templates. These templates cover a wide range of design needs, from social media posts to book covers, making it easy for users to find the perfect starting point for their project. Additionally, all of these templates are fully customizable, meaning users can tweak every element to suit their specific needs.
Beyond the templates, The Graphics Creator Portable also boasts an impressive library of over 10,000 design elements. This includes everything from background textures to icons to shapes, giving users an incredible amount of creative freedom in their designs. All of these design elements are organized into intuitive categories, making it easy to find exactly what you need.
Of course, creating great graphics requires more than just having access to a lot of design elements. That's why The Graphics Creator 8 also includes a variety of tools to help users fine-tune their designs. For example, the software includes advanced image editing tools such as cropping, resizing, and color correction. It also includes text manipulation tools, allowing users to add effects like shadows, outlines, and gradients to their text.
Perhaps the most exciting feature of The Graphics Creator 8, however, is its ability to create 3D mockups of your designs. This feature allows users to see how their design would look in the real world, adding an extra level of polish to their work. Users can choose from a variety of mockup styles, including book covers, business cards, and more.
Despite its impressive feature set, The Graphics Creator 8 remains incredibly easy to use. The software is designed with beginners in mind, with a simple drag-and-drop interface that allows users to quickly create professional-looking designs without any prior design experience. Additionally, the software includes extensive tutorials and support resources, making it easy for users to get up to speed on its more advanced features.
Overall, The Graphics Creator Portable is a fantastic tool for anyone looking to improve their graphic design skills. Whether you're a business owner looking to create marketing materials, an author creating book covers, or just someone looking to add some visual flair to their social media posts, this software has everything you need to create stunning graphics with ease. So why wait? Give The Graphics Creator 8 a try today and start creating beautiful designs in no time!
PROFESSIONAL DESIGN FEATURES
– Search from hundreds of thousands of high-quality stock photos and videos
– Select from over 1000 stunning fonts from Google
– Remove an image's background to make it transparent
– Increase the Graphic Creator's Canvas to 10,000 x 10,000 pixels (great for creating your own t-shirt designs or desktop wallpapers)
– Captivating, ready-made design templates
IN 10 MINUTES OR LESS YOU CAN
Make a graphic, download it in multiple formats, and post it to get more traffic, clicks, and sales. And you can create graphics for your social media posts, blog, website, marketing materials, emails, YouTube videos… and more!
Here's What You Get with The Graphics Creator
– Easy Drag and Drop Design
– Unlimited Saves
– Unlimited Downloads
– Unlimited Revisions
– 1000+ Google Fonts
– Over 1 Million Royalty-Free Stock Images
– 10,000 X 10,000 Canvas Size
– Save as JPG, PNG, Transparent PNG
– Save and Record Video
– Save Your Designs
– Color-Picker Tool
– Background Removal Tool
– Add Shapes feature
– Duplication of Objects and Text
– Easy Layering of Objects and Text
– Complete Control of Every Element
Download The Graphics Creator Portable