Portable Ultra File Opener 5.7.3.140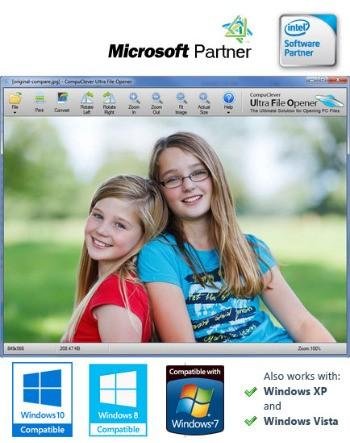 Ultra File Opener (UFO) supports over 500 different file types all in one application. Not only will it open popular image, text, and archive files instantly but you can also edit, convert, and print them from your PC. Stop downloading specialty software for each file type you want to open and get your own copy of UFO today!
View photos & images, with RAW formats support.
Ultra File Opener supports most of the commonly used photo and image formats, including JPEG, PNG, TIF, GIF, BMP, and ITHMB files. UFO also supports the RAW formats from more than 150 digital cameras, including Nikon, Canon, Pentax, Olympus, and Sony.
UFO preserves the maximum image data stored in your photos and images. It also delivers the most versatile viewing experience for your photos. You can zoom-in, zoom-out, rotate-left, rotate-right, fit-to-screen, or see images in actual-size. Just the way you like it!
Unzip compressed files.
Ultra File Opener extracts content from a wide selection of compressed file types, including ZIP, GZ, TAR, 7Z, GZIP and many more. UFO opens with the contents or the archive displayed in the view area. You can select one or more files and then choose to extract them.
UFO also supports password-protected archive files to protect your needs for privacy and security.
Open, edit, & print text documents.
Ultra File Opener can open any text-based file formats, including: text documents, program code files, setting files, configuration files, HTML and XML files, and many more. UFO provides robust Cut/Copy/Paste features so that you can work within text files or collaborate using other applications with ease.
Print text document with UFO in style. UFO's printing function works with your home or office printers and gives you a variety of options to work with, including select printers, set paper orientation, adjust margins, and choices for using a header and footer.
Restart or resume partially downloaded files.
A partially downloaded file, like .CRDownload, .Partial, and .Part files, are created by web browsers for the purpose of storing the content of partially downloaded file. The download process for this file can be in progress or it can become interrupted.
Ultra File Opener (UFO) can examine the contents of a partially downloaded file and, if available, it can extract the original download URL. With UFO, you can copy original download URLs, restart downloads, and learn how to resume downloads.
Make beautiful prints with ease.
Make beautiful prints right at your desk with Ultra File Opener's powerful and easy-to-use print function. UFO detects your printer settings and provides popular printing templates like wallet-size, 4×6, 5×7, 8×10, and full-page printing.
Hundreds of possibilities one extraordinary choice.
Ultra File Opener supports opening and viewing over 500 different file types, including photos, images, documents, data files, archive files, and partially downloaded files.
Equipped with the groovy Hex Decoding technology, UFO is capable of opening files of any type!
https://uploadrar.com/a8ckojy3121k/X-573140UFO.rar.html