Portable Vocabulary Worksheet Factory Enterprise 6.1.123.0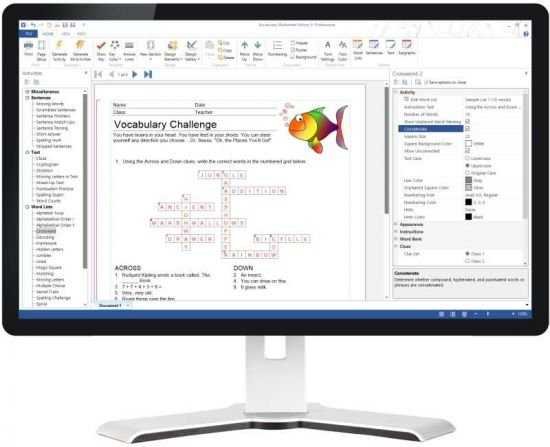 Improve Vocabulary Skills in any Subject. Improve and reinforce the vocabulary skills of your students with challenging and motivating worksheet activities created with Vocabulary Worksheet Factory Portable. It is the ideal resource for spelling, language arts, ESL instruction, and vocabulary enrichment in any subject.
Support Materials Fast
With the ultimate in worksheet generation technology, the creation of lesson-enhancing support materials for the classroom will be a lot more enjoyable and a lot less work. Quickly create individual or class sets of professional worksheets saving valuable preparation time and resources.
Ultimate All-In-One Program
Designed for educators but ideal for anyone interested in making word searches, crosswords, word jumbles, and other vocabulary puzzles and activities, Vocabulary Worksheet Factory is the ultimate all-in-one program for vocabulary education and entertainment.
Simple and Powerful
Producing a vocabulary activity for your students is as simple as selecting an activity type and then adding a word list, sentence collection, or text file. The program then takes over and does all the work automatically generating a solution for the activity.
Worksheets Unlimited
Engage and challenge your students with forty-four worksheets activities with limitless variations.
Teacher Friendly
Computer science degree not required. The WYSIWYG (What You See Is What You Get) interface makes it easy to use for both technical and non-technical users.
Professional Results
No more sketchy, makeshift worksheets. When you print your worksheets they look like they just came off a commercial printing press. The result is greatly enhanced readability for students.
Design Flexibility
There is an abundance of options that provide full design control over the look and feel of your worksheets. From fonts and colors to question layout and flow.
Save Time
Never spend valuable and scarce hours preparing vocabulary worksheets again. The exact differentiated math worksheet activity you require for tomorrow's lesson will be only seconds away.
Save Money
Save your limited resource funds for more important purchases than constant expenditures for single-use, inflexible workbooks and other materials that never quite do what you need them to do.
More ways to enhance your vocabulary lessons
Experience new ways to engage and challenge your students with version 6 of Vocabulary Worksheet Factory. This new version brings new activities, new options for existing activities, enhanced document layout, improved dialogs for working with word lists, sentences, and text, and much more.
Download Vocabulary Worksheet Factory Portable