Portable WidsMob ConvertPDF Pro 2.0.0.0 Multilingual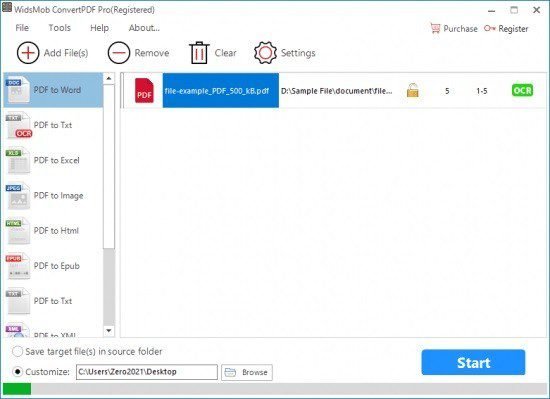 WidsMob ConvertPDF Portable is an all-in one conversion tool that offers to convert PDF into 7 different kinds of files, including Word, Excel, Image, Html, Epub, Txt and XML. With WidsMob ConvertPDF, there will be an easy and time-saving access for you to transform the PDF and modifies your files as much as you like.
PDF converter boasting support for various popular formats
First of all, users may want to know that the application features a straightforward GUI that makes trial and error unnecessary. You only need to select your PDFs using the dedicated button in the main window, at which point, a series of details about your added items are revealed. To be more specific, each PDF's name, directory path, security status, and number of pages are displayed.
The next step you need to take is indicate the type of conversion you want to carry out. You can thus select any of the following output file formats: Word, Excel, image, HTML. EPUB, TXT, and XML.
Can batch-process your PDF and preserve original quality
What's more, the "Settings" section packs a series of other modifications you can apply to the standard conversion process, depending on the output of choice. For instance, if you opt for Word format, you may choose between DOCX and DOC. If you go for HTML or TXT, you can indicate whether you want your PDF to be repacked as a single file or each page should have a corresponding document.
Then, if you are interested particularly in the images the PDF file includes, you may extract them all at once. Otherwise, you may simply convert all the pages of your PDF to one of the following formats: JPEG, TIFF, PNG, and EMFF.
Last but not least, once you have completed the aforementioned steps, all that is left for you to do is indicate an output location for your newly created files. Note that it can coincide with the input directory, but you can also configure it manually.
Approachable PDF converter aimed at all users alike
All in all, WidsMob ConvertPDF Portable is an intuitive application packing advanced OCR tech that makes it possible to convert your PDFs files to a multitude of file formats without affecting the original fonts and layout. The program comes with support for batch processing and is overall easy to navigate, so giving it a try might be a good idea.
Advanced OCR Algorithm
Advanced OCR technology allows you to convert image-based PDFs to text-based formats. It makes the files converted editable, you can make use of the file you need quickly.
Support Multiple Formats
WidsMob ConvertPDF Portable turns PDF to many popular file formats with the software. It supports convert PDF to Word, Excel, Image (JPG, PNG, TIFF, EMFF), HTML, Epub, TXT and XML. And you can even get the image from the PDF.
Batch and Partial Conversion
WidsMob ConvertPDF also enables you to choose all the PDF pages to convert or just one single page. And you can also the pages you want. Empower you to change the page order, so you can use the converter to make your work with ease.
Intuitive Graphic Interface
Brief interface allows you to know all the functions the converter has, and you can easily how to operate with some simple steps. Just within few clicks, you can convert the file quickly and securely.
Great Preservation
With the PDF converter, you can keep text, images, graphic with original presentation layout, fonts. You can also choose the place you import the file, such as the same resources or other place.
Download WidsMob ConvertPDF Portable