imyPass Windows Password Reset Ultimate 1.0.8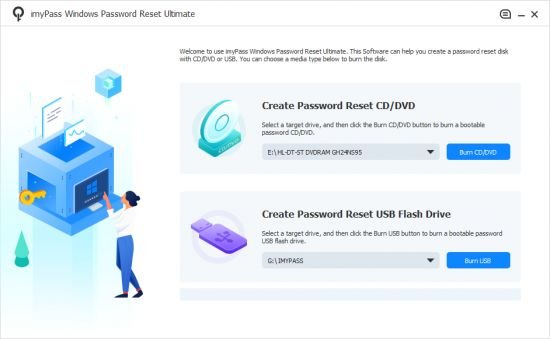 A world-class Windows password reset tool to reset Windows Admin and Standard user account password on Windows 10/8.1/8/7/XP/Vista without losing data. Besides resetting a password, it is capable of creating a new account via CD/DVD or USB drive.
When You Will Need imyPass Windows Password Reset
A password is required in Windows computer login or making some changes. For one reason or another as below, you may need to reset or remove Windows password. That's what imyPass Windows Password Reset Portable can assistant you instantly.
– Lost/Forgot Windows Login password
Forgot or lost login password and cannot log in to Windows computer.
– Log out of computer
Log out of computer and cannot log in without a password on Windows.
– Forgot Admin password
Forgot Admin password and cannot make some changes on Windows computer.
– Want to create a new account without administrator access
Standard users without administrator access and want to create a new account.
How imyPass Windows Password Reset Works
Without any complicated helpers or settings, imyPass Windows Password Reset offers you 2 ways to reset password on Windows via CD/DVD and USB flash drive. Support Windows computers which are equipped with BIOS or Legacy mode.
– Create with CD/DVD
Burn Windows password recovery disk with CD/DVD drive to boot up any locked Windows computer.
– Create with USB Flash Drive
Make a bootable USB flash drive from SanDisk, Kingston, Toshiba, Samsung, etc., to reset password.
Support All Windows Types
No matter what version your Windows computer is, this password cracker can remove and reset password easily, and help you create a new standard account conveniently.
– Compatible with Windows 10, Windows 8.1, Windows 8, Windows 7, Windows Vista, Windows XP (SP2 or later), Windows Server 2019/2016/2012 (R2)/2008 (R2)/2003 (R2)/SBS 2011.
– Support a wide range of brands of desktops and laptops, including Dell, HP, IBM, Sony, Samsung, Gateway, Lenovo, ASUS, Acer, Toshiba, etc.
– Available for almost all file systems like FAT16, FAT32, NTFS, NTFS5, etc.
Download Windows Password Reset Ultimate Portable