Portable Pixologic ZBrush 2021.5 (x64) Multilanguage
ZBrush Portable sets the industry standard for digital sculpting and painting. Its features enable you to use customizable brushes to shape, texture and paint virtual clay in a real-time environment that provides instant feedback. When you use ZBrush Portable you'll be empowered by the same tools employed by film studios, game developers, toy/collectible makers, jewelry designers, automotive/aviation designers, illustrators, advertisers, scientists and other artists the world over. In fact, we have even received an Academy Award for the technology that powers ZBrush. In short, ZBrush is an art tool created by artists, for artists. It allows you to create models and illustrations limited only by your imagination, at a speed that allows you to stand out in today's fast paced industry.
ZBrush 2021 introduces a Dynamics system along with Controlled Cloth Sculpting and a revisiting of our Dynamic Subdivision feature. We've also added new features to ZModeler, as well as introducing iMage 3D support to ZBrush and giving it the ability to open native-format files created by ZBrushCoreMini.
The ZBrush engine itself has also been enhanced, finding ways to improve performance across the board. You will find that ZBrush 2021 sculpts more fluidly, as well as taking less time to perform other operations such as DynaMesh.
Enhance your sculpting with a Dynamics system that allows any surface to be contracted, expanded, inflated or draped with gravity. Use masking to pin a portion of the mesh to create a point of interest or use a mask to create a unique interaction that can allow the surface to be rolled on itself. Create realistic cloth folds – even on a low resolution plane. Place your mesh, turn on the collision volume and any desired controls, then watch as ZBrush drapes the cloth mesh over any other visible meshes.
Controlled Cloth Sculpting
Special brushes have been introduced which use the Dynamics engine to give unique capabilities for interacting with the cloth surface. As examples, you can choose where folds will lay or simply grab the geometry to move it freely in the work space and create folds in real-time. The ClothTwister brush simulates twisted cloth. ClothWind allows directional movement. ClothPinchTrails will create a seam with pinched cloth wherever your brush stroke takes place on the surface.
Dynamic Subdiv Revisited
Dynamic Subdiv provides a working preview of your subdivision levels without actually increasing the base polygon count. This feature is now taken a step further by allowing you to add an adjustable thickness to any single piece of planar geometry.
Performance
Even more performance enhancements have now been added to ZBrush. We revisited the systems behind the sculpting brushes along with many other popular features. Speed has increased across all sectors, including faster response time with high polygon models, increased DynaMesh speed and much more. In addition, a new Optimal option for smart management of multithreading will always maintain the right amount of threads ZBrush needs with your system for the best performance.
Base Mesh Generation
As with anything else in life, where you can go is usually determined by where you begin. Having a great finished model requires a quality base mesh. ZBrush Portable provides an arsenal of tools to assist with this task, ensuring that no matter what you have in mind, there is a way to get the perfect base to then take to the next level. The best known of these systems are explained here.
Sculptris Pro
Ignore the constraints of polygon distribution and simply – sculpt! Sculptris Pro will dynamically add (tesselate) and remove (decimate) polygons wherever and whenever needed. It does this during your brush stroke in a real-time process called Tessimation. This frees you to focus entirely on the look you're trying to achieve.
Dynamesh
DynaMesh is a perfect solution for free-form sculpting because it removes all need for focusing on topological constraints. Change the overall shape of the model by pushing or pulling, adding various pieces of geometry to combine into one, or even remove geometry in a manner similar to what can be done with Boolean operations. Where Sculptris Pro dynamically adjusts the triangles in your mesh as you sculpt, DynaMesh redistributes the model's polygons as quads on command.
Mesh Detailing
Whether created in ZBrush or imported from elsewhere, once you have your base mesh it is time to start detailing. ZBrush features a robust suite of tools to accomplish this. Those listed below are just the tip of the iceberg.
Sculpting Brushes
The main workflow for creating with ZBrush is based on a system of brushes which can also be modulated using pen pressure from a graphics tablet. ZBrush will reproduce the natural feeling of a real paint brush or sculpting tool, using the pressure applied to the pen tip to transform your digital stroke in a variety of ways. There are brushes to pinch, move, build up the surface, chisel into it, slice through the model and much more. You can even use other 3D models as brushes, inserting their geometry into your surface.
Noisemaker
In addition to being able to add detail by hand, ZBrush Portable provides a system for procedurally generating surface detail through noise patterns. Choose a detail type, adjust a few simple parameters, then apply that pattern to your model in its entirety or by restricting it to a certain region. You can even combine different noise types to create highly complex effects. The Noise system is ideal for both hard surface work and organic details.
PolyPaint
Because ZBrush Portable works with tens of millions of polygons in real-time, you can paint directly on the surface of the model without first assigning a texture map or UV's. This offers significant advantages compared to a standard workflow. The resolution of the texture map does not need to be decided in advance. This is particularly valuable if you find you need more detailing on an area than you thought you would. Instead of repainting a new, larger texture map you can simply transfer the existing surface detail to that larger map without any reworking. You don't even need to do UV unwrapping before you begin this painting. In fact, thanks to the way that ZBrush can project details (both sculpted and painted) from one model to another you can have a fully painted model before you even have a finalized animation mesh. Instead, you can copy everything to the final base mesh once it has been signed off on.
UV Master
In order create or use a texture map, a model first needs UV's. These are 2D coordinates that tell all 3D applications how to apply a texture to your model. With most programs, creating those UV's has been a time consuming challenge that requires a high level of technical expertise and has little room for creativity. With UV Master you are able to create very efficient UV's for your model – in most cases with a single click. If you need more control over this automatic process there are features that refine where seams will be placed or increase the amount of pixel space given to certain regions of your model. It's both intuitive and fast, letting you get back to being creative with minimal fuss.
Rendering
Whether you are using ZBrush by itself as an illustration tool or as part of a production pipeline for animation, you will at some point want to show your work to others. ZBrush makes this possible through a powerful rendering system called BPR (Best Preview Render).
Release Notes
ADDED:
Preferences >> Tablet >> Tablet Driver API to determine how ZBrush works with Windows Ink, affecting performance when using a tablet on Windows. If you experience lag issues when interacting with models, trying one of these other settings should resolve them.
There are 3 options:
– WinTab (default mode): Will not handle Windows Ink. This will operate like it did in ZBrush 2019.
– Stylus: Handles Windows Ink the same way it did in 2020.1.4.
– WM_Event: Handles Windows Ink the same way it did in 2021.
Enhancements/Updates
– Stability improved when using 'Transpose Cloth' and Firmness
– Preferences >> Gizmo 3D >> Tap to Exit Gizmo Mode now saves with Preferences >> Store Config
– Gizmo3D 'Go to Unmasked Mesh Center' now respects local symmetry
– Converting ZSpheres to adaptive skin no longer causes twisting on macOS
– ZModeler Point >> Move >> Snap to Surface will now save with custom ZModeler brushes
– SubTool function stability improved (scrolling, deleting, appending)
– Gizmo3D 'Inflate' functionality returned to 2020 settings
– Draw Draft Analysis rendering updated
– Improved Dynamic Subdivision Post SubDiv rendering
– Increased navigation speed when using models with PolyFrame and PolyPaint
– Transferring of texture detail to PolyPaint improved
– Improved SnapShot3D PolyGroup generation
– Plugin: Text 3D and Vector Shapes updated on macOS
– Plugin: TransPose Master updated
REVERSIONS:
– TrimRect brush functionality returned to normal
– Pinch brush returned to 2020 settings
– Blob brush returned to 2020 settings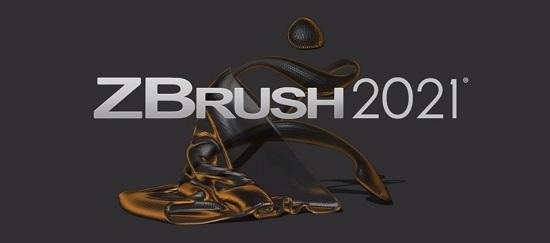 Download ZBrush Portable Software
Download – 1.2 GB
Mirror – 1.2 GB