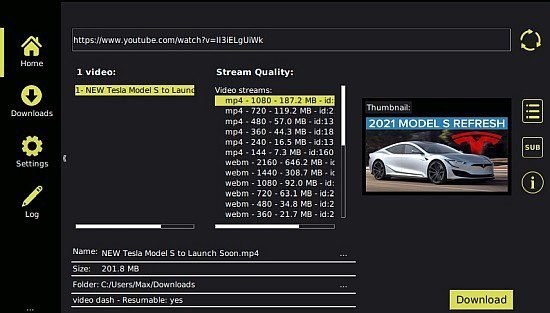 FireDM Portable is a python open source (Internet Download Manager) with multi-connections, high speed engine, it downloads general files and videos from youtube and tons of other streaming websites. Developed in Python, based on "LibCurl", and "youtube_dl".
When it comes to choosing a good Internet download manager, the options are not at all scarce. Be that as it may, finding a good, free, open-source, and malware-free one can prove to be a bit of the challenge.
Having said that, if you're looking for a dependable download/video manager that ticks all the boxes above, then you might want to check out PyIDM.
One of the fastest open-source download managers out there
PyIDM is an open-source Internet download manager build with Python and it's based on the following well-respected libraries: pyCuRL/libcurl, youtube_dl, and PySimpleGUI.
The whole premise behind the app is that it uses these well-known (and open-source) libraries, so you can be sure no funky business will go down, as well as the fact that it's designed to be uber-fast with an engine that supports multi-connection (multithreading).
FireDM's feature set
Besides boasting multi-connection support, the app also has the following goodies: automatic file segmentation, the option to resume uncompleted downloads, scheduled downloads, a nifty clipboard monitor, proxy support (for HTTP, HTTPS, Socks4, and Socks5).
You are also provided with the freedom of choosing the exact download speed limits, the number of maximum concurrent downloads, and the maximum number of connections per download.
It's worth noting that the app supports YouTube and most of the other popular video sharing, streaming websites. Since we're on the subject, it's also worth mentioning that you can download entire video playlists, as well as download fragmented video streams, as well as encrypted HLS media streams.
Last but not least, let's talk about the app's GUI. While it's true that this is not one of the app's strong points, it's worth keeping in mind that the app is actually fully open-source. Still, while not modern, the GUI is actually well-organized, meaning that no matter your experience with similar apps, you should able to find your way around without much effort.
Not modern-looking doesn't mean that the GUI is bare-bones, though. For example, you are provided with well over 140 GUI themes to choose from, which is a lot more than most other download managers combined can offer.
Features:
High download speeds "based on LibCurl"
Multi-connection downloading "Multithreading"
Automatic file segmentation.
Automatic refresh for dead links.
Resume uncompleted downloads.
Support for Youtube, and a lot of stream websites "using youtube-dl to fetch info and libcurl to download media".
download entire video playlist or selected videos.
download fragmented video streams, and encrypted/nonencrypted HLS media streams.
watch videos while downloading* "some videos will have no audio until finish downloading".
download video subtitles.
write video metadata to downloaded files.
check for application updates.
Scheduling downloads
Re-using existing connection to remote server.
Clipboard Monitor.
proxy support (http, https, socks4, and socks5).
user/pass authentication, referee link, use cookies, video thumbnail, subtitles.
use custom cookies files.
MD5 and SHA256 checksums.
Custom gui themes.
Set download Speed limit
User can run shell commands or shutdown computer on download completion.
Control number of Concurrent downloads and Max. connections per each download.
What's NEW:
[downloads tab] Natural items select, click anywhere to select an item, removed checkbox, use control, and shift for multiple selection
[ditem] fix extension letters doesn't fit in thumbnail if its more than letters, e.g. .AppImage
[downloads tab] Schedule multiple items at once.
[downloads tab] Add stat info for current items to show how many items are downloading, cancelled, pending, etc…
[Main tab] Add folder icon.
Download FireDM Portable