Portable Movavi PDFChef 22.2.0 Multilingual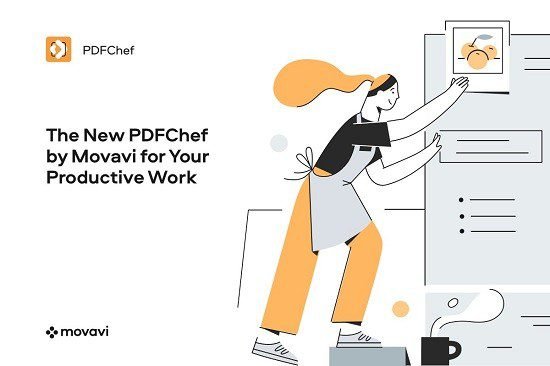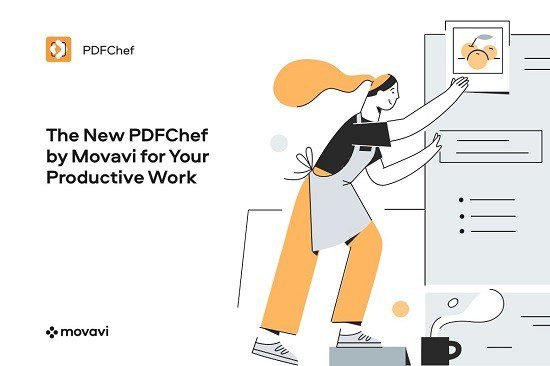 PDF Editor Is Now the Brand-New PDFChef. We're all about making managing PDFs easy and convenient. Our software provides all the tools you need to work effectively and helps you to fulfill your potential. With this big update, we've changed our name to better reflect who we are and what we do.
PDF files are popular due to their advantages but, unlike other types of documents, they cannot be edited in any text editor, unless the application provides support for this format. Movavi PDFChef Portable provides a handy PDF manipulation utility that makes it possible for you to alter the content of such documents with ease.
Process multiple documents simultaneously
Due to the tab-based interface layout, you can open multiple documents at the same time in Movavi PDFChef. The pleasant-looking color scheme, the overall modern looks, together with the intuitive and accessible options makes the application a pleasure to interact with.
Manipulate pages and images inside PDF documents
Moving on to the functionality, Movavi PDFChef Portable can open multi-page PDF files, as well as PNG, JPG, and JPEG images. It also allows you to merge PDF files into a single document. For loaded PDF files, it displays a preview of each page in a separate panel, while the zoomed-in content is shown in the main section of the GUI.
You can interact with images inside the PDF, as the application provides options to rotate or delete them., if needed. Furthermore, you can insert new pictures into the document and alter their position as you consider fit, provided the 'Edit Objects' mode is active.
It's also possible to attach blank pages to the document, append files, or copy, paste, and rotate pages. Movavi PDFChef Portable also comes with options to extract pages and save them locally or convert them to JPG, PNG, or BMP format.
A Smart Approach to Working with PDFs
PDFChef Portable lets you take care of routine PDF-related tasks without risking the security of your device. There's also a trial version available as a free download for you to check out all the functionality of the full version of our PDF-editing software.
Easily Edit PDF Content
PDFChef by Movavi is a multifunctional program to edit PDFs. You can add and edit text, insert, crop, and resize images. Our PDF editor also allows you to rearrange, delete, and rotate pages. Modify your PDFs in any way you want with PDFChef.
Manage Your Project Documents
Combine files exported from different applications: Word, Excel, AutoCAD Portable, Corel, and more. PDFChef will help you bring all the elements of your project together.
Sign and Seal Documents
Do you ever find you need to finalize a contract with a third party as soon as possible and you're nowhere near the office? Just add an image of your signature in PDFChef Portable to seal the deal.
Viewing PDFs for Free
Read your favorite books, open and view research papers and other documents. Work with multiple files at once. Scale PDF pages to fit your monitor's resolution and personal preferences. Search for specific words or phrases with ease.
Creating Documents
Create PDF files from scratch. Combine and merge files into a new single PDF document. The extensive set of tools in our PDF-creator will enable you to tailor documents to your exact needs.
Editing PDFs
Edit PDF files using different PDF program modes. Add, delete, rotate, and rearrange pages in PDF documents. Add, edit, and format text within a document. Insert, crop, and resize any image, including logos, signatures, and stamps. Save changes in two clicks.
Converting Files
Convert PDFs to a number of other formats including HTML, TXT, Microsoft Word's DOC, and EPUB. Export individual document pages as JPG, PNG, and BMP images. Convert Microsoft Office and graphic files to PDF format.
What's NEW:
All our PDF tools in one subscription:
Take advantage of the new document workflow in the PDFChef family. Now, when you purchase a license, you get access to the PDFChef desktop program, the mobile PDF scanner, and our online PDF tools. Work with PDFs seamlessly across multiple devices and platforms.
Cloud capabilities:
Store files in the Movavi cloud storage. Access documents when you need them. Stay connected with your team using shared file access.
A fresh look:
We've built a better interface. The redesigned start screen lets you quickly access the cloud storage and the tools you need.
New Undo/Redo function:
The new Undo/Redo function lets you take total control of your files. No more angst if you delete the wrong word or insert the wrong image. The Undo function reverses the last change you made. Use the Redo function to restore your latest edits.
Fixes:
We've fixed the bug that prevented you from converting files. Now you can turn PDFs into multiple formats and back as easily as before.
Download Movavi PDFChef Portable