Portable Able2Extract Professional 18.0.4.0 (x64)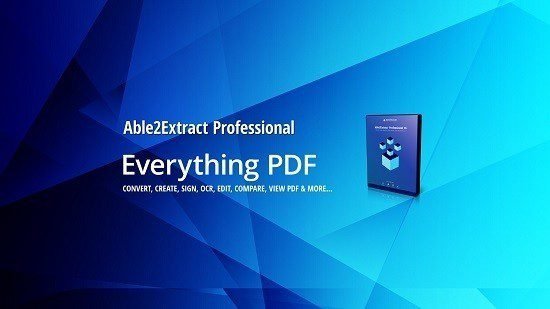 Able2Extract Portable is the only PDF converter on the market that effectively boosts your PDF productivity on Windows. Convert PDF to Word, Excel, PowerPoint, Publisher, AutoCAD and CSV formats. Get picture perfect PDF creation with advanced security options and quickly modify PDF text and pages. Fill in, edit, and create fillable PDF forms right within Able2Extract or insert bates numbering across lengthy PDF documents. All tasks are done in a sleek intuitive user interface that simplifies the entire process. Speed up work with scanned documents using our state-of-the-art OCR engine.
PDF Conversion
Able2Extract has always been known for its PDF conversion. Our PDF conversion algorithm can convert the most complex PDF content to Excel, Word, PowerPoint, AutoCAD Portable, HTML, CSV and more. Able2Extract is the only PDF converter that lets you selectively convert only the content you need. Convert non-PDF data into Excel for analysis or get accurate table data extractions with the custom PDF to Excel feature. Whether you need a formatted spreadsheet or editable Word doc, you get the precision needed in conversion results for better business insights and planning.
Scanned Image PDF Conversion
Convert both native and scanned PDF to editable formats with Able2Extract Professional's OCR technology. Take PDFs that have been created from scanned paper documents and convert them into editable file formats. Able2Extract Professional's accurate data capturing technology lets you incorporate hardcopy information into your document workflow. The OCR engine will correct any microscopic errors in the text and leave you with a refined digital version that can be used for business intelligence analysis.
PDF Editing
With powerful PDF manipulation features, Able2Extract makes it easy to modify PDF documents. Whether you have business statements or lengthy financial reports, you can tailor your existing content by splitting or merging PDF documents. Legal professionals can even insert bates numbering to PDF files during the ediscovery process. Advanced editing features allow for on-page PDF text editing so you can customize your text by font, colour and size. Professionals can also take advantage of PDF page editing features for general changes to PDF pages.
PDF Creation
Able2Extract is more than just PDF converter. It provides you with the ability to create PDF documents from any application. Complete with security features, document encryption, and PDF file customizations, our solution is perfect for users who are looking for powerful, yet flexible PDF creation options. Our technology generates quality PDF documents you can trust.
Fill in PDF Forms
Interact with fillable PDF forms and fill out PDF forms directly on your computer. Simply click on the PDF form fields to start entering information into text fields. Select multiple items in list boxes and indicate preferences with checkboxes and radio buttons. The entire PDF form can be filled in right within Able2Extract. You can save forms that are partially filled in or safely submit your data to the server.
Create and Edit PDF Forms
Modify and create fillable forms that can be used by anyone. Able2Extract's PDF Editor provides you with tools to add form fields for customizing and creating your own fillable PDF forms in a user-friendly interface. Add form fields for selecting items such as list boxes and combo boxes or insert radio buttons and checkboxes to specify options. You can even customize the font colour of the form's text for branding purposes. Collect the data you need to make better business decisions.
What's New :

Sign PDF Documents
Create and add electronic and digital signatures to your PDF documents in a matter of seconds. You no longer need to waste your time on printing, signing by hand and scanning your documents. Easily sign important PDFs directly on your desktop. With the new Sign PDF tool, you can insert electronic signatures to PDF by typing it out, drawing a signature or adding a signature image. You can even sign important PDF documents with digital (cryptographic) signatures that can be verified for authenticity.
Verify Digital Signatures
Verify the authenticity of PDF documents that have digital signatures. Able2Extract Professional 14 allows you to check whether the digital (cryptographic) signature is authentic or not by viewing the signature validation status in the document tab. Make sure that the document was signed by an authorized source, check the time of signing and establish if any modifications were made to the document after it was signed. Now, you can rest assured that the security of your business PDF documents is not compromised.
Enhance PDF to Excel Conversion with Smart Templates
Get even more control over PDF to Excel conversion with AI-powered Smart Templates. Smart Templates allow you to automatically extract relevant table data from PDF documents to Excel and CSV formats with minimal effort. You can train custom Excel templates that help Able2Extract Professional to locate and convert PDF tables that match the table structure stored in a Smart Template. Able2Extract Professional 14 is advanced enough to accurately extract the data you need no matter the size or position of the table in your PDF document.
Automate Batch Conversion with Master Templates
Batch convert PDF to Excel and CSV like never before using Master Templates. Enjoy the speed of Batch conversion, and the effectiveness of Custom Templates merged into one powerful conversion feature. Thanks to the machine learning engine, you can now create distinct document categories and train a Master Template that Able2Extract Professional 14 can use to automatically match each PDF file in the batch queue to the relevant category and convert it using a category-specific conversion template.
Create Better PDF Forms
Create professional-looking PDF forms that conform to business standards using Able2Extract Professional 14. The new and improved PDF form editor gives you even more control over form fields placement. Create and position PDF form fields exactly where you want them by aligning and centering them with pinpoint precision. Now, you can make sure that your business PDF forms are perfectly formatted every single time.
Accurately transfer table structure and cell styles into Excel
Now with the new smart layout detector, Able2Extract Professional 16 is capable of transferring complex table properties and cell styles (borders, background colors, merge info, fonts) to Excel spreadsheets with almost no formatting discrepancies.
The smart layout detector will look for specific graphical attributes and place them along with the data in a tidy columnar format in your Excel spreadsheet, greatly increasing the readability of any table data and enhancing user productivity. The picture-perfect PDF to Excel output is now a reality with the latest Able2Extract Professional 16.
Compare any two printable documents
The tiresome process of comparing documents line by line is a thing of the past. Able2Extract Professional 16 is now equipped with a versatile document comparison tool that can effortlessly compare two documents side by side. Two documents can be compared even if they are in different file formats like native PDF and Microsoft Word.
The new comparison tool will highlight content that is similar in both documents or unique for one of them, allowing users to quickly identify any variations between the documents, check for unapproved content edits, or confirm that no changes have been made. After examining the discovered changes, users can both annotate or copy those differences from one document to another.
Cursor X & Y coordinates
What's NEW:
Download Able2Extract Portable