Portable progeCAD 2022 Professional 22.0.10.12 (x64)
progeCAD Portable is an AutoCAD compatible 2D/3D CAD application that works with AutoCAD Portable DWG files from v. 2.5 to v. 2022 and imports Autodesk Revit and IFC files! The best solution for AEC, MCAD and all generic CAD usages. progeCAD sells with perpetual licensing and offers more CAD functions than AutoCAD LT at a fraction of the cost of AutoCAD®, ArchiCAD or Microstation.
10 Reasons for progeCAD Professional
– Perpetual Licensing! No annual fee. You decide when to upgrade
– Nothing to learn, if you are AutoCAD® users
– Works natively with DWG! Fully compatible with AutoCAD® without conversion
– Import BIM projects and objects (Autodesk Revit® and IFC)
– PDF to DWG conversion included
– Convert your old paper draughts into CAD!
– Create architectural layouts in a flash with the EasyArch parametric plug-in
– 22.000 blocks ready to use + customizable blocks manager
– Import/Export – STEP, IGES, PDF, 3D PDF, DWF, 3DS, DAE, LWO, POV, Maya, OBJ, BMP, JPG, WMF, EMF, SVG
– Professional Artisan Render Engine included
progeCAD Advanced Features
– PDF Export with Layers – includes PDF/A ISO19005 Standard export
– PDF to DWG conversion
– Insert BIM models into DWG. IFC and Autodesk Revit® files supported
– Exports STEP, IGES, PDF, DWF, 3DS, DAE (Collada), STL, LWO, POV, MA(Maya), OBJ(Wavefront), BMP, JPG, WMF, EMF, SVG
– Imports STEP, IGES, IFC, Rvt/Rfa (Revit®), ESRI-SHAPE SHP, 3DS, DGN(Microstation), LWO, OBJ, STL, IFC, RGT, KMZ, DXF, DWF, DWFx
– PointCloud import (ReCap® .rcp, .rcs, .pcg, .isd, .xyz, .ply, .las, .laz)
– Customizable Toolpalettes for Blocks, Hatches and frequently used Commands
– 3D Print – STL export for 3D Printer output
– iCADLib Blocks Manager. More than 22.000 2D/3D ready-to-use blocks
– Direct access to Traceparts, Cadenas and BIM&CO with millions of blocks and BIM objects ready-to-use
– Dynamic blocks editing
– EasyArch – 2D and 3D building plugin for architects
– SuperHatch
– Helix and Loft Commands
– Multileaders
– ADDSELECTED – create a new object of the same type and general properties of a selected object.
– Gradient Hatch
– Bitmap/Raster support – Jpeg, TIFF, Png, Gif, ECW, MrSID and Jpeg 2000
– Bitmap polygonal clipping
– Plot Margin Customization – cover the entire sheet area
– Digital signatures to .dwg files
– AUTOSEZ automatic creation of surface profiles (Topographic Sections – AutoCAD Civil 3D Feature)
– SLOPE creation of slope patterns
– Block Editor (BEDIT)
– Availability of industrial standard Pantone® and RAL™ Color Books
– Optimization for 4K displays
– Dynamic UCS
– Dynamic Input
– AEC, Civil, GeoMaps, Mechanical objects support
– Flatshot command – Generates an accurate flat view of a 3D model
– AREATEXT – Calculate boundary area and place the text with the value in the center of the area.
– Formulas in Tables: table cells can contain formulas
– ARRAYPATH – Place object copies uniformly along a path or a portion of a path
– Find and Replace
– Express Tools – A complete set of Extra functions for Blocks, Layers, Texts
– Annotative Objects
– Arc Aligned Text
– Multigrip Editing
– Render engine – progeCAD integrates for free the Artisan Renderer module
– Automatic Perspective image correction
– 3DConnection SpaceMouse support
– eTransmit – Compacting and transmitting DWG files with dependences by email
– Eattedit – Advanced Attribute editing
– Advanced Data Extraction
– QDIM – Quick dimensioning
– Google EarthTM Integration
– Spell Checker
– Publish (Batch Plot)
– Raster to Vector converter – Convert your paper drawings to editable DWG files
– Cloud – Share files on Cloud – Supports the major cloud services for file sharing and syncing like DropBox, Google Drive and Microsoft One Drive
– BetterWMF Integration
What's NEW:
PERFORMANCE
Intellicad 10.1 engine
The most recent IntelliCAD source code with all the relative improvements
New ODA Geometry library
The replacement of the internal geometric engine improved the  Spline support and boundaries recognition and fixed several geometrical issues on Trim, Chamfer, Fillet, Hatch etc.
Improved Open, Regen, and Layout switch performance
Incremental Save
It updates only those portions of an already-saved drawing file that you've changed, improving the Save time (Use ENABLEINCREMENTALSAVE to disable)
Speeded-up Osnap
Faster and more accurate Osnap points detection
Spell-check on the fly
Multiline, Multileader and Tables text is automatically checked for spelling while typing
Improved 3DConnexion mouse support
All new powerful 3DConnexion mice are now supported
Optimized selection performance
Improved performance for Lisp GRDRAW
NET Palettes Set feature
.NET API to create palettes with .NET controls on it
USER INTERFACE
New START PAGE
Now the redesigned Start Page has a stylish cleaner interface look to offer easy access to a variety of initial actions, including access to drawing template files, recently opened drawings as well as online and learning resources
Search in Options and Drawing Settings Dialog
Typing the name of options, find automatically the relative control in the form. Speed-up  the settings control
New View Manager Dialog
View Manager has a new dialog with dynamic input to set a view background,  perspective, lens length, clipping, and more
TPNAVIGATE command
Displays a specified tool palette or a palette group. Improved GUI customization
Improved CUI Dialog for customization
NEW FEATURES
Dynamic input feature on Grips
Dynamic input includes command prompts and measurement guides that are displayed on the screen while drawing and editings
Geolocation with interactive background map from Microsoft Bing
Geographic location information is assigned to a drawing file by capturing a portion of the Bing online map to an object known as a map image and embedding it to the drawing area.  Map Aerial, Map Road and Map Hybrid visualization supported. With useful contextual Ribbons and menu.
TABLE and TABLEDIT implementation
AutoCAD® like in-place Text editing, numeric Rows and alphabetical Columns. New contextual Ribbons for Tables.
Autodesk Revit® 2021 Import/attach
Support for the recent Revit 2021 file format
Improved Dynamic Blocks handling
New insertion options supported
Wood Details, Steel and Profiles Standards
All shapes are now available in 3D
AutoCAD®- Like Solid grips
Use grips to change the size and shape of 3D solids and extruded surfaces
Smooth Transition
Faster smoother transitions with animation while panning, zooming, or changing views
Improved Array
– New Array Grips
– New contextual Array Ribbons
Nudge function
It is a function used to move objects by holding down the CTRL key then selecting the arrow keys on your keyboard. The object will be moved by pixels in the direction chosen.
NEW COMMANDS
SHEETSET – Sheet Set Manager
The Sheet Set Manager organizes, displays, and manages sheet sets, a named collection of drawing sheets. Each sheet in a Sheet Set is a layout in a drawing (DWG) file
IMPOINT
Imports 2D-3D points with specified coordinates from a .txt or .csv file into a drawing. Points can be imported as separate point entities, as vertices of a polyline, or as vertices of a spline
BACKGROUND
Defines the type, color, effects and position of the background for named views
TOTALAREA
Calculates the total Area of selected closed entities
ATTSYNC
Applies attribute changes in a block definition to all block references
New perspective mode
Improved Perspective handling and grips in Perspective views
Improved MTEXT
– Added a "Strikethrough" option
– Insert "text only" functionality (Paste Special formatting)
– Clear formatting feature
– Text Symbols Subscript and Superscript are added
– Added "Paragraph" dialog
GROUP handling
– GROUPEDIT: Add, Remove and rename features for Groups
– Group Grips: improved visualization of Groups
SVIMPORT/SVEXPORT
Import/Export of all progeCAD Variables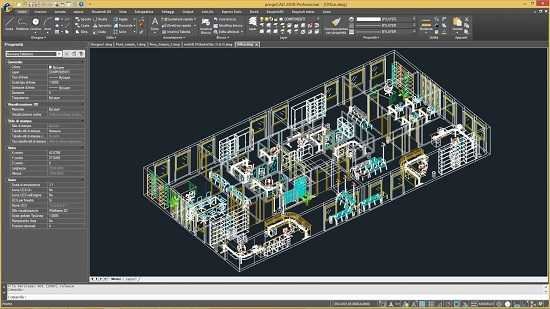 Download progeCAD Portable